Freak Yachting Accidents and Disaster Media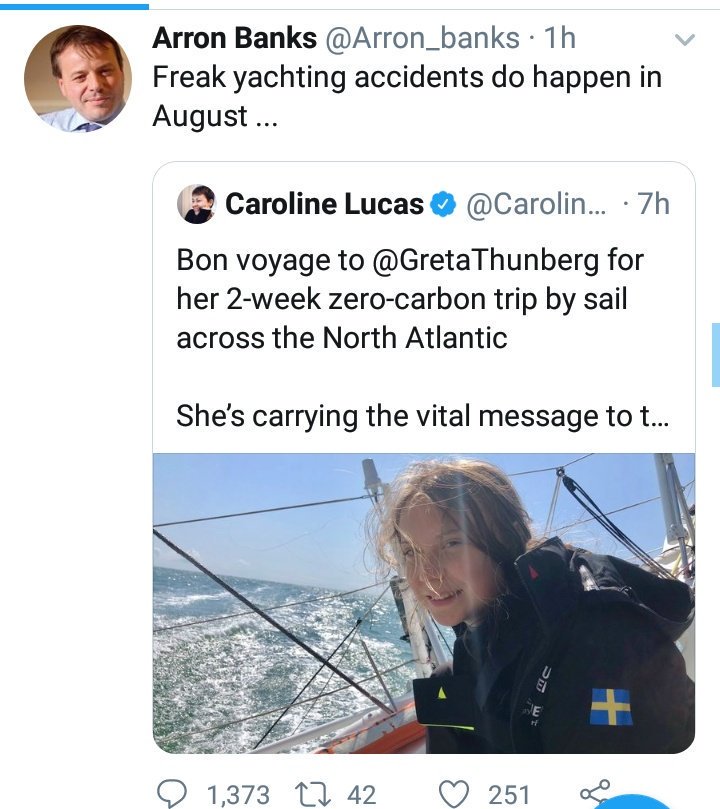 You probably didn't need reminded that Aaron Banks is a bit of a shitebag, but in case you were in any doubt at all he helpfully tweeted this about Greta Thunberg who is traveling the North Atlantic by boat "Freak yachting accidents do happen in August".
Thunberg attracts disproportionate hostility because she's young, female and on the autistic spectrum, and the people she's threatened the most are entitled men. In a world where young women's main purpose is to be a sexual object Thunberg is just an annoyance.
Earlier this year Piers Corbyn, Brendan O'Neil, Iain Martin, Toby Young and Guido Fawkes all queued up to put the boot in to her.
But it's not an exclusively male pursuit. Today Arron Banks was joined by Julia-Hartley Brewer who chipped in with the line that "After all the many, many, many angry tweets from the virtue signalling St Greta cultists who are happy to see a vulnerable child brainwashed and exploited to further their political aims… Level of guilt being felt for posting this tweet: still 0%."
Virtue signalling is an alt-right buzzword (it's used by poor Kevin McKenna in this spluttering tirade here) but I think it points to some element of self-doubt.
As the world prepares for what will be the first general climate strike next month, things are coming to a climax.
An Economic Argument Too (!)
It's dawning on climate science denialists and cheerleaders for disaster capitalism that they've lost the political, scientific and moral argument, and they're not happy.
What really irked Alex Massie writing in The Times, ostensibly about Edinburgh, is this realisation:
"Increasingly concerns about so-called over-tourism are only partly about tourism. They are linked to an economic argument too."
No shit sherlock.
"An agenda that considers economic growth a threat and says we must, instead, prioritise a "degrowth" strategy in which we should accept becoming poorer for the sake of the planet and some ill-defined sense of what a proper, or more pure and authentic, life should be."
Warming to his theme Massie continues: "It is capitalism, which is really the story of human innovation, that will produce the technological advances necessary to reduce the dangers of climate change."
We don't hear what these "technological advances" are likely to be, it's all a bit "ill-defined".
If its all a bit TL:DR for you, the short version is "everything's fine" (memo to reader that's the short version of everything Massie has ever written).
There's a continuity from Aaron Banks and Julia-Hartley Brewer to the Alex Massie and Kevin McKenna. That continuity is called: "we don't care". If you don't really care about the most important issue facing humanity then you've sort of lost your moral compass, so it's just a hop skip and a jump to hoping a sixteen-year old girl drowns.
These columnists are a failure, but they represent a generation of failure. It's not just them, they are speaking to a constituency of people that cheers and nods along.
Because there's every indication that we're not taking this seriously at all, are we?
The Potential to Fill Three Billion
Today it was announced to general fanfare that "300 million barrels of oil earmarked from Mariner field, 90 miles east of Shetland." The field is run by Equinor (re-branded from Statoil). They have said: 300 million barrels of oil had been earmarked as recoverable, but believe there is the potential to fill three billion.
That's a widely celebrated ecological disaster.
As George Monbiot has written: "The oil and gas industry intends to spend $4.9tn over the next 10 years, exploring and developing new reserves, none of which we can afford to burn. According to the IMF, every year governments subsidise fossil fuels to the tune of $5tn – many times more than they spend on addressing our existential predicament. The US spends 10 times more on these mad subsidies than on its federal education budget. Last year, the world burned more fossil fuels than ever before."
"But in many nations, governments intervene not to protect humanity from the existential threat of fossil fuels, but to protect the fossil fuel industry from the existential threat of public protest. In the US, legislators in 18 states have put forward bills criminalising protests against pipelines, seeking to crush democratic dissent on behalf of the oil industry. In June, Donald Trump's administration proposed federal legislation that would jail people for up to 20 years for disrupting pipeline construction.
Global Witness reports that, in several nations, led by the Philippines, governments have incited the murder of environmental protesters. The process begins with rhetoric, demonising civil protest as extremism and terrorism, then shifts to legislation, criminalising attempts to protect the living planet. Criminalisation then helps legitimise physical assaults and murder. A similar demonisation has begun in Britain, with the publication by a dark money-funded lobby group, Policy Exchange, of a report smearing Extinction Rebellion. Like all such publications, it was given a series of major platforms by the BBC, which preserved its customary absence of curiosity about who funded it."
Still, Shetland oil – yay!
Now there'll be many of you out there who immediately complain – in a rare moment of unity between nationalists and unionists – that Scotland is to wee , too poor and too stupid to make any impact on climate change – certainly that is McKenna's central message.
Perhaps he should listen to that Pope Francis who says in his encyclical on ecology, Laudato Si: "Those who will have to suffer the consequences . . . will not forget this failure of conscience and responsibility."
These guys are surely just reflective of a disaster media engaged in clickbait, self-denial and warming each other by the fire of their shared ignorance. It's media run by middle-aged white men who don't need any encouragement to boost their sense of entitlement.
But as Greta Thunberg herself reflects (presumably in baby spinach virtue signalling):
"I think that as long as they go after me personally with insults and conspiracy theories then that is good. It proves that they don't have any arguments. And that they see us as a threat because we are having an impact."