To Nationalise or Not, that is the Question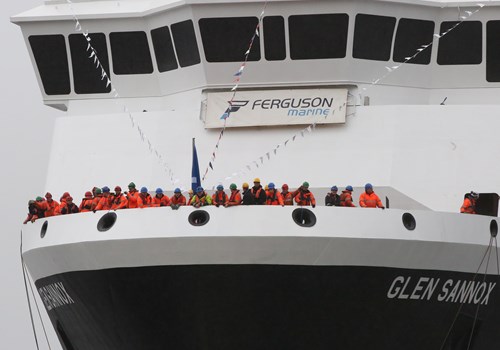 SHOULD the Scottish Government take Ferguson Marine Engineering into public ownership, to save it from financial collapse?  Recently, the SNP government came under trades union pressure to nationalise the historic St Rollox 'Caley' rail maintenance facility in Glasgow. In that case, Nicola Sturgeon declined though she is in favour of re-nationalising the ScotRail franchise at some point.  The SNP also took Prestwick airport into state hands in 2013, though the deal cost the taxpayer a meagre £1.
Clearly the SNP is not opposed to a mixed economy with a significant public sector element.  However, the record cited above suggests that taking firms into public ownership is largely driven by circumstance – usually adverse circumstance.  Nothing wrong with that per se but we do seem to lack a strategic vision as to what nationalisation is for.  Therein lies the danger.
In the UK and Scotland, public ownership has always been a tool to pick up the economic and social pieces after the private sector failed spectacularly.  The 1945 Labour government nationalised coal, the railways, and steel. But the main reason for state control over heavy industry was to rectify decades of deliberate under-investment by their rentier owners.  In other words, the taxpayer came to the rescue of private capital.
The only strategic nationalisation in 1945 was the Bank of England. However, the Attlee government conspicuously failed to impose a political direction on the Bank, and left Lord Catto in charge as Governor.  Unusually, Catto, the son of a Peterhead shipwright, had a background not in the City but in the traditional Scottish trading links with Asia.  His appointment to the Bank was to ensure the UK could loot India of its gold reserves in order to pay for the war.
There was a second wave of nationalisation under Harold Wilson and Edward Heath, who took aviation, Rolls Royce, computers, cars and shipbuilding into public control.  British industry lacked the economies of scale to compete with US and European multinationals, especially if the UK was to enter into the then EEC free market. So once again the state played the role of midwife to long-overdue industrial reorganisation.  Once this was accomplished, Mrs Thatcher was free to sell everything off for a song.
Thatcher and her cronies (many of whom were state industry managers looking to make a buck or two) used the excuse that public sector ownership led to inefficiency.  In fact, it was the other way around. Nationalisation was designed to eliminate the underinvestment and bad management that had caused the original inability to compete in world markets. The only period when state firms racked huge financial losses was when the Heath government in the early 1970s ordered them to freeze prices as a (daft) way of halting inflation.
FERGUSON: DOON THE WATTER OR UP THE SPOUT
Back to the Ferguson yard. This has filed for administration after racking up losses on a fixed-price order to build two LNG-fuelled ferries for CalMac (which is also state owned).  Back in 2014, Ferguson was rescued from closure by local businessman Jim McColl of Clyde Blowers.  McColl was, of course, a supporter of independence. Unfortunately, the new ferries have been subject to cost overruns and delays, as a result of design changes. Ferguson has run out of cash to finish the project, 350 jobs are at risk, and CalMac desperately needs new ships.
ScotGov could ante up more cash and get the order completed, and probably will. But that only makes sense if we fix the underlying problems. First, the way the contract was written is clearly duff. Either the Ferguson management agreed to a contract they could not fulfil, in which case whoever did due diligence for ScotGov and CalMac should be fired. Or else there were onerous design changes imposed by the buyer, in which case Ferguson should sue. If it can't, whoever signed for Ferguson should get their jotters.
I'm more interested in the long-term implications. Scotland is a maritime nation with half the UK's seacoast. We have a huge offshore energy sector. Post-independence, we will need maritime defence – sadly ignored by Whitehall in favour of funding useless Trident submarines. For all this we need a ship-building capacity. Ergo, we need the facilities and skills provided by the Ferguson yard. Ergo 2, we need to nationalise Ferguson. Not because of the CalMac order, but because we need strategic capacity.
Those long in the tooth like me, will remember the collapse of Clydeside shipbuilding in the 1960s and 1970s. This event was passed off as unavoidable because folk were now flying rather than taking the boat. Yet the Clyde ship-building industry collapsed in the very decades when global demand for giant tankers and container ships was skyrocketing. The problem for Scotland was not lack of demand but small yards, under-capitalisation and not switching construction to the deeper waters of the Forth of Clyde.
We lost our original shipbuilding capacity through sheer incompetence by private capitalists. Let's not make that mistake again. But there is a big caveat. A publicly owned shipbuilding company needs to be funded for the duration, not just to fulfil one order. It needs a ten or twenty-year plan. And it needs to target international orders, not just local ones. The test of being internationally competitive is what stops a public industry being inefficient of even corrupt.
So, a first job for the new Scottish National Investment Bank?