English Nationalism is the Elephant in the Room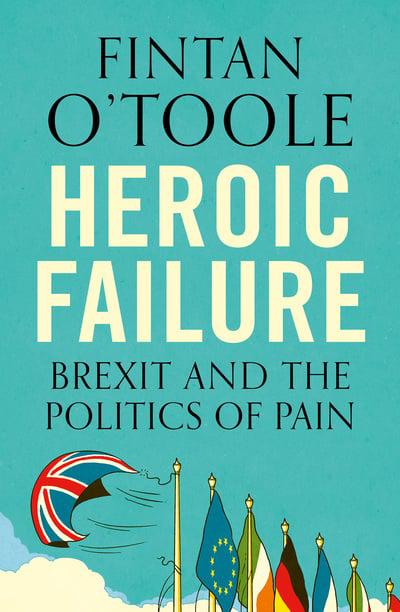 "Brexit is about England. It's an English nationalist movie," claimed Fintan O'Toole in his part-outsider diagnosis of current constitutional disorders.
At the Edinburgh Book Festival the Irish journalist and author of 'Heroic Failure: Brexit and Politics of Pain' spoke of English nationalism as the "undoubted emotional driver" behind Brexit. It's a now familiar story. Post-imperial fantasy. Europhobic wartime hangovers. Delusions of grandeur. Self-imposed victim status. O'Toole listed the Tory high heidyins who've compared the EU to Hitler, Stalin, and various forms of tyranny. Wild. Yet are we, in Scotland and Ireland, ready for the consequences?
For O'Toole nationalism is a nightmare from which Ireland was just trying to awake. He spoke of slow-burn civic-cooperation under the Good Friday Agreement (GFA), North and South, that was developing shared-spaces beyond religious and national divides. An emergent English nationalism – discarding its GFA obligations – threatens this, reigniting a 'them and us' culture over Brexit and the border.
It's something that made him angry – the nonchalance of Tory politicians over the partition that has been a source of so much acrimony and bloodshed. Brexit is possibly just the first consequence of an ascendent English nationalism.
"Something is dying with Brexit," he says. For Leave voters in England there is no appetite to 'pool and share' resources with Scotland or Northern Ireland. "Evidence shows Leave voters in England don't care about the Union. It's over as far as they're concerned."
What now, then, for those in Scotland and Ireland that wished to muddle-along, maintaining or tweaking the current settlement, avoiding any rupture with the UK state? Oblivious to the rise of Ukip. Shocked by Brexit. Many were stuck in a liberal, cool Britannia malaise. Some think another EU referendum would quell English nationalism – when in fact it would embolden it further.
Independence and a United Ireland? "Lord make me chaste—but not yet," O'Toole appraised his own tentative outlook.
For O'Toole Ireland was only just beginning to feel comfortable with the various and often conflicting identities and traditions across its 32 counties. Constitutional change without cross-community consent could prove just as divisive as the Brexit project Ireland would be trying to escape from.
But the harsh reality – that rightly angers O'Toole and should worry us all – is there is no avoiding an escalation of chaos and friction in the years ahead. The reactionary forces galvanised by Brexit – who have adherents in Downing Street and the White House – will not dissipate irrespective of constitutional structures. They are set on a collision course with the so-called Celtic Fringe.
Those of us, like myself, who still hope for a Czech-Slovak style 'Velvet Divorce' will have to keep up to speed with the direction of English nationalism. It's now firmly driving the Union – and will similarly be a potent force in setting the terms of any future break-up.