Yellowhammer on the Border. Brexit Meets Devolution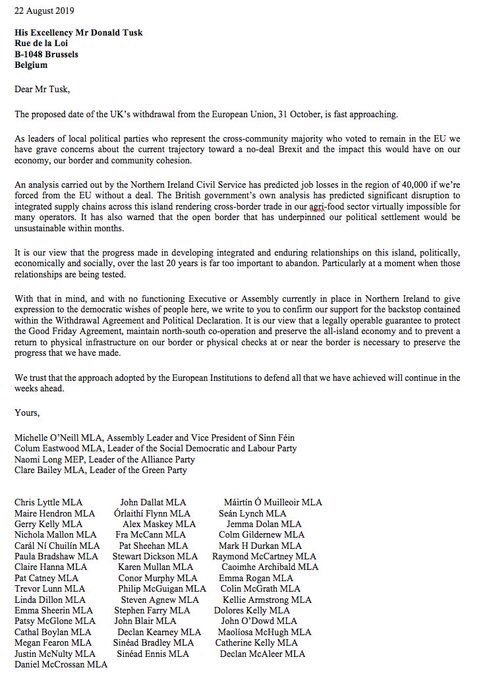 Two critical events are coming down the track which put Westminster, Holyrood and the Northern Ireland Assembly in direct conflict. The developments force Ruth Davidson and the Scottish Tories into a corner and face the Precious Union into a new phase of crisis.
First, a majority of Northern Ireland Assembly members have signed a joint letter to Donald Tusk confirming their support for the backstop. The letter, supporting the backstop is signed by 54% of NI Assembly members. The letter is signed by Sinn Féin, SDLP, Alliance & Green Party leaders. There are no unionist signatures on the letter.
Second, SNP, Labour, the Greens and the Lib Dems are all set to back a motion which would make clear the Scottish Parliament's opposition to "No-deal" in all circumstances. The Scottish Government is planning to hold a landmark Scottish Parliament debate on a "No-deal" Brexit, when the Scottish Parliament returns from its summer recess.
Cabinet Secretary for Government Business and Constitutional Relations Michael Russell said he hoped a motion which would make clear the Scottish Parliament's opposition to "No-deal" in all circumstances could be agreed unanimously, given the damage such an outcome would cause to Scotland and the UK as a whole.
Subject to agreement by other parties the debate could be held in the first week of the new Parliamentary session, which begins next week.
Labour, the Greens and the Liberal Democrats have all indicated support for such a debate, with the motion expected to say:
That the Scottish Parliament agrees that the UK should in no circumstances leave the EU on a no-deal basis.
Michael Russell said:
"When the new session starts we will be less than two months away from a catastrophic No-Deal which the UK Government appears now to be actively pursuing."
"It is essential that the Scottish Parliament has the opportunity to have its say while there is still time to stop this disaster from happening."
"It is more important than ever for politicians and parties to work together in Scotland and across the UK  to do as much as we can to make the new Prime Minister change course.
"For the Scottish Tories this could be a defining moment.  Their leader in the Scottish Parliament says she is opposed to a No-Deal Brexit.  This is an opportunity to make that opposition crystal clear and unambiguous. Do Tory MSPs support taking  Scotland and the UK of the cliff-edge whatever the costs to jobs and living standards – or are they going to join with other parties to send a message to the UK Government that this reckless plan must be halted now?
"Crashing out of the EU without a deal is in no one's interest and I hope the Parliament can come together and unanimously agree that a No-deal Brexit should be ruled out in all circumstances."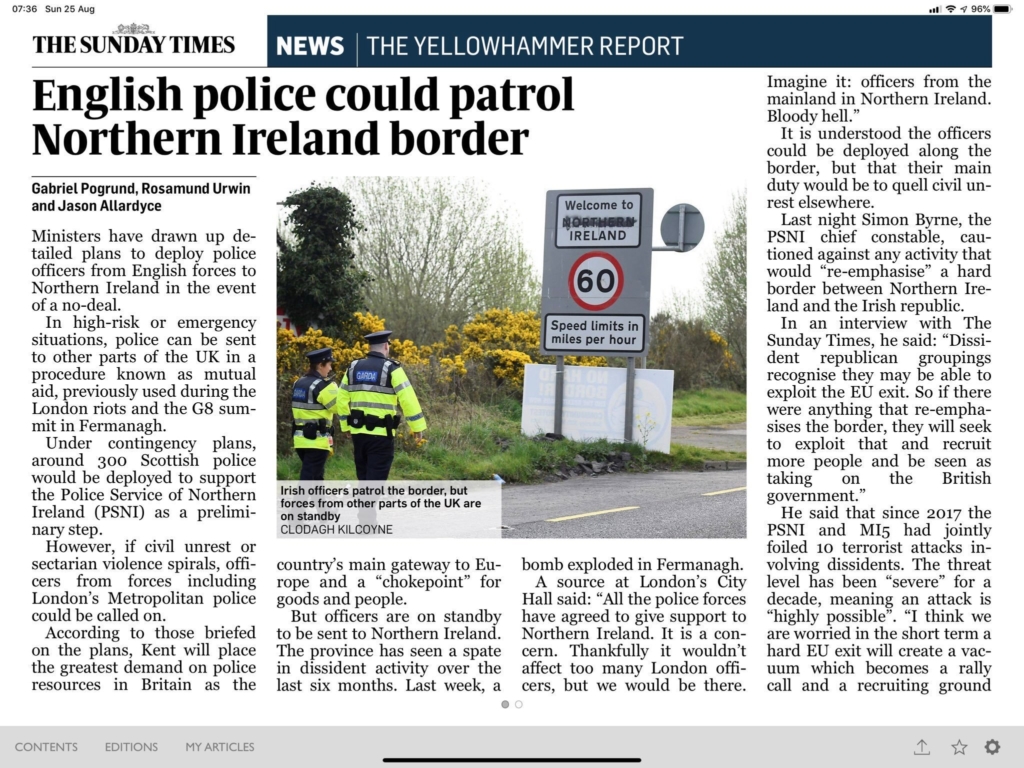 Poileas Alba
Now normally both Scotland and Northern Ireland would just be disregarded – after all this isn't really about democracy at all, is it? Even if there is evidence of exceptional cross-party support and a majority agreements, Northern Ireland, Ireland and Scotland will be treated with the contempt that they think we deserve. Recalcitrant Jocks and Paddies are pretty much the same thing after all, aren't they?
But as the Sunday Times reports, Scottish police are to be deployed to Northern Ireland in the event of a no-deal Brexit to quash civil unrest, or terrorism, which aren't really the same thing are they?
Despite the headline it looks like 300 Police Scotland officers will be deployed first. "Geographical proximity & political sensitivity surrounding English officers" given as reasons.
This is a new development that should alarm event the most complacent armchair Brexiteer.
As former army officer Nicholas Mazzei has written:
"Ok this is a really, really bad idea for so so many reasons. Police from mainland UK are not trained or equipped to deal with many issues in NI, especially along the border in a no deal Brexit scenario. When I was in 38 Irish Brigade in 2009/10 we had very serious concerns about the growth in dissident violence and an expectation it would get worse leading up to the 2016 Easter rising centenary. It didn't, because the whole Ireland effect of the GFA and economic growth north and south meant the nation moved on A hard border splitting the two nations will bring all the dissidents back (with lots of weapons and explosives they didn't declare) and mainland Police are not geared up for it. PSNI officers carry handguns; GB police do not unless they are specialists. This is a very, very precarious situation and is likely to lead to the deaths of police officers. Let's not forget; many police will be needed in GB due to civil unrest here."
Now the operational difficulties of policing a No Deal GFA breaking Brexit are one thing, and I have no doubt of the problems as laid out by Mazzei. But the other problem is clearly political and potentially constitutional. Policing is a devolved matter, but Nicola Sturgeon will presumably be left helpless if this plan is enacted.
"Policing should be above politics" people will earnestly explain, as the most political policing decision is imposed on the officers of Poileas Alba and the PSNI.
This is like watching the Memory Hole 'live'.
Memory and Ireland have long been a problem. As Gordon Guthrie explained:
"Our history as a victor, or at least being on the winning side, in both the main phases of the 20th centuries long European wars means that many of these lessons are unlearnt in our political tradition. Ireland is not seen as just another successor state of 1918 because the UK is not seen as just another empire that collapsed. The myth that we graciously dissolved the Empire persists. In the 1920s the UK refused the idea that the Minorities Treaties should apply here – and so the collapse of the Northern Ireland government over the issue of an Irish Language Act is treated as some special event – instead of a ghostly throwback to a hundred years ago – fighting old wars.

And critically the British constitution has remained archaic and unexamined. For all my adult life there has been continuous change at the periphery, new parliaments, old ones in Ireland collapsing. But the pretense has always been that the centre is unchanged, unaffected.

This refusal to take responsibility is a major part of the problem – if the UK is a beacon of tolerance, loved across the world, then the local British nationalists in Northern Ireland can't really be British – it was not an unnoble sentiment back in the killing years – but there are practical consequences – the North is British. But 40 years of No Good Briton mastering Irish politics has its consequences.

In that world the Good Friday Agreement could be seen as just another regional adjustment to one of the broken peripheries, instead of what it was supposed to be: the final bookend on 100 years of unresolved history.

The fact that the UK-Irish border was the last border in the EU to be recognised by both parties is a non-fact, not even forgotten, or unthought, but unthinkable. The UK didn't split, there weren't successor states, we won in 1918. Nothing happened to us."
The myths and illusions of Britain and the post-colonial hallucinations of England are coming home to roost.
But if Nicola Sturgeon and whoever isn't running Northern Ireland don't matter at all, then Chuck Schumer and Nancy Pelosi surely do.
Very clear message from @RepBrendanBoyle – no 🇬🇧🇺🇸 trade deal if Brexit rips up the Good Friday Agreement. Thank you Congressman, for standing up for people in Northern Ireland. pic.twitter.com/J1vk6xbxpd

— Cllr. Séamas de Faoite (@SeamasBelfast) August 22, 2019

There will be no US-UK Trade Deal if the Good Friday Agreement is undermined. And it will be.
None of this is survivable.