From Operation Arse to Project Elbow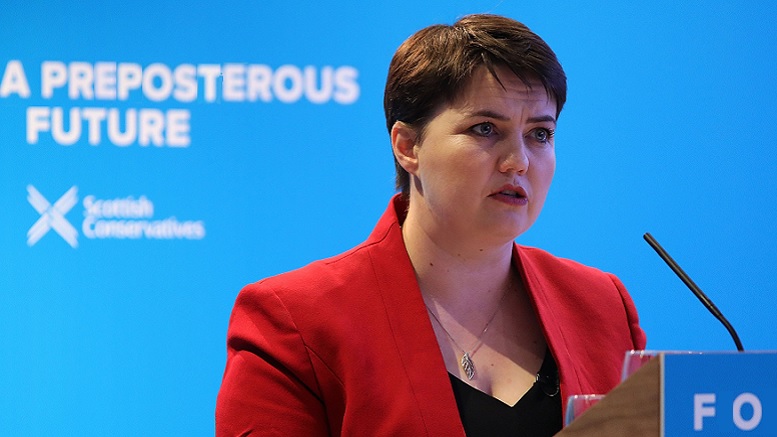 Amid the torrent of wishful-thinking, history re-writing and gushing-hagiography that's under way about Ruth Davidson's career thus far, it's maybe worth a re-cap.
All good comedians have a catch-phrase. Chewin' the Fat's "Gonna no do that", Victor Mildrew's "I don't believe it!". Ruth Davidson had her own: "We said No and we meant it!".
It's repeated by her disciples like the Jesus prayer in Franny and Zooey, to a point where, in a manner similar to a Zen koan, it becomes unconscious, almost like a heartbeat.
It was remarkably successful in gathering the disparate Unionist block in one place and electorally it meant she could lead the Scottish Tories from complete insignificance to the margins (a high-water mark of 13 seats – out of 59 – in the 2017 general election), a feat for which she has been rightly lauded. As many have pointed out she seemed to have very little substance, very little to say about anything other than her catchphrase. But isn't that just how politics are? You have a slogan, a series of photo-ops and an image which you project relentlessly. In this desultory mould of career politicians she was a roaring success, but as an actual leader, or someone contributing to public life she was often an embarrassment and frequently a disgrace. If it wasn't for her attendant coterie of media fluffers you might have thought she was a hoax, a parody social media account made real.
Today they are in overdrive Alex Massie uttering: "Earlier this summer one of her closer colleagues speculated to me about her future. Ruth wasn't at the top of her game, he said, and worse her heart didn't seem to be in it either. There was something afoot, something tired and even lacklustre about her. The Scottish Tories as a whole were becalmed and lacking in energy, ideas, and purpose. The idea Davidson might become first minister following the 2021 elections had been quietly dropped; the party was not behaving like a party that was getting ready to prepare for life in government."
I love the line: "The idea Davidson might become first minister following the 2021 elections had been quietly dropped."
Not to be outdone Stephen Daisley writes a eulogy describing her as "Boudica in a power suit" and explaining that "Davidson is not a nationalist but she understands how they think because she is a patriot. Where they see Scotland as a victim held back by Westminster, she sees the UK as a sacred trust between nations and people".
And how that sacred trust is imperiled today with the loss of the Buckhaven Bouica.
Chris Deerin laments the nations loss in the New Statesman describing it as a "new moment of danger for the Union" and worries "there is no obvious person to replace her".

For the supporters of the Davidson she had two unique attributes. First she was gay and this was wonderful, a merit badge for the Tory Party for tolerating such a thing and proof-positive that they were no longer mired in homophobia – you'll remember the Tory party that under Margaret Thatcher introduced section 28 banning councils from "intentionally" promoting homosexuality – and under Iain Duncan Smith tried to force its MPs to vote against proposals allowing gay and unmarried couples to adopt?
Secondly she didn't go to a private school and this was the subject of another big shiny badge for Conservatives who had never come across such a thing before: "Look aren't we ordinary, just like you!" they squealed in astonishment.
The reality is that if you got 1000 people in Scotland and asked them what policy they associated with Ruth Davidson I suspect the only one anyone would come up with is support for the Rape Clause.
The obsession with personality led to some serious political misjudgement, by people that are supposedly professional political writers, most obvious the claims that Ruth Davidson was on the verge of becoming First Minister, or even Prime Minister.
But despite the personal attributes Davidson's real downfall was that she could not successfully distance herself from her own political party, despite years of evasion and support in this effort. This is where Operation Arse met Project Elbow.
In this we are led to believe that this is all about her personal life – a further and consistent evasion – and not about the abject chaos her party are dragging us into.
Her bleating about work-life balance will gather little sympathy for people who live in Tory Britain, on the breadline, at the foodbank, in sub-standard housing, and suffering the effects of her party's economic ideology and punitive austerity. So cry me a river, its tough being a parent in the UK is it? I suspect its about to get a lot tougher as No Deal beckons, and we would do well as the tributes rain down to remember this single lie: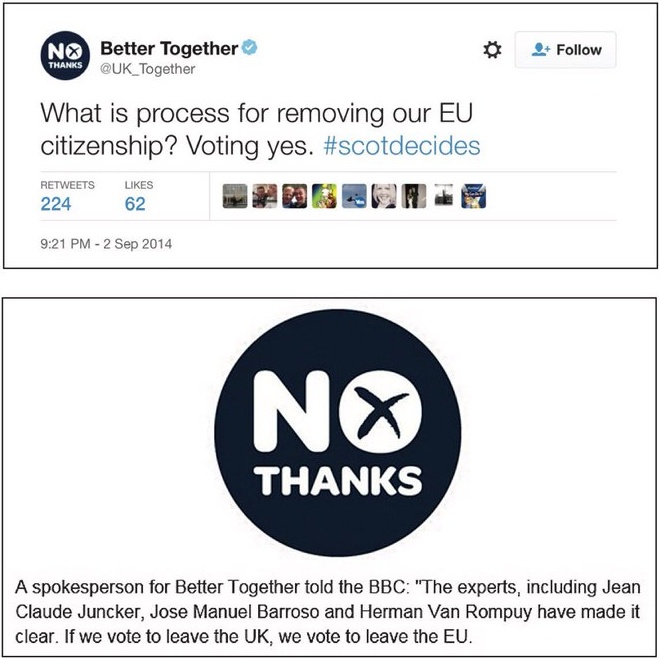 "What is the process for removing our EU citizenship? Voting Yes."
It was a lie and a calculated lie and she's a hypocrite who has been found out. That is all.
We should remember too her comments from 2016 when she was speaking at an event attended by Prime Minister Theresa May when she told the audience: "I'm delighted we have such spectacular surroundings…"
"Usually they put the Scots in a place where nothing can be broken. Or stolen for that matter!"
Back in 2012 she claimed almost nine out of 10 Scottish households take more from the public purse than they contribute in taxes.
This is the reality of the game-changing new Conservatism of Davidson who was quite happy to watch Tory policy rain down on Scottish society until it became personally inconvenient to her political aspirations.
Davidson's career has taught us a lot about the state of the media, the low-bar of expectation for the Scottish Conservatives, the obsession with lifestyle, and the extent to which senior politicians can avoid scrutiny, but her departure tells us nothing about parenting or motherhood.
[Image credit: Daily Reckless : https://www.dailyreckless.com/]