Altered State
Boris Johnson has destroyed the Conservative Party, expelling Winston Churchill's grandson and twenty other MPs, prorogued parliament, lost his Westminster majority in one day and now wants a General Election. That's something we should look forward to.
The list of the 21 Conservatives MPs from whom the whip has been removed includes two former Chancellors, one of which held the office only a few weeks ago; a former Attorney-General and a former Deputy Chief Whip; all the others bar one have been Ministers. Their expulsion leaves Boris Johnson 43 votes short of a majority.
Despite the louche disdain of Rees-Mogg and the rantings of Dominic Cummings, Boris Johnson's attempted coup has failed, splitting his party and threatening the economy. His regime tactics of threat and bluff have been exposed. It is clear that there is no intent to negotiate any deal with Europe. Repeatedly challenged to provide evidence yesterday he (Johnson) provided nothing. There is no good faith, no trust and he has been found-out once again as a dissembling fraudster toiling at the heart of a constitutional crisis of his own invention.
The consequences are immediately clear.
The Scottish Conservatives face wipe-out: YouGov predicting they lose ten of their 13 seats north of the border, according to analysis by John Curtice. The SNP would be expected to secure 51 seats, 16 more than in 2017. Labour would be pushed into fourth place behind the Liberal Democrats at Holyrood. There would be a pro-independence majority of 19 in the Scottish parliament with ten Scottish Green Party MSPs predicted.
Sadly even the seat of newly appointed Alister Jack, with a majority of just 5,600 is at risk.
The results – if they played out – would be catastrophic for Richard Leonard's disastrous leadership – and provide a true legacy of Ruth Davidson's time at the helm – but more importantly give a renewed and huge mandate for negotiating independence.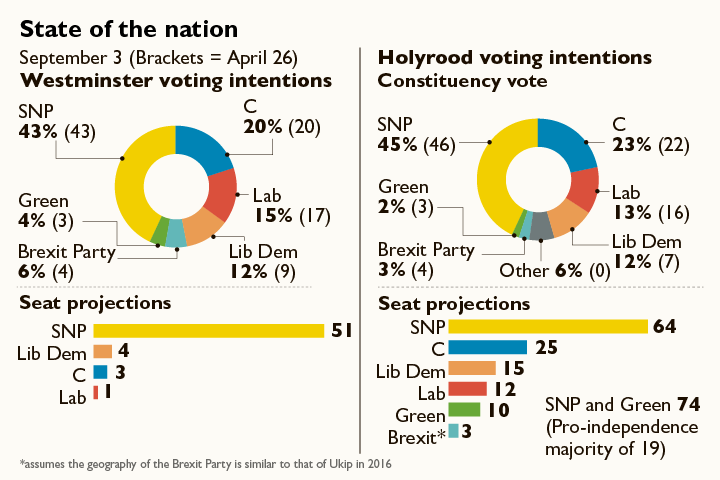 But what does it mean in the rest of the UK?
Paul Goodman, writing at Conservative Home predicts:
"The Tory MPs of the immediate future looks to be more pro-Leave than today's are. In broad terms, the balance of the Parliamentary Party will shift rightwards. To be more precise, the Conservative Party's appeal at the coming election will be pitched, even more than in 2017, to northern, older and Leave-backing voters. In a nutshell, the Party will become less economically liberal and less socially liberal (on, say, crime and immigration)."
Wow. Less socially liberal? That's code for hang 'em and flog 'em and god alone knows what a less socially liberal immigration policy than now looks like?
Goodman continues:
"If this appeal works, Boris Johnson, whose family background can fairly be described as liberal elite, will become Prime Minister of a more Trump-flavoured party, with Dominic Cummings presumably hovering in the wings: bent on delivering Brexit, more northern infrastructure, cash for "our NHS", tough policy on crime, "an Australian-style points immigration system" and tax cuts for poorer workers. And it is quite possible that Johnson will succeed – at least in England, which in turn could pave the way for a second independence referendum in Scotland and a border poll in Northern Ireland."
Goodman concludes:
"If he doesn't, there will probably be no Brexit. But the Conservative membership and Parliamentary Party as both stand are unlikely to let the project go. Expect both to cling to it, as debate gathers about a permanent arrangement with the Brexit Party, for at least one more Parliament. And popular support for leaving the EU is likely to remain substantial for the forseeable future."
"It is hard to see this kind of profile playing well in London, in big parts of other cities, among ethnic minorities, younger voters and in the prosperous parts of the greater South-East in which there was a high Remain vote in 2016."
So, setting aside a huge pro-independence result in Scotland, there's at least three possible outcomes of a General Election in the rest of the UK that will affect prospects for independence.
One scenario is that the disaffected and ejected Tory MPs either cross the floor to Jo Swinson's Liberal Democrats or fight their own seats as independents causing mayhem and splitting the Tory vote; the other is that a "permanent arrangement with the Brexit Party" means that Johnson and Farage unite the right and the far-right in Brexit Heaven and win in England; the third is that the chaos and mayhem allows Corbyn to muddle through soaking up revulsion at the Johnson regime with Remain and repair sentiment across England.
It might be thought that a Corbyn government (minority or not) would be the best bet to negotiate independence. But it may be that a Johnson regime would be so obsessed with Europe and so consumed with their own rhetoric about subsidising Scotland as to be persuaded to "let us go".  Certainly the polling shows that large amounts of voters south of the border think losing the Union would be a price worth paying for gaining Brexit.
As Johnson's government floundered Nicola Sturgeon announced: "We will seek agreement to the transfer of power that will put the referendum beyond legal challenge. We have a clear democratic mandate to offer the choice of independence within this term of parliament – and we intend to do so."
"We intend to offer the people of Scotland the choice of a better and more positive future as an independent nation," she said. With the shambles at Westminster this is now an open door again.