The Castration of Gorrie and Scotland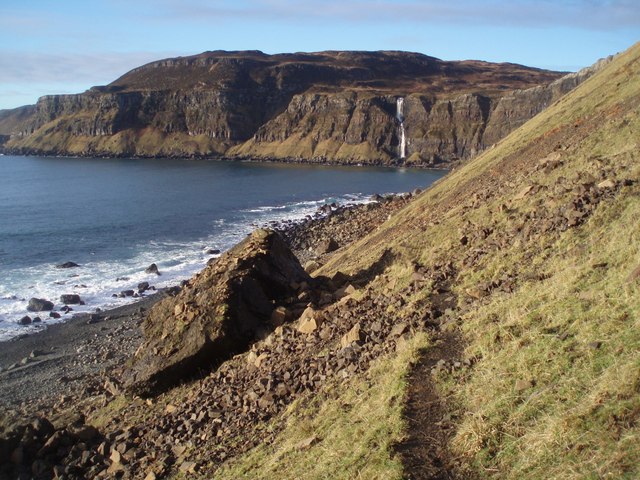 I write these words on a sodden note pad balanced on my slippery oil skinned knee in a small yacht off the southeast corner  of the island of Mull in the very teeth of a gale. We are bucketing around about a mile off Loch Spelvie  at the centre of a maritime cart wheel where the grey sea motorways running down  from Fort William and Tobermory clash and bicker and the majestic waves form egg box patterns under an arching umbrella of sweeping seabirds and whistling winds.
The electronic meters in front of me here in the sea wet cockpit tell me that the wind is gusting at up to thirty knots, my tide books remind me that today the spring tides will be running at their most vicious, the seemingly all-knowing waters oozing threateningly along under the magnetism of the moon's gravity at speeds of up to five knots. When the winds headbutt those tides the silver grey egg boxes lump, twist and somersault into sweeping waves that slip-slap spray onto my ancient yellow oilskins and soak the note pad on which I here write.
This is a terrible place, but there is nowhere else I would rather be, the volume of my life being turned up and tuned to a greater intensity, and I know that these few privileged days at sea will sharpen me for when I return to Edinburgh's dull grind .
Down below my skipper and friend of thirty  years, who is the only other member of the crew, turns on the radio and we listen in horror  at live broadcasts from the formerly dignified and refined great halls of Westminster which now suddenly seem like some drunken pub populated by the sort of amoral nutters a wise bar landlord would ban for life. Somehow the crazily wild scene here off the coast of Mull seem like a parallel to the madness of contemporary politics, though the raging sea that surround us offer a  nobler world where lies and intrigue are unknown.
When I was a child I spent many days fishing long lines by  these rock ragged shores with an internationally renowned gaelic story teller called Attie Mackechnie ( Nickname:Tobar an Dualchais – the well of heritage ) and on wild days such as this he would often shout  against the wind's bellow the grotesque tale of Gorrie or gently comfort me with nonsense about how if the boat couped I was never to fear as he would take my hand and we would run along the seabed and take stroupachs with gaelic pals of his that lived in crystal white cottages and dry our sodden clothes in front of roaring fires.
Once I had asked An Tobar why it was that when we stopped to gift fish to the ancients in their white washed cottages they never thanked us. " Ah Maxie they are complementing us that we are of the family of the gaels and that when we grow old we will be be given fish and that to offer us thanks would serve only be to insult us." was his reply.
Well now  it is my turn to be old, though more in need of answers than fish,  and searching the misty horizon for lobster creels that might foul our propeller my eye is caught by the high cliffs above the tiny port of Carsaig, and I start as I remember with a wistful grin how the cliffs  are named for the castration of Gorrie. The tale An Tobar would tell me.  And wonder if I understand yet.
Gorrie, ah Gorrie. The castration of Gorrie. I used to wonder why he told me that  tale so often. A few weeks  before he died I visited Attie in a hospital in Oban. He was, like me, a diabetic and they had just sawn his leg off close to his crotch. I remember I wondered whether that precious leg would have been kept aside for his coffin or hurled into the hospital incinerator. It had seemed somehow wrong to poison the well  so near to his end, though no doubt their intention had been for the best.
I had half an hour before my ferry to Mull and I asked him for a tale and in return he asked me if he had ever told me the story of the castration of Gorrie. I laughed.  It was a bizarrely happy scene, there was Attie, cheery on the banks of his Styx and I had replied and said he had told me the tale a hundred  times when we had fished the bad waters under Gorrie's black cliffs, but that I would be honoured to hear it again. Then I wanted to know why he had told it to me so often. "Ah Maxie it is because you don't understand it yet" was his taunting reply as he sat in his wheelchair seemingly at ease with his bandaged stump and the terrifying journey to death he was about to complete .
It seemed that back many hundred years previously there had been a beautiful young man called Gorrie who lived in one of the whitewashed cottages that lie like jewels on the greensward at the bottom of the black cliffs two cables abeam our port.
Now Gorrie was a hunk. Sex on legs, and most of the women on Mull fancied him rotten and would glance at each other and giggle whenever he came into sight.
Now there were two clans that populated those green swards, the Macleans of Duart and the Macleans of Loch Bhuie  and by good fortune these two ever bickering clans had been gifted with a love match between  Duart and Bhuie, and much was the rejoicing amongst all that tilled the land and fished the seas that peace might reign.
Now at that time and for many generations before there had been a ritual of the cascade of deer at Carsaig. The preservation of venison  to feed the people in the long winter months had been a hard thing to engineer and so it was that in late October when the deer herds were still restless with lust and disorder, great bodies of men and barking dogs would sweep the deer herds to the high cliffs above Carsaig and force them to cascade over the cliffs so that their bodies might be salted and casked amongst the white breakers on the ragged shore below. It was evidently quite a sight and the chief of Bhuie would take delight in taking his house guests to a cliff top high above the cascade to watch the cruel slaughter brought about at his proud command.
And so one year the scheming Bhuie invites Gorrie if he might do him the honour of standing in a key position at the edge of the cliff and do the pivotal task of the final shooing the deer herds over the cliff. It's awful to imagine the scene. The barking dogs, the shouting people, the frightened hinds, the barking, priapic stags, the white waves crashing on the shore below. And Gorrie messes up, can't turn the stampeding deer, who scatter back to the hills, just as Bhuie bloody well knew they would. You see he had arranged for extra deer to be sent to where Gorrie had to turn them. Bastard.
So Bhuie calls for Gorrie to be called to the top of the cliff and says he has disgraced him in front of all his people, that he has brought him dishonour and starvation to the people and that he no longer wants him in his clan. And there on the cliff top , in front of his guests, in front of his people his plaid is ripped from him and he is castrated in front of all.
And then Gorrie stands up in all his bloodied shame and rushes forward at Bhuie but he means him no harm and instead grabs hold of the leg of the baby that has been born to Bhuie and Duart, young Lachlan, the future, and makes as if he will hurl the screaming babe out onto the raging sea. And a great cry goes up from the gathered people, anxious that the future peace between the clans be maintained through the life of the babe that was half of Duart and half of Bhuie.
And then the half naked Gorrie stands up before them in all his blooded shame and shouts out; "I will only save this child if you do to your chief what you have just done to me."  And a great discussion breaks out amongst the people and Bhuie, initially proud and arrogant but then increasingly pitiful, argues with some force for his masculinity.
But it is to no avail and the same men who had castrated Gorrie now take the same still wet knife and castrate their chief, his screams cutting into the roaring of the wind and the crashing of the waves .
And so we sail down past the high cliffs where Gorrie was castrated all those centuries ago and the radio broadcasts from Westminster continues to irritate and I find to my horror that I am weeping, not the shuddering tears of collapse but the misty eyed sadness that is so often the embarrassment of the old, and the skipper comes up to check things and finds his first mate all broken and useless. And I tell him of An Tobar and how almost all the Airbnb'ed cottages that we are sailing past were once populated by people who were of the family of the Gael who gave me no thanks for the fish I brought them and how Sorley Maclean used to say that he could hardly bring himself to visit Mull as he couldn't stop weeping when he was there. And how I miss An Tobar, just as he must have missed his leg, though he never showed it. And the Skipper says that maybe I should take a break from my watch and have a bit of a sleep.
And so we talk of Independence. And of Scotland. And I say that I weep not for Gorrie but for Scotland and Britain and how I feel that so much that I have loved and believed in has been destroyed in recent months and that I feel that my country and culture has been castrated by the far right.
And then we both near weep. And then to my horror the Skipper, a successful businessman whom  I much admire, tells me, as so many others have, that he is finding to his astonishment that with the collapse of his faith in Westminster that he might even be persuaded to vote Yes in a referendum.
And I gaze up at the high cliffs of Gorrie and wonder what An Tobar meant when he said that I never understood his tale. Now I am an unashamed Unionist and a radical conservationist. I joined Friends of the Earth when it was less than  two years old and was active in their first campaigns, indeed I remember David Bellamy saying, tongue in cheek,  that he was entirely unconvinced that the Earth needed friends like Maxwell Macleod. To me the seascape beyond the cliffs of Carsaig witness a more convincing tale than do the iniquitous  stories we hear of the chief of either Loch Bhuie or indeed Downing street.
I am more interested in saving the planet than in saving Scotland, and am not to convinced that the former will be helped by the latter.
We have perhaps a dozen years to turn back the inevitability of mass starvation and migration making the lives of the next generation a living nightmare and much as I would die for my native Hebrides I am unconvinced that giving up time and effort in the interests of substantiating Scotland as a nation state would be time well spent. But I do wonder at  my memories of An Tobar's last remarks to me, that I didn't understand the tale of Gorrie. Maybe it was about that what we should concentrate on was living well in small , low impact communities, maybe he was saying that my people, the Gaelic people, had been castrated and that we should concentrate on bringing back their values and life style if we are to save the world from itself.
Actually I haven't been entirely accurate in my description of Gorrie's cliffs, that's not what they are called at all. You see their real name is the place of Gorrie's leap.
His leap? Yeah you see after he had witnessed the castration of the chief Gorrie  took the baby in his arms, walked to the edge of the cliff, and holding the child closely to him, jumped. And today there are no chiefs of the Macleans of Loch Bhuie.
A stone to his cairn.
Image: Eas Criarachain waterfall taken from below Binnein Gorrie, or Gorries Leap on the south coast of Mull.