Shoot them in the Legs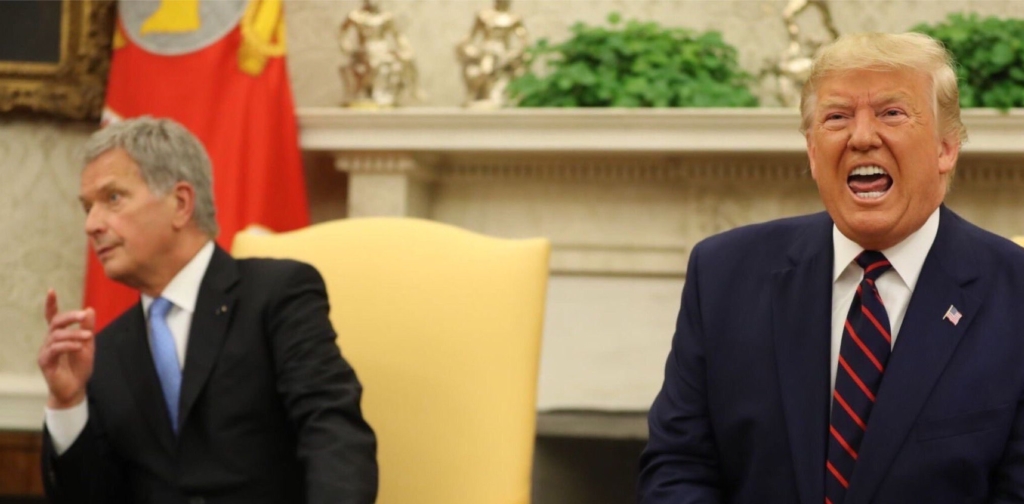 The President of America can't spell "moat".
It's not difficult. In Primary Two children learn the pattern:
Boat
Float
Coat
Moat
It's a letter and sound pattern understood by seven year olds.
Trump spelled it 'Moot'.
But the question of whether Trump is stupid, illiterate, mentally ill or just deeply unstable and unsuited for his position is becoming important. The answer will decide whether the best way to remove Trump is impeachment or the 25th Amendment [ratified in 1967, it allows the vice-president to become "acting president" when "the vice-president and a majority of either the principal officers of the executive departments or such other body as Congress may by law provide" declare a president incapacitated].
As the question of impeachment becomes more prominent, the pressure and stress is building and rapidly taking its toll. The latest example with the Finnish President Sauli Niinistö is trending globally as #TrumpMeltdown.
So which is it?
Back in 2017 a group of psychiatrists warned at a conference at Yale University that Donald Trump was in their clinical judgement suffering from a "dangerous mental illness" and was not fit to lead the USA.
It's difficult to keep up with the bombardment of idiocy but a quick catch-up includes: cancelling a state visit to Denmark because Denmark wouldn't sell Greenland to the US; repeatedly telling senior officials to explore using nuclear bombs to stop hurricanes hitting the USA and; believing video games cause mass shootings.
His moat spelling problems stemmed from allegations published in the New York Times recounting an astonishing tirade in March this year in which White House advisers listened astonished as he ordered them to shut down the entire 2,000-mile border with Mexico — by noon the next day:
"Privately, the president had often talked about fortifying a border wall with a water-filled trench, stocked with snakes or alligators, prompting aides to seek a cost estimate. He wanted the wall electrified, with spikes on top that could pierce human flesh. After publicly suggesting that soldiers shoot migrants if they threw rocks, the president backed off when his staff told him that was illegal. But later in a meeting, aides recalled, he suggested that they shoot migrants in the legs to slow them down. That's not allowed either, they told him."
The exchange was corroborated by more than a dozen White House and administration officials.
The behaviour of Trump has become a sort of global social media game, with hashtags trending furiously as each new day brings a new madness.
But it is getting worse. As Robert Reich, a former US secretary of labor has written:
"I think we have to face the truth that no one seems to want to admit. This is no longer a case of excessive narcissism or grandiosity. We're not simply dealing with an unusually large ego. The president of the United States is seriously, frighteningly, dangerously unstable. And he's getting worse by the day."
Concentrating on Trumps personal behaviour is a distraction from the political phenomenon of Trumpism and the forces that drive it. As Jamie Maxwell has noted there are fears that a concentration on impeachment from Nancy Pelosi will lose the Democrats control of Congress and feed the presidents paranoid base. The sad reality is that Trump is falling apart and may have to be removed. But the better political outcome would be to remove him from office by voting him out. Any other solution feeds directly into his paranoid (and armed) base of supporters. Instead of concentrating on his deeply strange behaviour we should be asking why is his racism so popular and what has happened to America?