A Victory for Children
Amongst the endless rolling Brexit saga it sometimes feels like no other legislation is happening. But today Scotland becomes the the first country in the UK to begin to make physical punishment a criminal offence. MSPs are set to vote on a smacking ban which would give children the same protection from violence as adults by removing the defence of justifiable assault. The Scottish Parliament already voted by 80 votes to 29 to pass the bill through the first stage, but it will face a final vote today.
The bill uses the same definition of physical punishment, sometimes referred to as corporal punishment, used by the UN Committee on the Rights of the Child.
It includes hitting such as smacking, slapping and smacking with a hand or an implement, as well as kicking, shaking or throwing children, scratching, pinching, biting, pulling hair or boxing ears, forcing children to stay in uncomfortable positions, burning, scalding or forced ingestion.
The legislation is a victory for the parliament, for Scottish Greens MSP John Finnie who introduced the bill, arguing that "physical violence has no place in 21st century Scotland", but most importantly it is a victory for children.
But is also a victory against the strange alliance of forces who opposed it, forces that included far-right libertarians, the tabloid press in Scotland, Brexit Party candidates and a curious breed of evangelical christian groups.
So who are the networks combining to make sure you can assault your child? Here's a handy graphic to cut out and keep: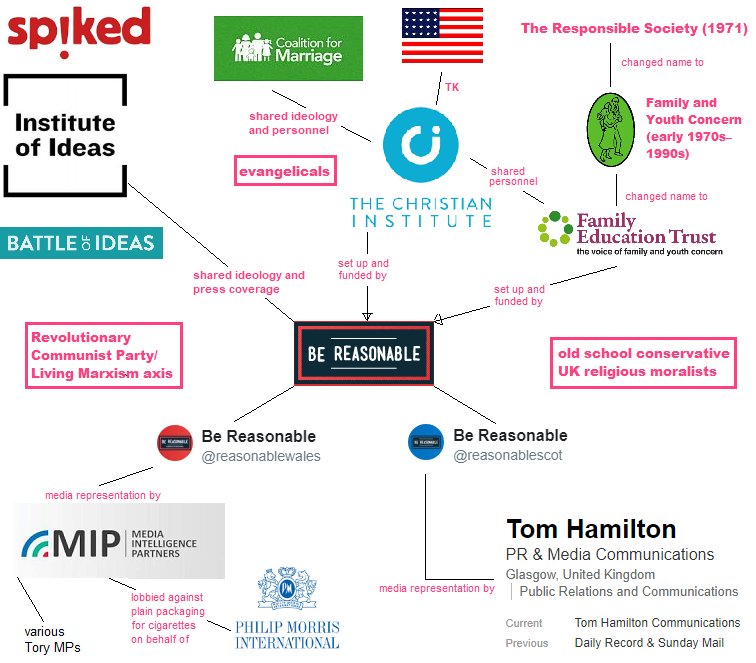 The evangelical  Christian Institute created the astroturf "Be Reasonable" group and it was also responsible for opposition to the NO2NP legislation.
As the Herald covered its opposition to the Named Person ('Fundamentalists who fought Named Person law face financial probe'):
"It has previously campaigned against gambling, abortion and euthanasia but most vigorously against homosexuality. It sought to raise the age of consent for gay people, it opposed civil partnerships and same sex marriages as well as legislation to allow gay couples to adopt. As a charity it has been censured by the Charity Commission for breaching rules on overt political campaigning. Most notoriously it produced an organ-donor style plastic card that read: "In the event of my death, I do not want my children to be adopted by homosexuals".
Also active lobbyists are the Coalition for Marriage ("Britain's leading campaign group supporting traditional marriage which is between a man and a woman, to the exclusion of all others and for life.")
As Adrian Tippets has written:
"Just who the Coalition are, beyond a list of over 130 core signatories, is not entirely clear, as Guardian columnist and science author Ben Goldacre has discovered.
There are links with a number of religious lobby groups. Board members of Coalition for Marriage Limited are prominent members of the Christian Institute, CARE, Family and Youth Concern and Christian Concern. Of these, the Coalition's links with the Christian Institute are particularly close. Coalition for Marriage Limited is registered to the Institute's Newcastle-upon-Tyne premises;  its website is registered to the Institute's office manager, John Errington, and the Institute's co-founder, Colin Hart, is a Coalition spokesman.
The Christian Institute has campaigned viciously and relentlessly against every single piece of LGBT rights legislation in the 22 years since its founding.  As a charity, it has been reprimanded by the Charities Commission on a number of occasions, most notoriously for producing organ-donor style plastic cards, that read: 'In the event of my death, I do not want my children to be adopted by homosexuals'.
It also came in for criticism for it publication Bankrolling Gay Proselytism: The case for extending Section 28, for being an exclusively political activity with relation to its supposed aims. It was one of several positioning papers – whose publication often coincided with related parliamentary debates –  using research often criticised by academics for being methodologically flawed, depicting gay people as diseased or dangerous and more likely to be paedophiles."
Spiked columnist Stuart Waiton, part of the LM network and Brexit Party candidate for Dundee West is a strange bedfellow for the evangelicals. But not really. The Koch brothers who fund Spiked are part of a nexus of far-right christian groups who campaign against ecology, deny climate change and promote "traditional family values".
If the Christian Institute and the Coalition for Marriage represent an extreme, not all christian groups share this outlook. Richard Frazer from the Church of Scotland issued this statement:
Essentially here we see a convergence of homophobic, far-right christian groups coalescing around Scottish conservatives.
Background
While we are right to celebrate this legislation we should realise that we are catching-up with 58 other countries around the world. The fact that the other nations of the UK don't have this provision is a sign of their backwardness, not a signal of our progressive enlightenment.
The legislation is supported by all of the major child advocacy groups in Scotland: NSPCC, Children in Scotland, Children 1st, Barnardo's, Together (Scottish Alliance for Children's Rights) and the Children and Young People's Commissioner Scotland. They are all in agreement that physical punishment is harmful, ineffective and a breach of children's rights.
Head of Policy, Projects and Participation at Children in Scotland, Amy Woodhouse, has said:
"The removal of the defence of reasonable chastisement is essential for ensuring that Scotland is a world leader in human rights. Under the current legal framework, children have fewer legal protections from assault than those granted to adults. As an organisation firmly committed to upholding, promoting and furthering children's rights we believe this is highly unjust and is not supported by any robust evidence.
"The lack of protection that children and young people have from assault is a clear breach of their human right to protection from cruel and inhumane treatment under the European Convention on Human Rights, and Article 19 of the United Nations Convention on the Rights of the Child, which requires all appropriate measures to be taken to protect children from 'all forms of physical or mental violence, injury or abuse'.