A Declaration for Independence, 2019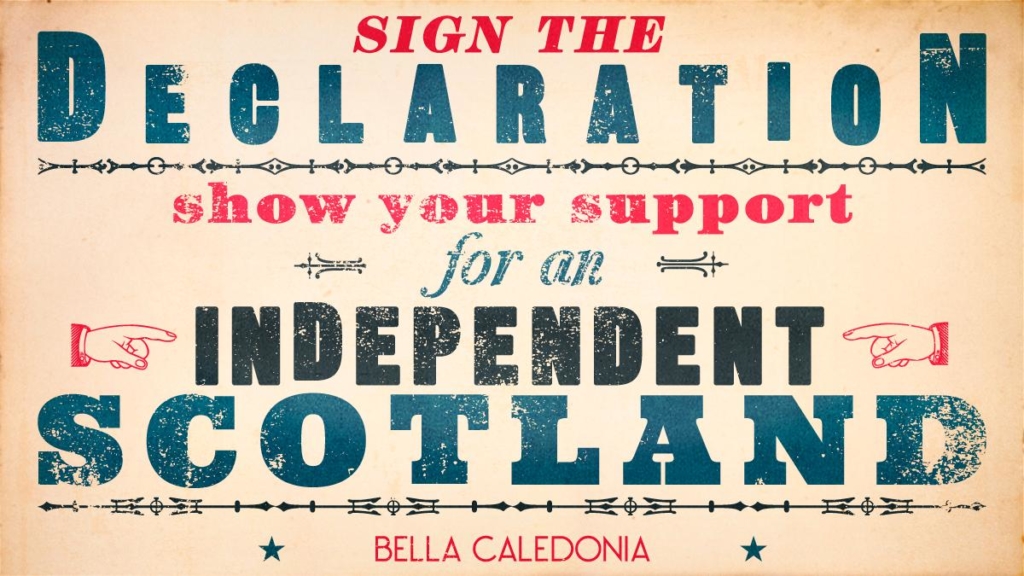 It is the sovereign right of the Scottish people to determine the form of government best suited to their needs. (A Claim of Right for Scotland, 1989)
Guiding principles for a new and better Scotland
It is the sovereign right of the Scottish people to determine the form of government best suited to their needs, now and in the future. In all political deliberations, decisions and actions their interests should be paramount.
Scotland should be an open and democratic society in which no individual is excluded, oppressed or discriminated against on account of their race, colour, faith, origin or place of birth, physical or mental capacity, sex, sexuality, gender or language.
Scotland should have a written constitution which clearly lays out the rights of its citizens, the country's system of government and the relationships that exist between government, its instruments and powers and the rights of individual citizens.
Scotland should take its place as an independent country on the world stage, free to join international organisations and alliances for purposes of trade and commerce, and for the protection and care of the planet's natural environment, without which the human race cannot survive.
Scotland should uphold internationally acknowledged values of non-aggression and self-defence, and should refuse to maintain, stock or use, for itself or on behalf of any other power or government, chemical, biological or nuclear weapons or any other weapons of mass destruction.
There should be clear separation of the powers of the Scottish parliament and government (the executive). The judiciary should be completely independent of government.
Independence will provide an opportunity to review and, where necessary, change the systems of both national and local government, in order to make them more accountable to the people and more beneficial to their needs.
Ownership of land, property and natural resources should be subject to open and democratic scrutiny. The ability of communities, both rural and urban, to own the land in and on which they exist should be enhanced and extended. There should be total transparency in the way property in Scotland is bought, sold or possessed.
Freedom of speech and action, and the freedom to work, create, buy, sell and do business should adhere to principles of environmental and communal sustainability and responsibility. Profit and economic growth should not be pursued at the expense of the wellbeing of the people or their habitat or that of other people or nations.
We affirm the values of care, kindness, neighbourliness and generosity of spirit in all our dealings. Such values are the foundation stones of a fair, free and open society where all citizens have the opportunities to lead the best, most fulfilling lives they can.
It is our belief that the best option now open to the Scottish people is for Scotland to become an independent country.
The alternative is to accept that Scotland's fate would remain in the hands of others and that the Scottish people would relinquish their right to decide their own destiny.
Signatories 
Iain Anderson, broadcaster
Penny Anderson, writer, journalist and artist
Andy Arthur, graphic artist
Peter Arnott, playwright
Neal Ascherson, journalist and writer
Aly Bain, musician
Nerea Bello, singer
Margaret Bennett, folklorist and singer
Stewart Bremner, visual artist
Alan Bissett, novelist and playwright
Cora Bissett, director, actor
Norman Bissell, writer
Robert Black QC, Professor Emeritus of Scots Law
Christine Borland, visual artist
Alex Boyd, photographer
Stuart Braithwaite, musician
Thomas Clark, writer
Calum Colvin, visual artist
Roddy Buchanan, visual artist
Stuart Cosgrove, writer and broadcaster
Brian Cox, actor
Robert Crawford, writer
Jessica Danz, composer
Sir Tom Devine, Professor Emeritus of Scottish History
Lari Don, writer
Jenni Fagan, writer
Angus Farquhar, artist and musician
Malcolm Fraser, architect
Brian Gibb, animateur
John Gray, film-maker
Stephen Greenhorn, playwright
George Gunn, writer
Joy Hendry, Chapman editor
Douglas Henshall, actor
Rt. Rev. Richard Holloway, writer and broadcaster
Robert Hodgens, musician
Jenny Hulse, actress
Kirstin Innes, writer
Kathleen Jamie, poet and writer
Jamie Jauncey, writer
Billy Kay, writer and broadcaster
Pat Kane, musician
A.L. Kennedy, writer
Mary Ann Kennedy, musician, writer and broadcaster
Hannah Lavery, writer
Liz Lochhead, poet, playwright, former Makar
Val McDermid, writer
Cameron McNeish, writer, climber
Murdo Macdonald, Professor Emeritus of History of Scottish Art
Jamie MacDougall, singer and broadcaster
Lorraine Mackintosh, actor and singer
Jim Macintosh, poet
Fiona MacInnes, writer and artist
Dr. Dolina Maclennan, writer and broadcaster
Aonghas MacNeacail, poet and broadcaster
Michael Marten, academic/photographer
Claire McDougall, writer
Mairi McFadyen, writer
Darren McGarvey, writer
Alastair McIntosh, writer
Helen McClory, writer
Dr. Ann Matheson, literary historian
Karen Matheson, singer
Alexander Moffat, artist
Momus, musician
Eleanor Morton, writer/comedian
Jemma Neville, author
Andrew O'Hagan, writer
Aidan O'Rourke, musician and composer
Don Paterson, poet
Michael Pedersen, poet
Karine Polwart, musician and writer
Eddi Reader, singer
Tony Reekie, performing arts producer
Craig and Charlie Reid, musicians
Prof. Alan Riach, poet and academic
Elizabeth Rimmer, poet
James Robertson, writer
Donald Shaw, musician, composer and producer
Ross Sinclair, visual artist
Chris Silver, writer
Donald Smith, storyteller
Elaine C. Smith, actor
Alan Spence, writer
Will Storrar, minister and academic
Em Strang, poet
Dougie Strang, writer
Gerda Stevenson, writer and actor
Jim Sutherland, composer and music producer
Chris Swan, photographer
May Miles Thomas, film director
Jamie Wardrop, artist
Sheena Wellington, singer
Prof. Gary West, musician and broadcaster
Alan J Willy, film producer
Douglas Stuart Wilson, writer and translator
Rebecca Wallace, singer-songwriter
Ruth Wishart, journalist and broadcaster
James Yorkston, musician
Background
In the 2014 independence referendum, 55% of the Scottish people rejected the proposition that Scotland should be an independent country.
Since then, especially since the 2016 referendum on the United Kingdom's membership of the European Union, the negative consequences of the 2014 result have become stark. (62% of Scots voted to Remain in the EU.)
Brexit demonstrated that while Scotland remains in the UK, its people's right to determine their own political future can always be overruled by another country with a population ten times greater.
It is abundantly clear that the UK Government considers the desire of a majority of the Scottish people to remain citizens of the EU as irrelevant.
In these circumstances, it is completely reasonable that the Scottish people should revisit the question of independence.
And, given the predicted social and economic damage of Brexit in any form, the Scottish people should be able to vote again as a matter of urgency.
To deny that right is to deny the fundamental democratic principle of the Claim of Right for Scotland (1989) subsequently endorsed by the Scottish Parliament (in 2012) and by the House of Commons (in 2018).
The Scottish people's right to determine their future should not be frustrated or denied by the UK Government or any other body.
Image credit: Momus