The Police Line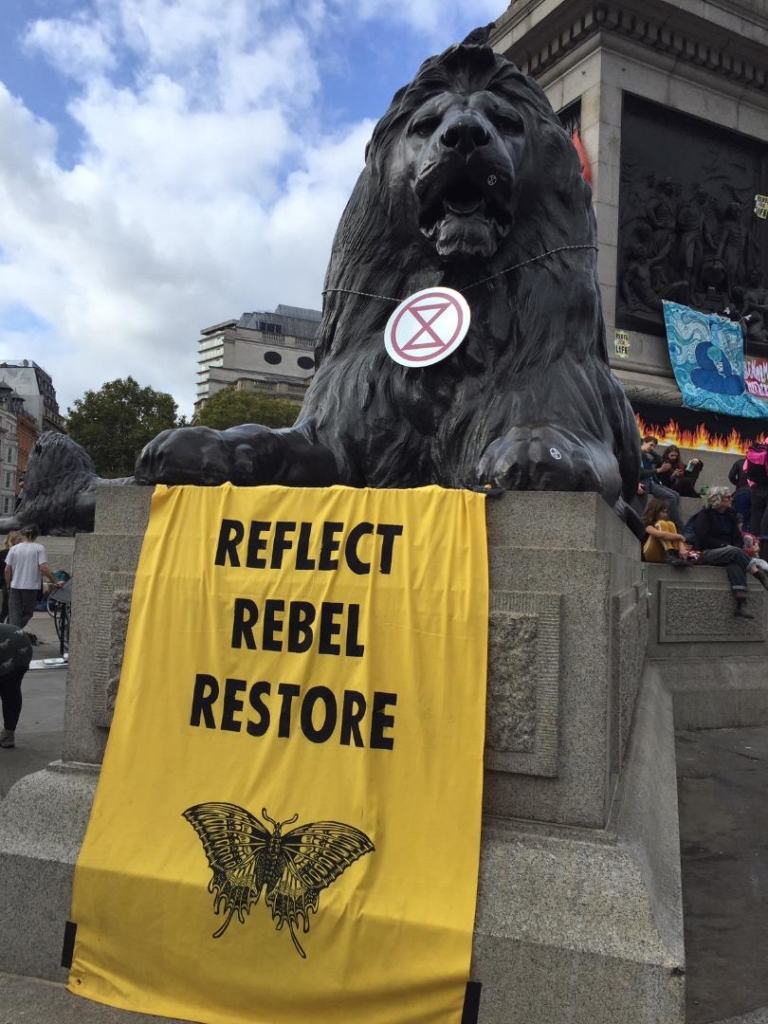 May Fraser explores the tensions between love and power in dealing with the police.
The other side of the police line at the intersection of Trafalgar Square and Whitehall, two police officers dragged someone who had been sitting, by the arms, across the road; searched, questioned, arrested and drove the person away in a police van.
Several minutes later this side of the line someone took up the mic and started to sing a song, then said thank you to the police for 'looking after us, making us feel safe, allowing us to be here', spoke of being arrested at a previous protest, describing the time in the cell as 'relaxing, I did some reading and meditating', and said 'we are lucky in this country as in other countries the police use violence'.
I am right next to the police line, and when this person had finished singing, I overhear one officer saying to another 'Amazing, just amazing [sarcastic tone], now can we tear some tents down.'
So the thing is XR folks. I agree that it's important to see police officers as human. I agree it's not useful to demonise all police officers. I agree that deliberately getting up in the faces of police officers, and being aggressive and abusive towards them at a protest is not going to help achieve the goals you have set out.
I am also really concerned about the 'love the police' dogma that you are asserting, and I am completely bewildered by the thankfulness to the police that seems to be oozing out of people.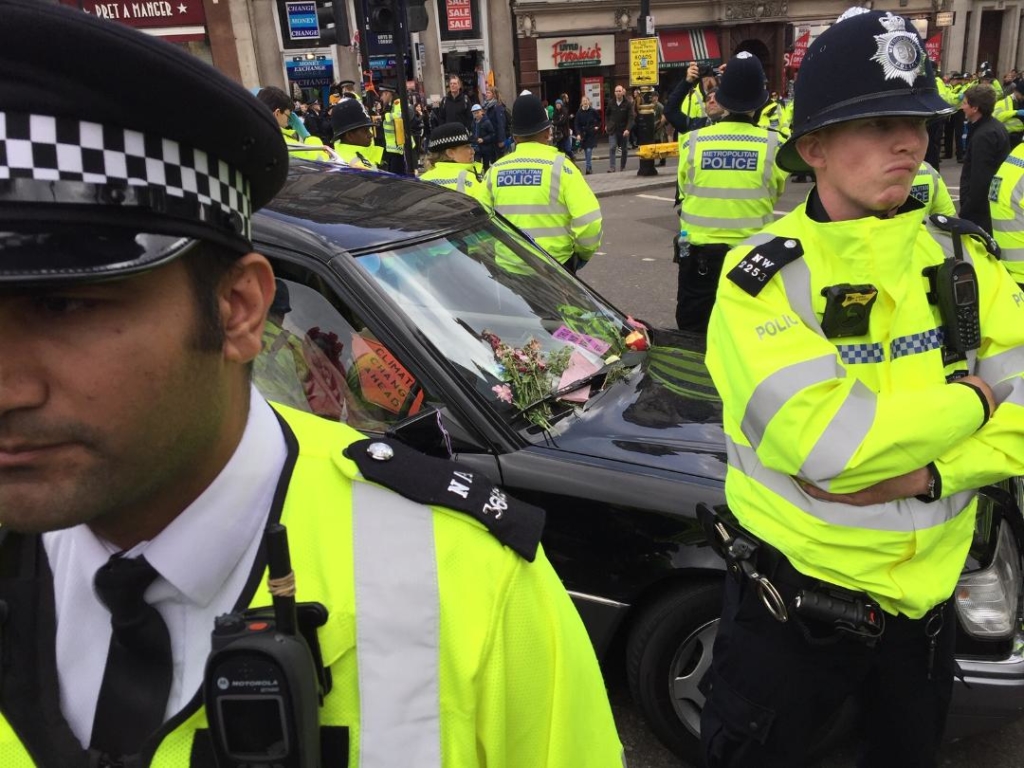 From where I am, right next to the police line, the police officers standing shoulder to shoulder have a very specific job to do, and that job is to wield power and control over people.
I invite the people involved with the XR movement to consider what we mean by 'violence'. My working definition of violence is something like this: being dominating over someone, with or without physical force, with an effect of diminishing someone's dignity. This is what police officers are employed to do. Police officers have more power, and use tactics of coercion and control over people as standard procedure.
From standing in a line at a protest, to the deaths in police custody or following police contact, such as Kevin Clarke who died in Lewisham last year after police restrained him whilst he was experiencing a mental health crisis. Policing is about power and control.
If it is part of the strategy of XR to build positive relationships with police officers in the hope for better outcomes at protests; or part of an intentional longer term process to invite police officers to connect in some way with the movement; or more broadly with a hope that 'The Force' will have more capacity to care for civilians that they routinely brutalise; if it is any of these, I don't see how gushing gratitude fits.
When you rave about how great the police officers were during your arrest, when you say, as one person poured to me 'I cannot fault them, they did not just do their job, they went beyond, they were very accommodating and really showed care', you are doing two things:
1. You are making invisible the daily experiences of harm that people face from police officers, particularly poor folks and people of colour.
2. You are making invisible the violence that the system of policing perpetrates.
The police officers may well have gone beyond their role and been caring during your arrest and custody, but this is white middle/upper class privilege. And pointing out this privilege is not to discount the XR movement; it is an invitation to accountability, and anti-violence.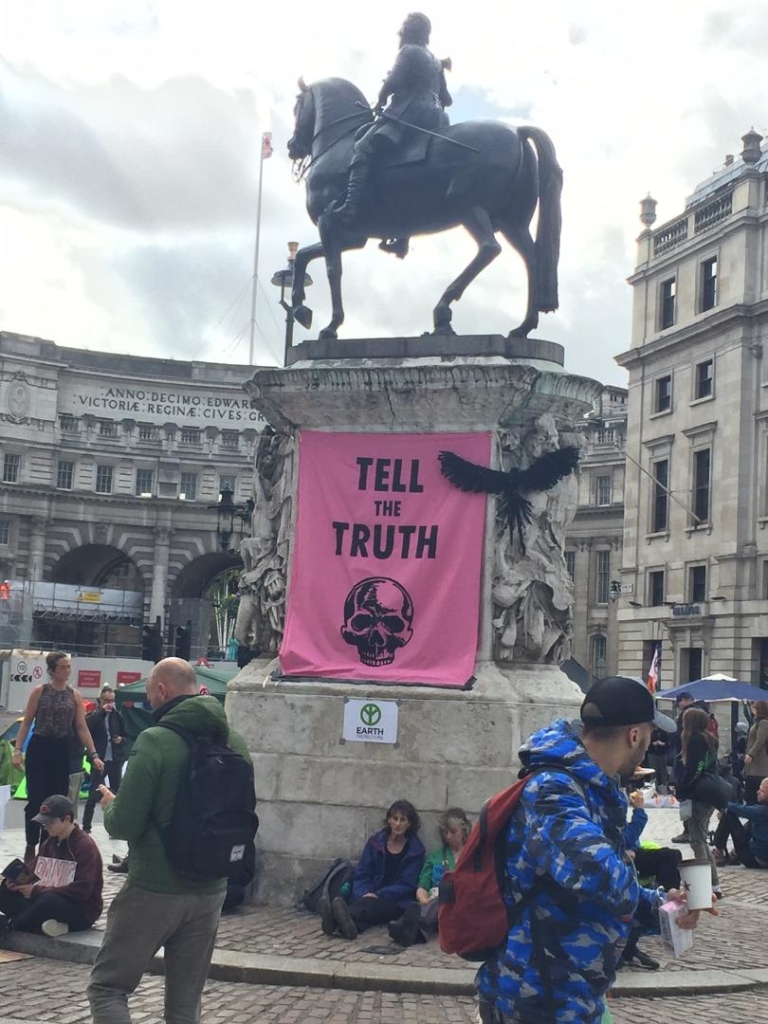 I invite XR folks to consider how we might foster practices of 'accountability' in our communities, the kind of communities that will be required if we are to create alternative structures and to survive climate change.
I agree that totalising people's identities and punitive, ostracising responses are not useful. It would be hypocritical of me to believe in prison abolition and transformative justice whilst vilifying all police officers. In the society I want to live in, dignity for all is the constitution, and this includes those who have caused harm.
Love is not the only answer. Love is powerful, but it is not through just loving someone that they learn to be accountable to power and to redress harm they have caused. As a therapeutic practitioner it is my daily work to support people towards their preferred ways of being. Care and connection are crucial. Attention to power is also imperative. We can do this work with police officers, sure, but not while they are in a system that is designed to oppress.