Justin Trudeau's Anaemic Victory Shows The Limits Of Centrist Politics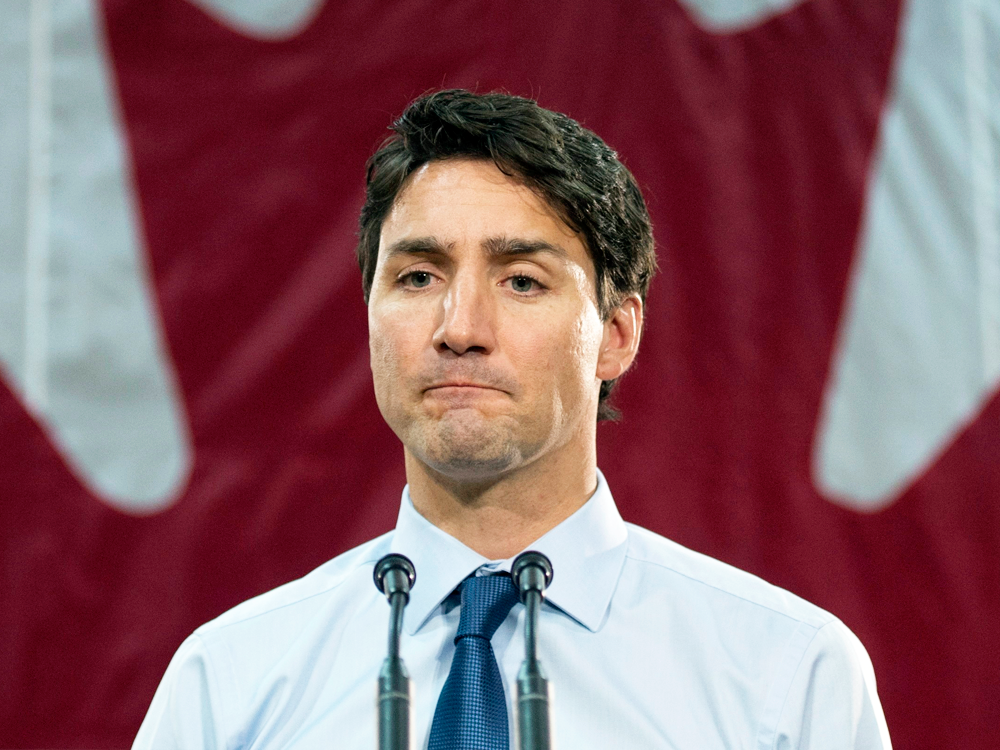 On Monday night, Canadians delivered a fractured and ambiguous election result.
Justin Trudeau, the country's scandal-ridden Liberal prime minister, watched his parliamentary majority evaporate—but will nonetheless return to power at the head of a minority government.
Conservative leader Andrew Scheer secured the single largest number of votes—courtesy of landslide victories in Alberta and Saskatchewan—but not enough seats to dislodge Trudeau.
Jagmeet Singh impressed on the campaign trail and now holds the balance of power in the House of Commons—but still saw his tally of centre-left NDP MPs cut in half.
And even the Bloc Québécois, which tripled the size of its federal caucus, was only provisionally successful—in the 1990s and early 2000s, the party regularly sent up to 50 representatives to Ottawa; in the next parliamentary session, it will send just 32.
Canada's electoral map is now radically divided.
The Liberals are dominant in urban areas; the Tories control the Prairies and much of rural BC; the NDP are competitive in Metro Vancouver and parts of Ontario; and the Bloc are making gains throughout Quebec.
So what, if anything, does this tell us about Canadian politics in 2019?
Maybe not very much: Canada is vast and diverse and has always had—or claimed to have—a commitment to institutional moderation and constitutional flexibility.
(Two days before the election, the rallying cry of Jean Chrétien, one of Trudeau's predecessors as prime minister, was—and I kid you not—"Let's be reasonable.")
But two things I think we can take from the result is that Trudeau's victory was utterly unconvincing, and that the Liberal governing strategy was deeply flawed.
Trudeau didn't just lose his majority four days ago, he lost over a million individual votes—and that was in the face of a lacklustre challenge from the Conservatives and some broadly favourable economic headwinds.
In fact—ironically—one reason Trudeau managed to survive at all is that, after assuming office in 2015, he ditched a pledge to overhaul Canada's grossly disproportionate first-past-the-post electoral system.
(For reference: the Liberals won 46 per cent of federal seats on Monday with 33 per cent of the national vote—the Greens, by contrast, got three seats in exchange for 1.1 million votes.)
Yet electoral reform was just one of many issues Trudeau U-turned on during his first term.
Despite casting himself as a "global leader" on climate change, he spent $4.5bn bailing out a pipeline project which, once completed, will double the amount of diluted bitumen Canada exports to the world.
Despite amplifying Canada's reputation as a benign actor on the international stage, he sold $15bn worth of military equipment to Saudi Arabia—including 900 armoured vehicles—even as Riyadh intensified its devastating war in Yemen.
Despite promising to pursue a programme of deficit-financed spending, he launched a massive private finance initiative that now threatens to transfer large chunks of the country's infrastructure over to corporate oligarchs.
And despite relentlessly talking up his feminist credentials, he sacked his attorney general—Jody Wilson-Raybould, the first indigenous woman to hold that office at the federal level—for refusing to drop a prosecution case against a major Canadian construction firm.
In other words—even before the blackface scandal erupted over the summer, shattering his intricately constructed image as an ultra-woke reformer and champion of progressive causes—Trudeau's record in government was defined by a series of compromises and concessions: to the fossil fuel industry, to the arms industry, to the private sector, and to the right.
And these concessions were costly.
You can actually chart the collapse of Trudeau's popularity, in almost perfect linear fashion, over the course of his premiership.
In January 2016, the Liberal leader had a net approval rating of roughly 30 per cent; by January 2019, he had a net disapproval rating of roughly 20 per cent.
The more Canadian voters saw of Trudeau, and the more they realized how empty his progressive posturing was, the more they grew to dislike him.
As a result, Trudeau returns to office massively weakened both at home and abroad, a liability to his party rather than an asset, and faced with the reality of having to horse-trade his way through the next few years in parliament.
His most likely legislative partners will be the NDP who, having endured a tough election night of their own, will aim to extract a high political price for their cooperation.
But even then, Trudeau could find his second spell in power sharply truncated.
Canadian minority governments have an average shelf life of around 24 months.
Trudeau may or may not survive that long.
Either way, his rapid fall from grace illustrates the limits of centrist politics.
You win nothing, in the long term, by "playing it safe."