Write to End Violence Against Women Awards 2019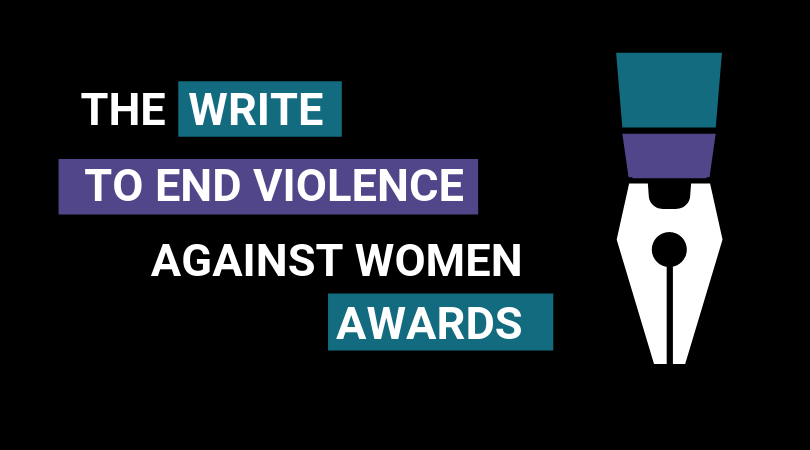 Were delighted that two of our writers have been short-listed for the Write to End Violence Against Women Awards 2019. One by Fiona Robertson under comment and opinion, and the one by Miss M under blogs. Both were published under our Guest Editor programme in which Caitlin Logan (also nominated) was our editor.
The competition, now in its 7th year, celebrates outstanding journalism and writing on gender equality and violence against women.
Rachel Adamson, Co- Director, Zero Tolerance:
"We were very excited to receive over 190 nominations this year from a wide range of papers and writers. The standard this year has been exceptional."
"With every story on violence against women there is an opportunity to stop it happening again."
"Responsible and sensitive writing on what violence against women is, what the warning signs are, and where people can seek help, is a key part of creating a world free from violence against women. It can save lives"
See the full shortlist here:
Best Piece – News
Caitlin Logan, The National: Warning over Pause Project that only supports women using contraception
Karin Goodwin, The Ferret & The Sunday National: Call to review domestic murders to help prevent further deaths
David Leask, The Herald: Rape victims to give video statements in bid to improve conviction rates
David Thomson, Common Space: STUC Youth Conference demands free sanitary products for all female workers
Best Piece – Feature
Rhiannon Davies, CommonSpace: Campaign to remember 'Glasgow's dirty secret'
Megan McEachern, The Sunday Post: "I'll never forget it. His eyes just went black:" Domestic abuse survivor on coming out the other side and striving for greater awareness in young women
Kirsty Feerick, Cumnock Chronicle: Mum survived horrific domestic abuse and now helps others escape violent relationships by recycling
Mary McCool, BBC: Edinburgh hip hop artist raps about rape to help survivors heal

Honourable mention: Caitlin Logan, Commonspace: More than a piece of policy: Scotland's trans youth say it's time to see the humans behind the headlines
Best Piece – Opinion and Comment
Carrie Lyell, The Independent – Trans people aren't 'erasing' lesbians like me – I'll fight for equality standing side-by-side with them
Fiona Roberston, Bella Caledonia: Surviving in plain sight: Disabled women and domestic abuse
Dani Garavelli, Scotland on Sunday: Marshae Jones case shows US is close to dystopian nightmare
Kirsty Strickland, The Herald: The dark lesson that the Jeffrey Epstein case can teach Scotland
Honourable mention: Calum MacLeod, The National: Sgrios-cinnidh ann an Canada

Best Piece – Blog and Self Published
Elspeth Wilson, Engender blog: Why contraception needs a Me Too moment
Faiza Yousaf, Life of Fai: Why Didn't You Leave?
Miss M, Bella Caledonia: When the criminal courts let me down, I sought my own justice
Esme Johnson, Rape Crisis Scotland Blog: Letter to Boris Johnson
Gender Equality Awards – Women and Sport
Laura Waddell, The Scotsman: Scotland Women 'really shake them up' and may even win World Cup
Molly McElwee, The Telegraph: Katie Archibald on Inaugural Women's Tour of Scotland
Dani Garavelli, Nutmeg Magazine: No Thanks to the Men
Stewart Fisher, The Herald: Rose Reilly: I am just pleased that Scotland's women footballers can finally achieve their goals    
Winners will be announced on Wednesday 4 of December at the awards ceremony at the Scottish Parliament, hosted by Jackie Baillie MSP.
The Awards are organised by Zero Tolerance, supported by Amina: The Muslim Women's Resource Centre, Edinburgh Student Arts Festival, Engender, Everyday Victim Blaming, Fife College, Hollaback Edinburgh, International Women's Day Edinburgh, NUJ Scotland, Rape Crisis Scotland, Shakti Women's Aid, the Empower Project, University of West Scotland, White Ribbon Scotland, and YWCA Scotland. The Awards are sponsored by NUJ Scotland, and NUJ Glasgow Branch.
Follow Write to end Violence Against Women on Twitter here: https://twitter.com/WritetoEndVAW