On Dave King and Karl Marx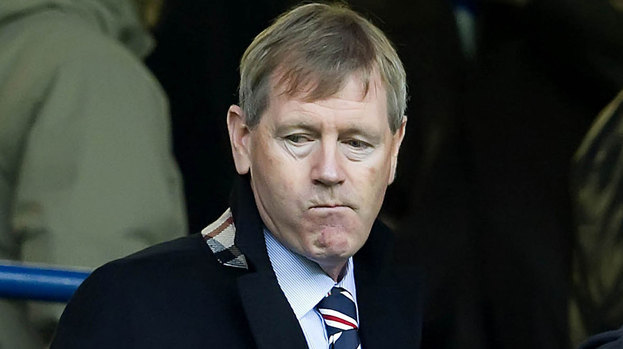 I'm not sure how familiar the Ibrox faithful are with the works of Karl Marx, but it was himself who wrote "History repeats itself, the first as tragedy, then as farce" in his essay The Eighteenth Brumaire of Louis Napoleon published in 1852.
The quote jangled out at me as I read this account in the American finance magazine, Forbes. It details the perilous state of one of Scotland's biggest football clubs in some detail.
The writer points out: "Tucked away in the second to last paragraph of the report, it reads that: "The Board acknowledge that the uncertainty over the level of additional funds that will be required and a lack of a binding debt facility indicate that a material uncertainty exists which may cast doubt over the Group's ability to continue as a going concern and therefore its ability to realise its assets and discharge its liabilities in the normal course of business."
You wouldn't have thought that such a state could be allowed to happen (again) nor would you be aware of the reality given the studied silence of the Scottish press corps. BBC Scotland published this upbeat (unattributed) assessment on the 1 November, faithfully quoting Dave King saying, "The financial year under review was again a positive one."
They quote King adding:
"It has been the board's responsibility to provide financial support to the manager and that is what we have done. We have also invested significantly in the infrastructure at Ibrox stadium and the training centre."
"Much of this work, although it is costly, goes unseen. There is a continual funding requirement to maintain our facilities if they are to remain among the very best in the world."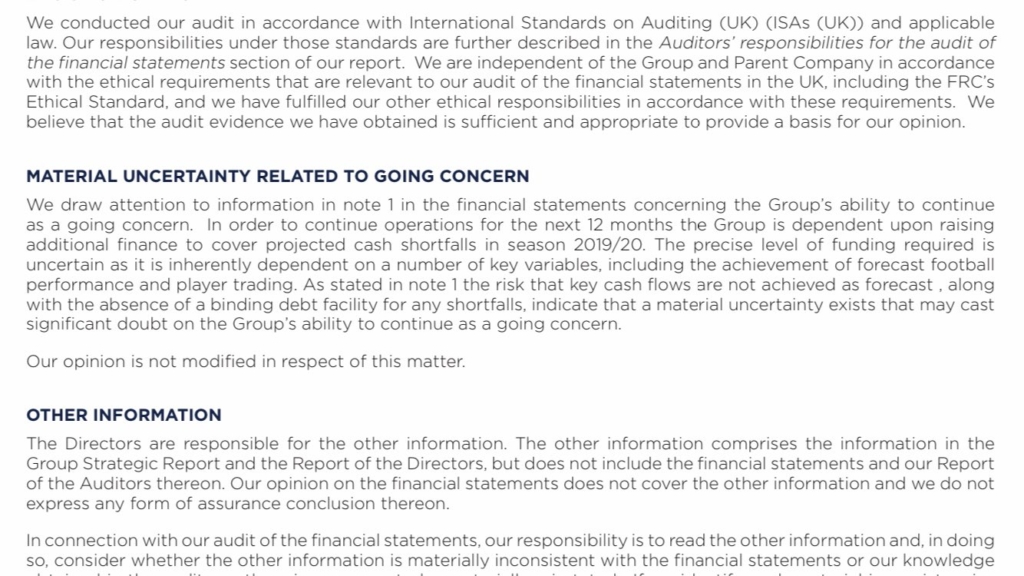 This is a substantially different spin than the Forbes account.
The sports journalist, Mike Meahall Wood explains:
"The simple reality of the matter, however, is that the funding gap to Celtic is essentially insurmountable within the time required to stop the ten unless someone is willing to consciously and deliberately lose tens of millions of pounds to do so. Dave King, the major benefactor of Rangers, is currently losing upwards of £10 million a year to watch Celtic win every trophy, and no matter how big a fan of the club he claims to be, that is completely unsustainable. Now, he must find another £10 million to keep the club solvent until the end of the season."
Rangers, he points out, have spent £9 million on legal fees alone on the Mike Ashley's Sports Direct battle, which they lost.
With a finite amount of ticket sales at Ibrox, and a limit to broadcasting revenue, Rangers are extremely vulnerable. They have no bank credit facilities, and their only way of making money is by winning the league and entering Europe, or selling players. These two things are in opposition to each other.
Wood again:
"Rangers cannot realistically generate much more revenue from sponsorship, TV broadcasting, match day revenue or merchandising. The only route open to the club—well, the only one other than a wealthy benefactor losing money hand over fist—is to make up the shortfall via player sales, which cannot be squared with their stated goal of winning the Scottish Premiership. Titles are not won by selling your best players halfway through the season, but there is a legitimate threat that the club might not make it to the end of the season without someone departing for cash."
The club are heavily reliant on Dave King, their chairman, who is currently censured by the Takeover Panel for financial misconduct.
The Takeover Panel found that he had committed an offence of "utmost gravity" by working with a group called the Three Bears to seize control of the top flight team. He will be "cold-shouldered" for four years – a rarely used sanction that blackballs him from the financial community, barring him from working with others on further takeovers. The Takeover Panel said a public censure "would not be a sufficient sanction". It is only the fourth time such a punishment has been handed out during the regulator's 50-year history.
Now these accounts show a loss of £11.3m making a total of £25m in 2 years. We should also consider that Mike Ashley's bill for "millions" is still outstanding and Kent's £7m fee isn't in these figures.
The silence in the Scottish media about this situation is deafening.
Having resurrected themselves the club is now facing the possibility of repeating the disastrous unsustainable management that brought it to its knees in 2012. The rules of Financial Fair Play don't seem to work in Scotland.
Why does any of this matter?
It matters because the SPFL and the SFA are culpable in ignoring all of this, as is the public broadcaster who are locked out of coverage or interviews with Rangers yet faithfully broadcast their games without question.
It matters because other clubs are attempting to run themselves in a manner that is financially prudent and legal.
It matters because the list of corrupt rich men who come and go into football clubs, fleecing fans before disappearing leaving wreckage in their path is a long and weary one.
Financial Fair Play – UEFAs attempt to stop 'financial doping' and to protect clubs from going bust – operates in English divisions but is strangely absent from Scottish football.
Fans without Scarves have covered the issue here, and the concept of "moral hazard" here ("Stigma in Scottish Football- Intro and Part 1: Too Big To Fail"):
"If creditors believe that an institution will not be allowed to fail, they will not demand as much compensation for risks as they otherwise would, thus weakening market discipline; nor will they invest as many resources in monitoring the firm's risk-taking. As a result, too-big-to-fail firms will tend to take more risk than desirable, in the expectation that they will receive assistance if their bets go bad."
A Hampden spokesman has previously stated: "All Premiership clubs in Scotland undergo a Uefa Licence assessment."
"The interim accounts need to be reviewed by an auditor, but a full audit is not a requirement. FFP is not relevant for a Uefa Licence decision as such.
"Clubs competing in Uefa competition are subject to FFP assessment and if found in breach can face various potential sanctions."
By comparison Championship clubs are allowed a maximum loss of £61 million (or £15 million if no equity is injected.)
If this Rangers entity collapses, the same confused people will look around as if none of it could have been predicted, declare it to be a calamity it is for Scottish football and 'just how could this have happened?', when in fact its staring us in the face. For a club so obsessed with history, they seem poor students of it.
As an aside, in the preface to the second edition of The Eighteenth Brumaire, Marx stated that the purpose of this essay was to "demonstrate how the struggle in France created circumstances and relationships that made it possible for a grotesque mediocrity to play a hero's part."