Election Diary: Full Facts, Squirrels and Northern Monkeys
A week packed with intrigue and deception took an twist yesterday with Arron Banks DM's spilled into the public like an upturned truckload of silage (note the fake "Northern Monkeys"), only to be outclassed by the Tories James Cleverly ordering the re-branding of their Twitter account as 'Fact Check UK".
It's one thing for some rando-hacker to have a go at Banks, but it's another for the governing party to blatantly spread disinformation. This is an incredible lurch into blatant disinformation during an election campaign – now unapologetically defended by Dominic Raab on national media this morning. As one person noted "The Tory press office's rebranding of their Twitter account as #FactCheckuk is more sinister than seems at face value, because it casts doubt on the veracity of all #FactCheck accounts. Straight out of the Trump playbook."
Meanwhile the Lib Dems stagger on with their terminally irritating leader casually combining a love for the liberalism of Jacinda Ardern with the unhesitating ability to unleash weapons of mass destruction …
This is a disgraceful response from @JoSwinson. Not for the 1st time in this general election, she confirms she's ready to press the nuclear button. Not even a moment's hesitation about the prospect of killing millions of people. We need better than this#ITVDebate #VoteOutNukes pic.twitter.com/W84cuLTuoy

— CND (@CNDuk) November 19, 2019
The ITV live debate had all the trappings of a US presidential debate and successfully excluded the SNP, the UK's third largest party. By doing so we encounter the reality outlined by the writer Gary Younge that "we have all become so inured to the naked rightwing partisanship of the British media that it barely registers beyond a knowing shrug. But somehow we never quite seem to compensate for its effect in our politics. Its persistent power has produced a corrosive democratic deficit."
It's not a conspiracy to observe how insidious the media is. Younge again:
"It is simply not possible to make an informed decision when one is routinely, wilfully and cynically misinformed … People think they are immune to all of this. They're not. We can and do, of course, make up our own minds. But we don't make them up out of thin air. Boris Johnson's "Teflon qualities", Labour's "incomprehensible" Brexit policy or Jeremy Corbyn's "leadership failings" are all remarked upon as though they are unrivalled facts rather than judgments, all mediated through an almighty filter with extreme prejudice. The framing is so dominant and pervasive, and reproduced so consistently, omnisciently and persistently, that it ceases to feel like a frame at all."
Of course he's right about the constant oblique attacks on Corbyn, but for Sturgeon she's simply "disappeared".
Where are all the liberal commentators who stoutly defended the right of Steve Bannon to have a platform on BBC Scotland and whined their incoherent whines about "free speech"? Where are they now? Nowhere to be seen.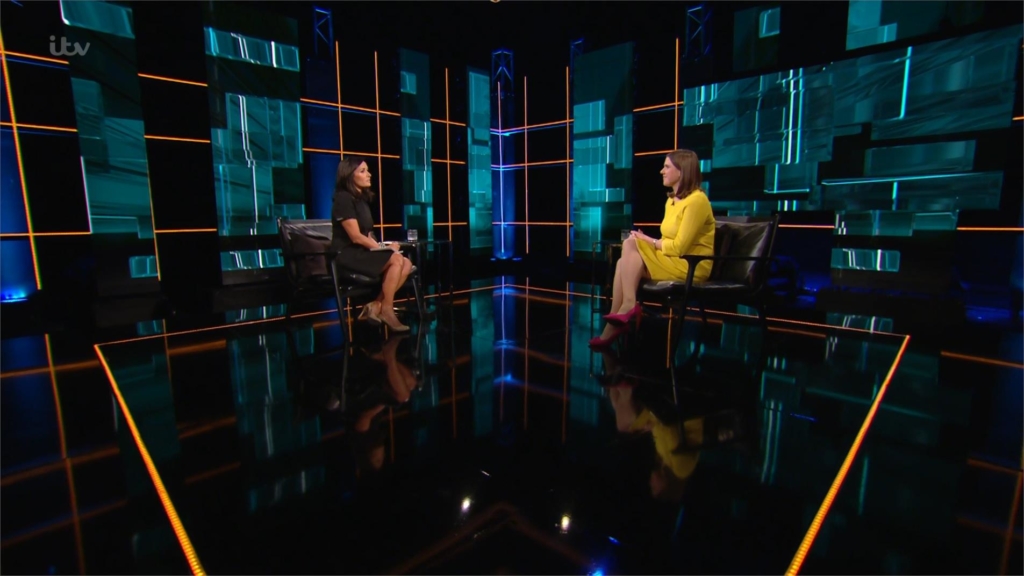 Anyway, the "leaders debate" was toe-curling stuff, with two deeply unconvincing characters wheeling-out an array of cliched policies, both eliciting laughter from the audience. Neither are trusted or believed. So we are in a state of disbelief: a country led by someone everyone knows is a liar, a man who is laughed at when he mentions the truth and who called the monarchy 'beyond reproach'.
The ITV host repeatedly struggled to contain Johnson as he spun smear and dogwhistle politics about immigration, and even managed to call Labour a "cesspit of anti-semitism".

… "framing is so dominant and pervasive, and reproduced so consistently, omnisciently and persistently, that it ceases to feel like a frame at all" …
Johnson wheeled repeatedly to the issue of a Scottish referendum, playing well to a Salford audience. How extraordinary to be in an election where an entire debate takes place about the constitution without the SNP present? As playwright Peter Arnott put it:
"Neither leader remotely engaged in anything outside of a tiny, fetid bubble of Westminster Swamp gas. Neither has any conception, let alone imaginative solidarity, with any of the "regions and nations." The social fabric of the UK is a fiction. The Union is the walking dead."
This entire election feels like a poorly staged denouement of British political life, staggering forwards in a dystopian flurry of lies, fake news and absurdity.