Beware the Black Swan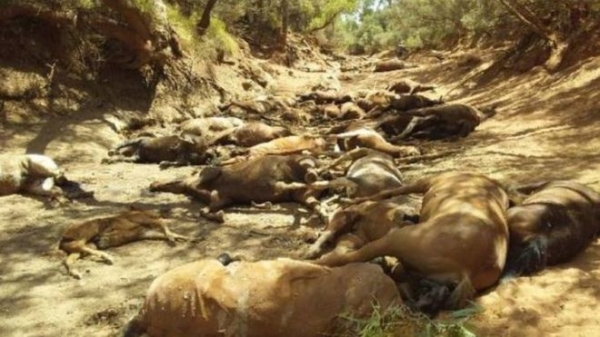 Climate change is now. Climate breakdown is not a future event. Nature is breaking down in apocalyptic scenes. As Australia faces record-breaking heat, with temperatures hitting 49.5C north of Adelaide (breaking records set since 1939), Max Macleod reports.
I received an email at one this morning that gave me a bit of a shock, a farm where I have stayed on a couple of occasions in New South Wales has been partly destroyed by fire.
Details are hard to nail as the person who sent it described herself as being physically and emotionally exhausted. She's the wife of a cattle farmer and not someone who gets that way often. To give you a sense of the place the last time I was there the philanthropist owner and I found a cow blocking his drive, well its hardly a drive, it goes on for several miles, and after we had shifted it into the ditch  (he was in his late seventies and did more of the graft than I) he calmly said "Hey listen Maxwell I'm really busy tomorrow so can you drop down here at dawn and if its still here shoot it in the head."
It's not a request you hear often in my native Barnton. Added a certain new dimension to my sleep patterns that night. I was just off the plane. I went down in the morning with the rifle .
You can imagine. Nothing else for it. Vet was many hours away.
Actually I'm not much in the mood for flippancy. I genuinely love the folks that own and run that place. They put in the hours, don't take any rubbish from anyone and if they find themselves with a bit of spare cash put it into political activism. They've been supporting social action since Vietnam. Oh and they are Scottish Nationalists, you may remember a banner that was once illegally strung up across the Royal Mile calling for Devolution. It was their cows that paid for it.
Good people. I find the thought of the loss of that farm hard to bear.
Now when I was in America last week much of the news was of the unusually high number of bush fires that were raging there and now I find that this Australian farm I am fond of has been pretty much destroyed. I imagine that the farmers gun will be pretty busy in the next few days, I hear a lot of his cattle  are down and many will doubtless need finishing off. I would go and help  if I thought I wouldn't just be a burden. At least I have practiced with their rifle.
The farmer's wife tells me that others are getting it worse. That she's never seen the like.
So why do I tell you all this? Well last week when I was in New Orleans and to me the most significant thing was that there were still dams from the 2005 Hurrican Katrina that hadn't been fixed yet. Rare as a Black Swan is the line they use. Nothing much to worry about.
*
But I did. Shivered in my bed.
It's so hard to nail down but all over the world even the traditionally taciturn Scientists are beginning to review the number of extreme climate events and suck their teeth.
Last Spring I was in northern India and took a brief walk in the lower Himalayas. If you do anything else this week do a google search on the Tibetan plateau. It is surely quite possibly  the most imminent global disaster in the global warming nightmare and many wonder if it will be the vanguard of many more. If the water supply on that plateau starts to give out, and many say it will, then forty per cent of the world's population will be affected. More if you include the places those people will have to run to. Not in a hundred years, think fifty.
Now I'm no Scientist, I'm making no predictions, but Spring on the Tibetan Borders, summer in Mississippi and now this news in Autumn from my favourite farm. Well it has left me a little curious. Am I over reacting? Being an idiotic eco-hysteric? Making a fool of myself? I very much hope so.
Back in 1976 my late Father George who was the first member of the Green party to sit in any parliament in Europe sat down with me to decide what to do with an old already semi ruinous house, Fuinary Manse, that he had bought for under a thousand pounds. He was eighty one.
Lord how I laughed at his suggestion. Told him he was crazy. Mankind he said would never turn away from capitalism, never really address climate change or over population, we were stuffed. He even believed that the EEC as it then was, was largely a mechanism to allow the free market to allow the bankers to gobble up all the resources unhindered by democracy. Silly old fool I thought.
He said that we should establish the Manse as a place where we would teach folk to live simply so that others can simply live. It could become a refuge for the final days.
I truly thought he was getting senile. Today, to my disgrace, the roof of that Manse has finally fallen in and my sleep is sometimes disturbed not by the thought of the cattle executions I may have to undertake at dawn, but whether George was right and whether the setting up of an exemplary ecologically sound household might have been constructive.
But what do I know? I'm just a silly story teller. Pay no attention to my uninformed waffling. But beware Black Swans.