Election Diary: Broadband Communism and the F Bomb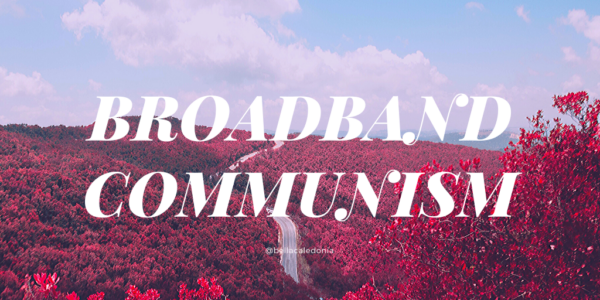 It's manifesto launch week. Labour launched in a slick, well choreographed event and it's full of good stuff:
"Our manifesto is the most radical, hopeful, people-focused, fully-costed plan in modern times. This is our chance to tackle the climate emergency, to end food bank Britain and to rewrite the rules of the economy so it works for everyone – not just the billionaires. This is our chance to deliver a million genuinely affordable homes and a million climate jobs across every region and nation of the UK."
It puts the boot into the Tories and holds out hope (particularly around a Green Industrial Revolution) saying: "This election is about the crisis of living standards and the climate and environmental emergency. Whether we are ready or not, we stand on the brink of unstoppable change.
We must confront this change while dealing with the growing inequality and insecurity in Britain. Labour led the UK Parliament in declaring a climate and environmental emergency. The next Labour government will lead the world in fighting it, with a plan to drive up living standards by transforming our economy into one low in carbon, rich in good jobs, radically fairer and more democratic. The climate crisis ties us all into a common fate. This election is our best hope to protect future generations from an uninhabitable planet. The Intergovernmental Panel on Climate Change has said we need to cut global emissions in half by 2030 to have a chance of keeping global heating within safe limits – that means acting now, and acting decisively."
The work and research Labor have done on a new Green Deal is some of the most comprehensive, radical and hopeful work in modern times.
You can download the whole thing here: Real-Change-Labour-Manifesto-2019
It is particularly strong also on work and inequality: "Under the Tories, pay has stagnated while insecurity and inequality are rising. Work no longer guarantees a way out of poverty. Of 14.3 million people in poverty, nine million live in families where at least one adult works. Real wages are still lower than before the financial crisis, while dividends paid to shareholders are up 85%. Labour will eradicate in-work poverty in our first term by tackling the structural causes of poverty and inequality, such as low pay and high living costs, while raising the floor provided by our social safety net." They also offer worker ownership: "We will give workers a stake in the companies they work for – and a share of the profits they help create – by requiring large companies to set up Inclusive Ownership Funds (IOFs)."
Some of it is eye-catching (the idea of a digital commons – or of nationalising broadband supply), some of it is disappointing (they've dropped a radical plan to end the UK's contributions to climate change by 2030 and will stick to a target of achieving it "well before 2050" instead). But where there is just a huge yawning gap is, perhaps unsurprisingly, on the constitution.
In the section 'Constitutional Issues' they write: "We will act immediately to end the hereditary principle in the House of Lords, and work to abolish the House of Lords in favour of Labour's preferred option of an elected Senate of the Nations and Regions." Which, interestingly doesn't say they are going to abolish the House of Lords and has no time-frame in mind. On Northern Ireland they say they will "work quickly and tirelessly to secure the return of a genuine power- sharing government in Northern Ireland." In Wales they promise a tidal lagoon project and new nuclear (which is insane). Not much else.
In Scotland they promise an eye-popping "£100 billion of additional resources".
They argue: "As part of that additional resource Labour would want to see £10 billion from our new National Transformation Fund invested in the building of 120,000 council and social homes in Scotland over the next ten years, ending the housing crisis and creating up to 50,000 jobs."
This all sounds fabulous, if a little improbable.
They argue: "Labour believes that Scottish independence would be economically devastating and it would be the many not the few who would pay the price."
They don't explain what this means or why they think this.
They continue: "Scotland needs the transformative investment coming from a Labour government, not another referendum and not independence. A UK Labour government will focus on tackling the climate emergency, ending austerity and cuts, and getting Brexit sorted. That's why in the early years of a UK Labour government we will not agree to a Section 30 order request if it comes from the Scottish Government."
So we're back to the "early years" formula that was dropped and picked up again three different times on Corbyn's trip to Scotland. So that's probably what they've settled on for now.
But the yawning gap I spoke of isn't the consistently undemocratic line of just refusing people a vote, where is the much heralded Federalism, the radical alternative to independence that many on the Labour left and in Scottish Labour's outlying online community regularly champion?
It's just not there.
Not a peep.
Not an aspiration.
Not an outline.
For those who regularly cite federalism as the magic that will vanish away our constitutional crisis this prevents some difficulties.
The Labour prospectus is very good on green jobs, investment and housing. It appears however to remain completely incoherent about its constitutional position, not just in Scotland but in the whole of the UK, where its plans seem tentative and incoherent at best.  Perhaps this is a reflection of its centralising impulse, the inherent drive of an old left ideology which wants to plan, to nationalise and to control. Some of that is a good instinct and a necessity in times of socio-ecological crisis, but in democratic terms it really doesn't make any sense.