The Scotland Papers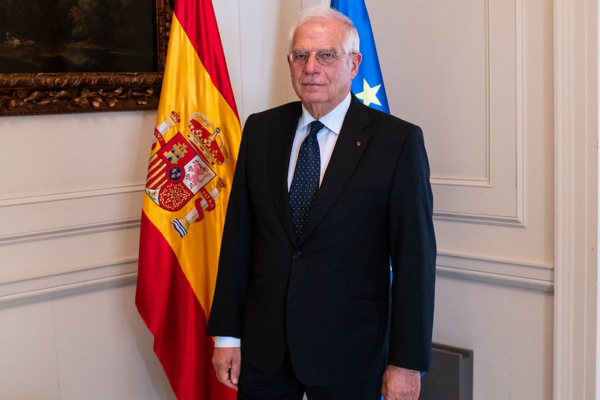 Ben Wray reports for Bella from Spain where the leaked 'Scotland Papers' expose a bizarre set of relations between Scotland and Spain, and examples of paranoia, bullying and racism in the Spanish Foreign Ministry.
They call it 'Los Papeles de Escocia'. The Scotland Papers, a leak of 80 documents from the Superior Court of Justice of Madrid to the right-wing Spanish paper 'Vozpopuli'.
Half of the documents are e-mails between the former Spanish diplomat in the Edinburgh consulate, Miguel Ángel Vecino, and the key staff of his then boss, Josep Borrell, Spanish Foreign Minister (pictured, right). On 1 December, Borrell will officially start work as the EU's Foreign Affairs Minister.
The court case came about after Vecino was fired by Borrell, following the 6 June publication in The National of a letter from Vecino to the Scottish Government, in which the former diplomat said Spain would not block an independent Scotland's EU membership. Vecino is taking the Spanish Government to court for wrongful dismissal.
So far the documents have yielded eight stories on Vozpopuli, each in their own way remarkable.
The picture the articles collectively paint is one of a Spanish Foreign Ministry obsessed by Catalonia, to the point of unhinged levels of paranoia, and willing to deploy the full-range of underhand tactics – including bullying, spying and deceit – to get what they want, with apparently few scruples about interfering in the domestic affairs of other states.
Furthermore, the documents suggest a worrying culture among Spanish diplomats, where racist attitudes are apparently tolerated.
Sadly, it's also necessary to state that the documents paint the picture of a Scottish civil service far too willing to play ball with the unreasonable demands of the Spanish state, in an almost deferential spirit.
The documents show too that the Scottish Government is too easily swayed by Pedro Sánchez' government's public comments about an independent Scotland, which have little to do with their real views, and are in fact a carefully calculated strategy to isolate the Catalan government internationally.
Note: The truthfulness of the remarks made by Vecino in these leaked documents, which range across multiple conversations with multiple individuals, could not be fully verified by second sources. The Scottish Government has told Bella Caledonia that: "The remarks reportedly attributed to Vecino contain a number of serious inaccuracies."
Borrell's Scottish ruse
Miguel Ángel Vecino was a new appointee at Spain's Edinburgh consulate, just nine months into the job before he was unceremoniously dumped. Vecino came in as a new Spanish Government had just taken over a few months earlier, in June 2018, when former Prime Minister Mariano Rajoy was deposed following a corruption scandal, leading to Pedro Sánchez, the leader of centre-left PSOE, taking the reins.
A new government with a new top diplomat in Edinburgh, they naturally sought a new approach to Scotland. What was it?
Vecino was summoned to a meeting in a Madrid restaurant with Camilo Villarino, the chief of staff to Foreign Affairs Minister Josep Borrell. Villarino made clear that Borrell was "very interested" in everything to do with Scotland, Vecino was told, because: "Scotland is the main haven and support system of the Catalan secessionists".
A few days later Vecino met Jorge Romeu, Borrell's advisor on Catalonia, who was even more explicit: Vecino's task was "curbing and even rooting out the presence of the Catalan secessionists out of Scotland". Borrell wanted a new approach from the Rajoy days; much more interventionist and pro-active on the European scene.
"Borrell believes that fighting nationalist movements is a priority of its foreign policy and Scotland is a key element in his strategy," Romeu said.
Shortly after, Borrell was asked at a public event whether he would back an independent Scotland entering the EU.
"Why not?" He replied. "If Scotland leaves the United Kingdom in accordance with British law and Westminster agrees, why would we oppose?"
Following Borrell's remark, Vecino reported that he sensed that the "atmosphere has radically changed" in Edinburgh.
Vecino said "passivity" towards the Scottish Government under Rajoy had weakened Spain's position, but "if we proceed carefully and we take advantage of these new open doors, in a relatively short amount of time we will be able to win support and sympathy."
This prediction was put to the test shortly after, when Sturgeon's official Twitter account (not her personal one) tweeted support for the Catalan independence leaders being tried by the Spanish courts. Madrid demanded action. Vecino said it must have come from a "brainless" staffer and noted that the rest of the Scottish Government's Cabinet had not re-tweeted it.
Nonetheless, Vecino took Madrid's complaints to the Head of Scotland's European Affairs, Frank Lang, who, according to Vecino, immediately said Sturgeon's tweet was "indefensible". Lang told Vecino that the Scottish Government and SNP had refused to sign a manifesto in support of the Catalan imprisoned leaders.
Then, Vecino met Sturgeon for a meeting. The First Minister lamented the police violence during the Catalan referendum in 2017 but agreed with Vecino: "that is in the past," she said.
Sturgeon criticised the trial of Catalan political leaders, but assured Vecino that: "most importantly, I do not wish to meddle in any kind of way with Spain's business".
Vecino concluded from the meeting: "I am completely sure that she will start to put aside her support of Catalan independence."
What was the Scottish Government winning in return for its deference? Certainly not Spain's neutrality on the question of Scottish independence. In a later communique, Villarino said that Scottish independence "would open a Pandora's box in Europe with unforeseeable consequences".
"Don't ever forget that our bid is on the United Kingdom, not on Scotland, even though the British Government is not going through its best times," Villarino reminded Vecino.
Romeo said Vecino should keep in mind Scots' "simple mindedness".
"They lend themselves to manipulation by Catalan independence supporters," he added.
Borrell's Scottish ruse was not for nothing, He had a clear purpose in mind: to shut down support for the Catalan independence cause. The depressing finding from The Scotland Papers is that the ruse was to a large extent successful.
To highlight just one example, when a cross-party visit of Catalan MPs to the Scottish Parliament was planned, Madrid demanded Vecino put a stop to it. Unable to shut it down completely, they hatched a plan to delay it until after the Spanish General Election in May 2019. Fergus D. Cochrane, Scottish Government head of international relations, offered to Vecino that he would check that the delegation was genuinely cross-party, and cancel if it weren't.
Not good enough, came back the message from Madrid. To convince Cochrane to delay, Romeo told Vecino to say that Spain would treat it as "an incident", possibly even an "intrusion into the General Elections", if the visit went ahead. Furthermore, Cochrane was to be reminded of Borrell's comment in which he was open to an independent Scotland's EU entry, and that if the right-wing parties won the election, they almost certainly would reverse such a policy.
Cochrane backed down, and the delegation was delayed until after the election.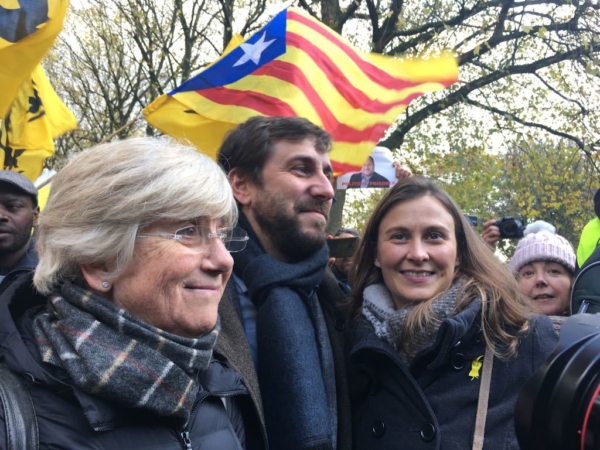 The paranoia, bullying and racism of the Spanish Foreign Ministry
The story of the Catalan delegations delayed visit is just one of many examples of the extreme paranoia of the Spanish Foreign Ministry towards Catalonia.
Another is their successful efforts in squashing a Scottish Chamber of Commerce visit to and delegation from Catalonian business leaders. Not once but twice the SCC was convinced by Vecino that it was a bad idea to meet with Catalan business.
Vecino told the SCC that if they organised a tour to Barcelona they would encounter "difficulties" in being received by the Spanish Chambers of Commerce in Madrid.
When a tour was organised to Scotland, Villarino demanded that no pro-independence Catalan business figures be allowed to join the delegation. Vecino responded that he didn't control the guest list, leading Villarino to conclude: "to avoid surprises, just put a stop to this visit and to any other".
Such treatment is not solely reserved for the Catalans. When the Basque Nationalist Party (PNV), head of the Basque regional government, visited Catalonia on an official visit, Vecino was ordered to spy on them.
Then when a Memorandum of Understanding between Nicola Sturgeon and Iñigo Urkullu, the president of the Basque Government, had been drafted, Madrid was not happy about it when it found out. In the end, it was never signed.
Perhaps the most bizarre episode was when changes to Scotland's consular system sparked a full on panic in Madrid, for the reason that there was "a similar consular body in Barcelona" as to the new one proposed in Scotland. Vecino informed London of what was happening and went as far as to ask "if the Foreign Office was going to forbid it".
The Foreign Office told the Scottish Government that Madrid was concerned, and so when the Scottish Government asked Vecino what the problem was, he lied and said Madrid wasn't really concerned. In the end, London prohibited the consular changes.
This is not the only example in The Scotland Papers of interference in other country's affairs. The documents also show that Madrid had "under surveillance" foreign diplomats based in Barcelona. In July, Hywel Williams, Welsh MP on the All Party Parliamentary Group on Catalonia in the House of Commons, expressed concern about "covert surveillance" by Spain, something the deputy speaker, Eleanor Laing, said she took "very seriously".
But we leave the most shocking finding until last. Vecino wrote an e-mail to Borrell's staff about Aamer Anwar, the lawyer of Clara Ponsatì, former Catalan Education Minister and St Andrews University professor who is facing extradition charges from the Spanish Government.
In the e-mail, Vecino makes a number of claims that range from the absurd to the outright Islamophobic. Vecino claims that Anwar wants Spain to be "reclaimed by Islam", in reference to when an Arabic Empire ruled most of Spain as a Caliphate from 711 to 1415. This is an Islamophobic trope typical of the Spanish far-right, who describe immigrants from majority Muslim countries as seeking a new Caliphate.
The document goes on to make a number of other claims about Anwar, including that he "is not much appreciated" in Scotland's Muslim community, that Anwar's links in the community are "clearly used for his political purposes, without ever having really done anything". Anwar, according to Vecino, "attracted Muslims" to the SNP and is "becoming the leader of the Islamist group", and that he "usually leads Muslims to their demonstrations" in support of Ponsatì. Anwar had used the Ponsatì extradition case as a "political catapult", Vecino argued.
Anwar has described Vecino's comments as "racism and bigotry".
Vecino's remarks were sent on 13 February, a full four months before he was fired. We have asked the Spanish Foreign Ministry and the EU Ministry for Foreign Affairs whether Borrell believes Vecino's remarks, as a member of his staff at the time, were appropriate, or if Vecino was reprimanded for the remarks by Borrell when they were sent. We have received no answer.
Questions for Borrell – questions for Spain
In fact, Bella Caledonia has asked the Spanish Foreign Ministry, the EU Ministry of Foreign Affairs, the Scottish Government and the Scottish Chambers of Commerce a series of questions relating to the findings in The Scotland Papers, and received no answers, other than the Scottish Government stating that Vecino's remarks "contain a number of serious inaccuracies".
The EU Ministry of Foreign Affairs spokesperson told Bella Caledonia "to direct these questions to the Spanish Foreign Ministry". The Spanish Foreign Ministry asked which news outlet this article would be published, and when we answered there was no further response. The Scottish Chambers of Commerce did not respond.
Borrell in particular should have to explain what has been uncovered about his Ministry. He will shortly be the EU's representative on the world stage, and has spying on foreign diplomats, interference in the domestic affairs of a foreign state and tolerating the racist attitudes of a member of staff hanging over his head, and therefore hanging over his new office.
The European Commission has already had to censure him for tweeting out personal information relating to Clara Ponsatì, a clear violation of EU laws on the right to privacy. Borrell's managed to become an embarrassment to Brussels before even starting the job.
But ultimately this isn't about Borrell. It's about Spain, and the Spanish state in particular. No one could say that the attitudes and actions revealed in The Scotland Papers are that of a healthy democratic institution.
Pedro Sànchez appears to be holding onto power following the 10 November General Election, with the help of the left-wing Podemos and possibly pro-independence forces in Catalonia and the Basque Country. If the actions of Sànchez's Foreign Minister are anything to go by, those forces should tread carefully. They are dealing with a state transfixed by anti-Catalan paranoia.