A Glad Confident Scotland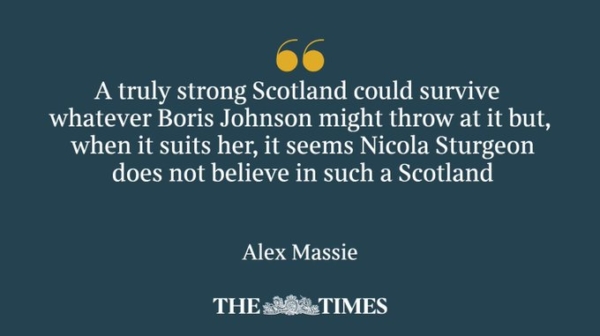 In an election marked by historic amounts of distortion and spin from the parties and their wing-men, it's the columnists job to cut through the bullshit and offer up some kind of analysis.
This is not what readers of The Times receive from Alex Massie, who this week penned an article so odd you had to check yourself that this was a professional columnist writing in one of Rupert Murdoch's flagship papers.
The Times (Scotland edition) has been relatively successful in a dwindling market under the stewardship of Magnus Llewellin. Credit where credit's due.
Before the Times Scotland started its current wave of investment in 2014/15 it was selling less than Scotsman, the Herald and the Telegraph. It now accounts for 40% of all quality newspaper sales in Scotland.
The reasons for this might be a) that it flies below radar and ducks the sort of partisan negativity that the Scotsman and Herald receives b) its football columnists c) its successful positioning as a "quality" unionist paper. Even conservative unionist Scotland wants a cursory coverage of its surroundings d) it's invested where other newspaper groups are suffering cuts.

Dunno.

But surely a serious newspaper, attempting to build a readership and credibility deserves better than this? As Massie writes in the first of his daily 5pm campaign bulletins: "Respect is a two-way street".
Exhibiting some twisted logic Massie opines that: "if Brexit were somehow stopped it would at a stroke dismantle the case upon which the SNP has built its argument for a second independence referendum. No Brexit means no reason for a referendum predicated on Brexit "dragging" Scotland out of the EU against its will. Viewed strictly dispassionately, the SNP requires Brexit and the harder the better even if, or rather because, that will be a disaster."

Not really.
First, Brexit isn't going to be "somehow stopped'.
Second, the First Minister is simply outlining the reality that Scotland has been lied to, treated with contempt and ignored in the process. These are simple facts observed by many north and south of the border.
Indeed, it has been argued that the General Election, despite being mired in weird dystopian propaganda is a win-win for the Yes movement.
But in Massie's world of cricket and spaniels to stand up to such democratic abuse is a lack of belief. He writes:
"It is not the glad, confident, Scotland of which Ms Sturgeon likes to speak on other, happier, occasions. A truly strong Scotland could survive whatever Mr Johnson might throw at it but, when it suits her, it seems Ms Sturgeon does not believe in such a Scotland."
You've got to love the idea of one of the Family of Nations "surviving" what a PM they didn't elect "throws at them" from a passionate backer of the Union. It's kind of a low bar isn't it? ("Look this is relentless shit but you can survive it" – it's sort of UK:OK in Survival Mode).
Stranger still, devolution as a sort of Panglossian fix:
"Tory governments come and go but Scotland, whatever you think of it, remains forever. If the country can see off Margaret Thatcher and John Major and David Cameron and Theresa May I imagine it can survive Alexander Boris de Pfeffel Johnson too. Especially since, in the devolution era, his ability to ravish poor, tender, Scotland is much reduced when compared to the rough-wooing insisted upon by some of his predecessors."
To be clear, Scotland didn't "see off" Thatcher, Major or Cameron, nor will we "see off" Johnson. Rather, Scotland will endure a democratic deficit of having an economic and political ideology imposed on it despite emphatically rejecting it over many decades. It may, under independent estimates, costs tens of thousands of jobs, and a Johnson victory consign a generation to extreme poverty.
But the problem of The Times (Scotland) coverage isn't just that it's slightly mad bubbled gibberish, but that it avoids the wider context of the British crisis.
As Michael Kenny writes in the New Statesman:
".. it is quite remarkable that the English appear so detached from the likelihood that the territorial integrity of the state in which they are the largest partner faces mortal danger, especially given the SNP's commitment to making a formal request for a second independence referendum, and the growing possibility of a border poll in Northern Ireland. Should Johnson win a majority on 12 December, the stage is set for a major confrontation between his administration and the Scottish government."
In the heavily isolated world of Unionist commentators, the constitutional question is just the personal fixation of "Sturgeon" or the "Nats" rather than a systemic problem of the British state, heightened and accelerated by the very "warm bath of self pity" that is redolent not of the Yes movement but of the bizarre Brexit experience of post-imperial England.
Massie – ironically – seems completely to oblivious to the wider movements at play in 'These Islands'.
His Irish counterpart is less so:
"English nationalism is going to be a big force in reshaping the architecture of these islands."

Writer Fintan O'Toole says nationalism in England is "rapidly" pushing Ireland and Northern Ireland to discuss the possibility of a united Ireland. pic.twitter.com/bFRMQsGQnM

— Channel 4 News (@Channel4News) November 28, 2019
To continue to posit Scottish efforts for self-determination as some kind of outlier madness of 'separatism' is just completely inadequate.
As Michael Kenny (Director of the Bennett Institute for Public Policy at Cambridge University) observes:
"There are signs that the English are starting to engage with these domestic constitutional issues, jolted out of their traditional indifference by the Scottish referendum and the forcible reminder of Northern Ireland's unique position given by debates about the Irish backstop. But a marked ambivalence characterises this re-engagement."
There are good reasons for this.
As Anthony Barnett writes (describing research) in the Afterword of Michael Gardiner's "Literature of an Independent England" (Palgrave MacMillan):
"I questioned people about their national identities. Those who were Scottish or Welsh had no problem saying if they felt Welsh or Scottish first and British second, or visa versa, and could consider their identification with Europe as well. When the English were asked the same question: "which comes first for you, being English or British?" – many simply could not understand the question."
Scotland should have wider ambitions than to "survive" the implications of a Union teetering on the brink of oblivion and Scottish-based commentators should recognise the "forces reshaping the architecture of these islands."