Ice Ice Baby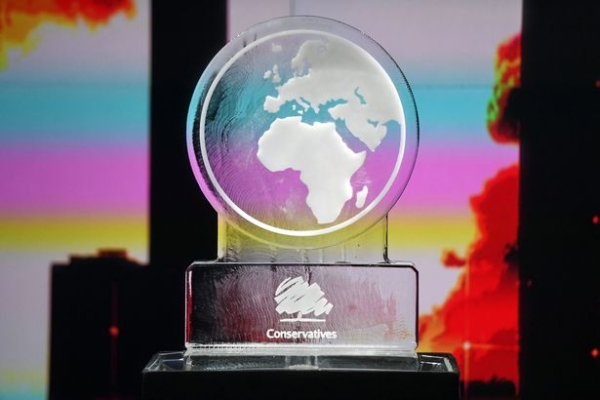 Last night opposition leaders jostled together vying for credibility in the first ever election debate focusing on the environmental emergency, in which the absent Boris Johnson was replaced by a melting ice sculpture. A second sculpture took the place of Brexit party leader Nigel Farage, who also refused to take part.  Labour leader Jeremy Corbyn, the SNP leader Nicola Sturgeon, Siân Berry from the Green party, Jo Swinson, leader of the Liberal Democrats, and Plaid Cymru leader Adam Price participated in the televised debate.
Jo Swinson pointed to her re-usable cup. So pro-Trident but earnest about her disposables?
In the latest fit of Trumpian spin the "Furious Tories" are taking Channel 4 to Ofcom over the ice sculpture empty-chair tactic. And now, after a week in which Michael Gove attacked Channel 4 for its 'leftist propaganda", they are now threatening to review Channel 4's public service broadcasting obligations. While both moves point to a further shift into Trumpian politics which is both viscerally anti-ecological and depressingly anti-media, much of this has been ignored.
Why did Johnson fail to turn up?
The answer is that the climate is a decisive factor in this election – and the Conservatives policy agenda is not just dire, but what would have been exposed is the people financing them and their political agenda.
But the other reason is that he's a climate science denier.
In a Telegraph column entitled "I can't stand this December heat, but it has nothing to do with global warming: We may all be sweating in the winter air, but remember, we humans have always put ourselves at the centre of cosmic events" Johnson wrote:
"It is fantastic news that the world has agreed to cut pollution and help people save money, but I am sure that those global leaders were driven by a primitive fear that the present ambient warm weather is somehow caused by humanity; and that fear – as far as I understand the science – is equally without foundation. There may be all kinds of reasons why I was sweating at ping-pong [in December] – but they don't include global warming."
As Mat Hope writes for Byline Times ('Climate Deniers and Big Polluters are Backing Boris Johnson and the Tories for a Reason'):
"The Tories received more than £5 million in donations from backers of climate science denial over the past decade, according to analysis by DeSmog. The party and its MPs have received 94% of all the donations from individuals and companies that actively lobby against climate action in the UK since 2002. In contrast, the Liberal Democrats received £2,000 over the same period. Labour? £0.
The MP who received the most from these sources? Boris Johnson – the man who once looked at his window, saw it was snowing again and decided that the sun must be to blame for the uncharacteristically cold weather rather than decades of fossil fuel use filling the atmosphere with carbon dioxide.
It's not just climate science deniers that are backing the Tories, though, it's also major polluters – many of whom are part of the Tory donor club known as the 'Leaders Group'. The entry price to become a member of this elite set is a minimum of £50,000. Recent members include Ayman Asfari, chief executive of Jersey-registered oil services provider Petrofrac, which is under investigation by the Serious Fraud Office; Ian Roper Taylor, chairman of oil trader Vitol, which is also being dragged through the courts; and Amjad Bseisu, chief executive of oil company Enquest, and a prominent voice calling for the UK to extract every last drop of North Sea oil and to hell with what climate scientists say."
The Tories are dripping in corporate cash and climate denial.
Josiah Mortimer points out:
"During a trip to the US, Johnson was the speaker at a black-tie dinner in Washington hosted by the conservative thinktank, the American Enterprise Institute (AEI). He used the opportunity to criticise Theresa May's "Chequers" Brexit deal and said social mobility would be his top priority in power. Johnson's team had their "accommodation, travel and hospitality" paid for by the AEI, according to Parliament's Register of Interests.
The AEI has a history of spreading doubt about climate change and opposing reductions in greenhouse gas emissions, and has received significant funding from the Koch family and ExxonMobil."
The danger is that everything descends into a flurry of gags and hot-takes as the blur of social media flashes before your dumb-founded eyes. The Conservatives essentially sabotaged a landmark debate and created the necessary chaos to cover their own venal connection to the most polluting industry supporters.
This in a week where were told by scientists that the world may already have crossed a series of climate tipping points. This risk is "an existential threat to civilisation", they say, meaning "we are in a state of planetary emergency".
In our most serious moment we are infested by stupidity.
As the Tories collude in omnicide we're left talking about Boris Johnson's oafish dad. God help us.