Scottish Gaelic's Journey to Duolingo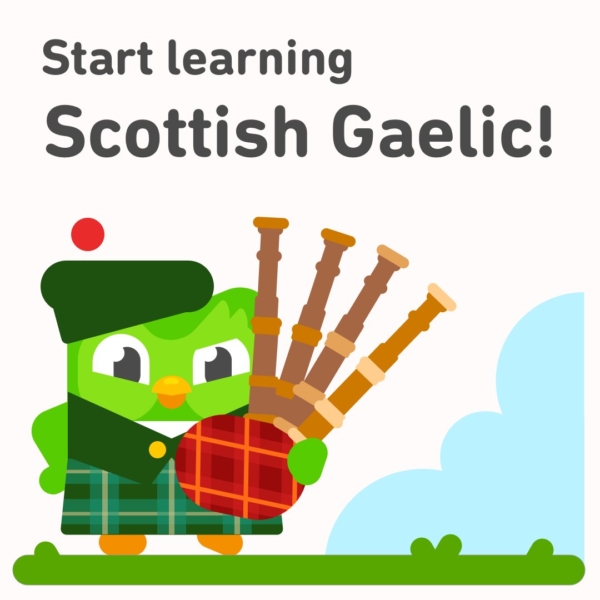 Ciaran Iòsaph MacAonghais – a Primary Teacher from Fort William and co-creator of the Scottish Gaelic Duolingo course – takes us through Scottish Gaelic's journey to Duolingo. [follow Ciaran at @thaseomath ]
Scottish Gaelic is the latest language to feature on Duolingo – the world's largest language learning platform. Over 60,000 people have signed up to learn Gaelic which is spoken by around 57,000 in Scotland since its launch three days ago.
I have always believed that given the opportunity and the platform to do so that more and more people would choose to learn Gaelic – and now we know this to be true. Importantly, the course is 100% free to use and accessible for anyone who has access to a device.
Previously, there were around 5,500 learning Gaelic in Scotland and we have already raised this number significantly and hopefully it will continue to rise in the coming weeks and months.
There is no single solution that will save the Gaelic language. Much more needs to be done to support Native Speakers in Gaelic speaking communities, but having a high profile starting point for learning is still a powerful thing. In a small language community like this, every speaker makes a real difference.
The course was created over a period of 7 months  by a team of volunteers from across Scotland (with one contributor living in America) and the help of Duolingo's dedicated staff.  We were able to release the course 8 months ahead of schedule and according to Duolingo our small team worked to "a record breaking timescale." Other Duolingo contributors have asked how we managed to do it so quickly. My response was that it's amazing what you can do when you stop sleeping or going outside! That is an exaggeration but I think the level of dedication that went into this from the team is really remarkable. We are still working around the clock, making changes, promoting the course and responding to feedback.
The first edition of the course consists of around 6000 recorded sentences and teaches around 1000 individual words. The course has full audio, which not all courses have from day one. We initially aimed for about 20 skills to be complete at launch but we managed 34 with each skill consisting of between 4 and 6 lessons, each teaching between 5 and 9 words. The course is not only a great one stop shop for learning the basics, but it would compliment other resources such as the excellent Learn Gaelic  – website and dedicated classes.
Getting Gaelic on the radar 
People have been campaigning to get the language onto Duolingo for years and key to getting Duolingo to take the project forward was getting people to apply to contribute on Duolingo's website. The success of smaller languages such as Irish, Welsh and Hawaiian further fuelled demand.
A Social Media campaign on Twitter  and Facebook was set up and this certainly helped push Gaelic to the forefront. Thousands of people who wanted to learn Gaelic made their voice heard to Duolingo, and to their absolute credit the staff at Duolingo listened and could not have been more supportive and helpful in bringing this to fruition.
Building a Course 
Duolingo reached out to some who had applied to contribute, including myself. The course (like all new Duolingo courses) is based on the Common European Framework of Reference for Languages. The first job (undertaken by Eilidh Cormack) was to translate the initial 800 or so words we knew we needed to teach from this guidance.  I then planned out the building blocks of grammar that I knew a learner would need to progress. The next stage was to write the curriculum itself. All 6000 Gaelic sentences and their translations were inputted into a Google Document. The Duolingo staff and volunteer community were fantastic during this whole process. I have been working on this course for seven months. I got married 8 months ago and I have probably spent more time with this document than with my wife. I even brought my laptop on honeymoon.
The next stage was preparing this curriculum to go into the incubator. More team members came along soon after including Màrtainn Mac a' Bhàillidh and Joanne MacLellan who both played an absolutely key role in bringing the course to completion. We then had to input every possible combination for every sentence in Gaelic and English before uploading the course to Duolingo's Incubator in full. Changes and tweaks were made over a period of weeks and we began recording audio for all 6000 sentences and also all of the courses individual words. This team of volunteers working from home (which included both my uncle and grandmother from Eriskay) managed to record everything in the month before launch and the last sentences were finished within minutes of the course going live.
What now? 
I am blown away by the reaction to the course. Feedback seems to be overwhelmingly positive, we have even had a professor of Gaelic comment on the quality of the course itself and the Gaelic you can hear in the audio recording. The course is currently in "Beta" which means we are working around the clock to respond to feedback and correct any errors and hope to get these ironed out as soon as possible. Once the course graduates from Beta, we are planning on expanding it significantly. My hope is to see the course used in schools and to see the number of people learning in Scotland and overseas grow and grow. Thank you to everyone who has signed up to learn and shared the course with family and friends.
Help us support the course and the Gaelic language  by signing up to learn here! 
Read and follow Bella's Gaelic content here, including our regular Gaelic columnist, Fiona MacIsaac from North Uist.