You Paid for This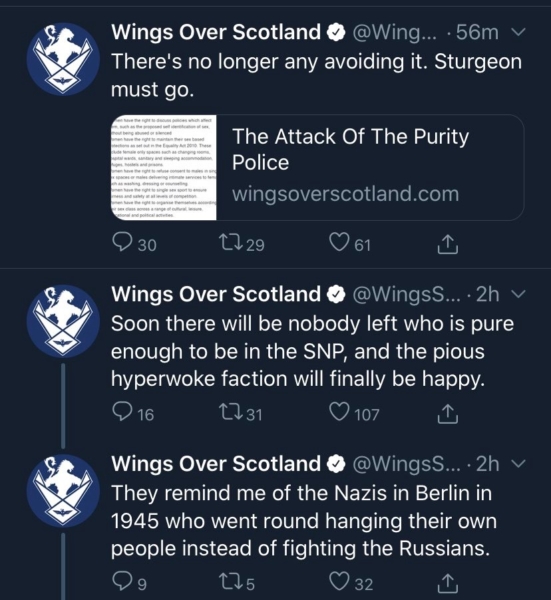 The grouplets that have formed around Stuart Campbell and a handful of other enragé  bloggers must be struggling today with some fearsome cognitive dissonance.
After years of (often brutally) enforcing party discipline – they now have to contend with Campbell advocating voting for one of the architects of the Better Together campaign.
In a series of unhinged tweets yesterday (even by his standards) the Reverend (sic) repeatedly referenced the Nazis before advocating people vote for Johann Lamont in Glasgow South (Lamont aka the Red Tories, Traitorous Yoon etc etc etc.)
Lamont, who has been a target of a multitude of blogs by Campbell is now his favoured option.
Let that sink in.
It's a long way from 2014.
A whole section of people who have made it their passion to wail about any of even the mildest criticism of Scottish Government policy as "SNP-BAAAD" are now engaged in a long-term, large-scale co-ordinated propaganda effort arguing (wait for it) "SNP-BAAAD".
This tribe who have been passionately loyal, policing the internet and the Yes movement in mobs for signs of any transgression, are now undermining the SNP, a week before a General Election.
Why?
Mostly because a handful of them are obsessed with other peoples genitalia, and the rest don't appear to be discerning enough to realise how stupid this is.
It's perfectly possible to be an ally of women and feminism, and also to be an ally of trans and vulnerable people.
This isn't difficult. This is about human solidarity.
To do this requires good-faith, dialogue and understanding, all of which are completely absent from Wings and his creed.
For Campbell to shift to covertly organising against the SNP – to overtly organising against them ("Sturgeon must go") must face even his most fervent disciples and apologists in the party and commentariat with a crisis.
You know who you are – and if you seemed to have no threshold at all before – now is the time to have one.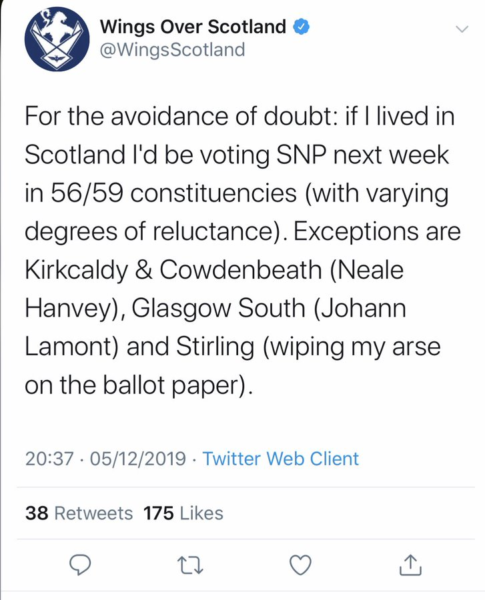 The excuse for his endless stream of invective about cunts and traitors ad nauseam was that it was worth it because of 'his analysis'. To continue that argument in the face of his latest stance is beyond belief.
It might have passed their notice that if your trying to defend allegations of anti-semitism it might not be the best idea to portray yourselves as Nazis.
You'll notice too that the obsession with trans issues quickly slides into an attack on sex education in schools: "You paid for this to happen".
Anyone who has a child, works in schools, or knows young people at all will know the amazing leaps and bounds we've made in stopping the stigmatization of gay people and creating a better space for discussing sexuality as people grow up and find themselves.
None of this matters in the goldfish bowl of narcissism and endless conceit that is at play here.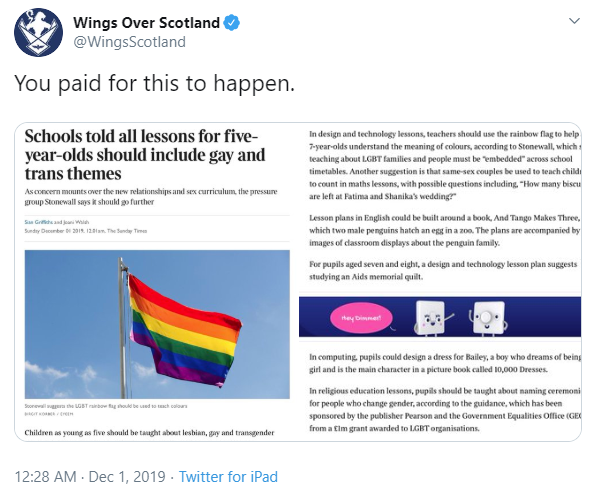 Hatred of sections of vulnerable people has long ago transcended any interest in constitutional matters.
What is essentially now a trans-hate blog can't have the profitability that Scots nationalism did, can it?
The sooner Campbell and his acolytes form a new party the better. They can howl at the moon about lefties, trans folk, young people, the gays, the 'woke' and whoever else they like (or hate). I suspect Campbell will be sectioned before he's elected, but I urge him to put his supporters money where his mouth is and run.
The whole framing of "purity" and the inability to come to terms with contemporary political dialogue speaks to a position of self-entitlement and hubris that is precisely the thing that Campbell, probably thought he was working against a few years ago.
The movement for Scottish independence is not and will not be characterised by these reactionary forces.
It is and will be defined by a desire and ambition for a society that is better than what we have as part of the British State – a yearning that is about more equality, more diversity, and more liberty. Not more repression, more bigotry and more disinformation.
We refuse to be defined by forces that are transphobic, homophobic or misogynist, this is not who we are or who we want to be.
In the meantime, as we face the genuinely terrifying prospect of further Tory rule, we should be electing people that can defend and represent us against their malignant presence.