Studio Selfies, Andrew Neil and the Swinzone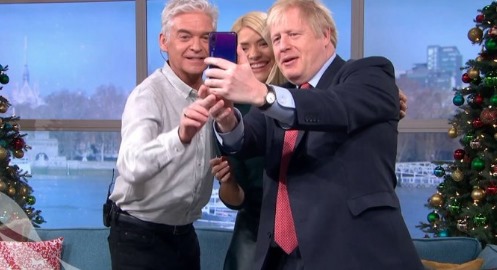 This election continues to be an endurance test, wading through the steady stream of disinformation, and the hyper-banal as we stagger towards some kind of endgame and the Turkey.
Jo Swinson continues to bomb at every opportunity. Interviewed by Emma Barnett on Women's Hour she spluttered and faffed and missed an open goal by being hopelessly prepared and dribblingly incoherent (listen here).
There's a certain schadenfreude in watching her campaign collapse under the weight of her own unlikeability, given her role in the Tory coalition and her consumate opportunism. She has the echo of Baldwin: "He did not care in which direction the car was traveling, as long as he sat in the drivers seat." Her only consistent trait seems to be a deeply held insincerity.
The Lib Dems have gambled badly on the vision of a young female leader being enough in and of itself. It was a terrible shallow idea from the start, but it follows a pattern of politicians being over-promoted before their time (think Kezia) and the effect is to put these individuals in an invidious position. It's like the Lib Dems hought that they could install an identikit candidate that was 80% Kirstie Allsopp and 20% Cath Kidston and it would somehow just work out. Like Ruth Davidson but with fewer principles.
Her shambling dishonesty is like some new Centrist Hell, posturing liberalism whilst colluding with the Tories, and it's all desperately transparent. She "will never" let Jeremy Corbyn into office but won't say the same about Johnson. She calls herself a "democrat" but will "always" oppose a referendum for Scottish independence. She started off her campaign suggesting she'd become Prime Minister and is now circling back as that seems ridiculous. She started claiming she'd cancel Brexit then realised that was profoundly undemocratic.
Occasionally reality seeps though the 24 News cycle. The think-tank the Resolution Foundation projecting: "Fears child poverty may rise to record 60-year high under Boris Johnson (a 34.5% by 2023-24)" and the Dispatches programme being about the only media moment that cut through the spin-rooms and the spads and wonks to the brutality of today [Growing Up Poor: Britain's Breadline Kids. "In Britain, 4.1 million children are growing up in poverty. Dispatches follows three families to show what life is like if there's not enough money for life's essentials".]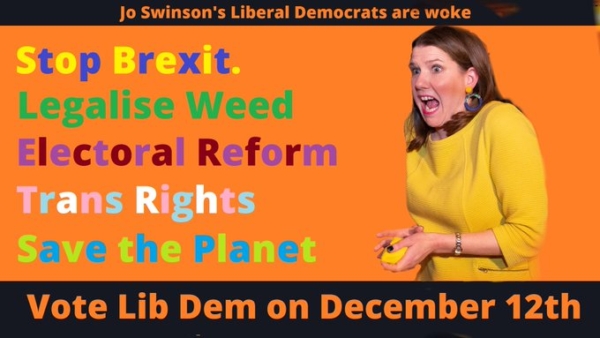 Between Swinson's simpering and the Tories cloven-hoofed cabinet it's a grim picture, and getting worse:
"It's only when you look at the hideous Tarot formed by his cabinet that you get a true picture of the depravity into which we are sinking. Take Michael Gove, a revanchist endorsement of the science of physiognomy. In any other era Gove would be seen as a uniquely unctuous, unlikable and profoundly talentless figure. Now he's hardly even remarkable. Gove – looking like someone took all the flesh out of a serial killer's drains and forced it into some brogues; like Davros fell out of his Dalek; like a rushed cartoon of a horny snail – is somehow not the worst person in cabinet, or even his own marriage."
In this unseasonal dystopia the sheer banality of the media is gripping.  Things are so bad that Andrew Neil has somehow emerged as the Great White Hope, the Peoples Champion.
As we have pointed out before Neil is at the heart of a nexus of right-wing think-tanks and media. As the former UK Editor of the Economist, the Sunday Times, Executive Chairman of Sky Television, publisher of the Scotsman and poster boy for the Adam Smith Institute, he last November joined an interesting melange of the Russian Embassy, Arron Banks, Guido Fawkes and Julian Assange in smearing award-winning investigative journalist Carole Cadwalladr – for exposing many of the networks he is intimately connected to. Neil tweeted calling Cadwalladr a 'mad cat woman' before being forced to delete the tweet.
He retains a vast BBC salary – and as Chairman has re-positioned The Spectator with editor Fraser Nelson into a force for the right. The Spectator used to be a sort of fetid conservative snoozepaper for ageing reactionaries – is morphing into a clickbait for the Brit new right who are high on the triumphalism of the Brexit fiasco and titillated by the far-right's populism.
In 2018 he claimed one in five Scottish children were illiterate. The BBC executive complaints unit said the figure had originally been put forward by a spokesperson for the Scottish Conservatives as being based on the 2009 Scottish Survey for Literacy and Numeracy. But the unit said the survey "contained no reference to 'functional illiteracy', and added that there was"no data which would have justified the claim in question". The unit said: "The Sunday Politics team has been reminded of the need to establish the evidential basis of claims that are quoted in its questions."
Not long after becoming a high-profile BBC presenter, Neil made a speech in homage to the rightwing radical Friedrich Hayek. In it he called for a "radical programme to liberalise the British economy; a radical reduction in tax and public spending as a share of the economy" as well as a flat tax "and the injection of choice and competition into the public sector on a scale not yet contemplated".
Recently, in an act of comic genius, he had the temerity of accusing the BBC of "left-wing bias'.
Anyway, he's the man you've to put your faith in, apparently. Except it didn't happen at all. Instead Neil did a piece to camera shared by over five million people. Because Boris Johnson now picks and chooses his own interviews. Like Ceaușescu.
Britain festers in a state of bitter disrepair, its media broken and untrusted and its politicians acting like they're in a Bad Panto.
Only five sleeps till a big roll-polly figure appears in your house full of promises.