Oscar Marzaroli – Street Level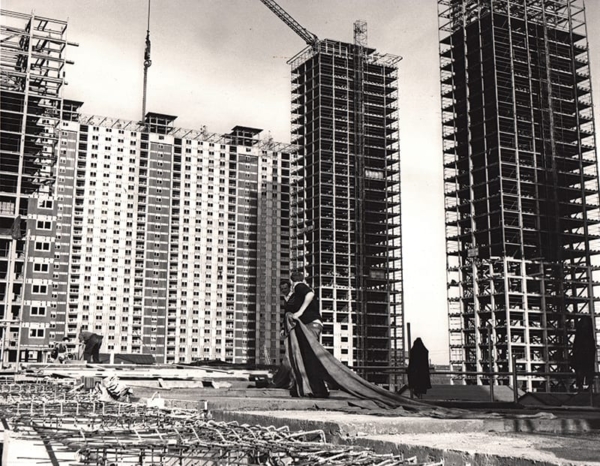 As another General Election ends, resulting in another Tory government. As political figures and commentators stoke the fears of ordinary people with prejudiced views on migration around the continent it seems almost trite to point out Oscar Marzaroli's Italian heritage.
It seems as though it would be merely shouting into the void to mention the importance of accepting other cultures. Of accepting other languages. Of allowing other ways of seeing the world into our own and allowing them to enrich our own ways of looking at things.
Particularly so, when we consider that the boy who would go on to become "Glasgow's Photographer in Residence" was just two years old when he moved to the city from La Spezia in 1935 making him to all but the most bitter and twisted of arguments one of our own, for all intents and purposes.
It is important though. It is important that we highlight his dual cultural upbringing as part of a wave of Italians who settled in Scotland when Mussolini's regime took hold. It is important that we remind ourselves that Glasgow's rich and tightly woven cultural heritage is only possible with the inclusion of people who have made their homes in the city, having come from far and wide with their own stories and their own visions
It is a small sample of Marzaroli's work which is on show at Street Level Photoworks, carefully selected and reproduced using the gallery's expertise in digitisation and printing techniques, but it is one which has created an audible buzz of excitement. A raft of praise from arts writers and assorted press. A clamour to see these images, filled with a certain nostalgia and warmth depicting Glasgow at the end of various eras.
Although, isn't Glasgow always at the end of some era or other?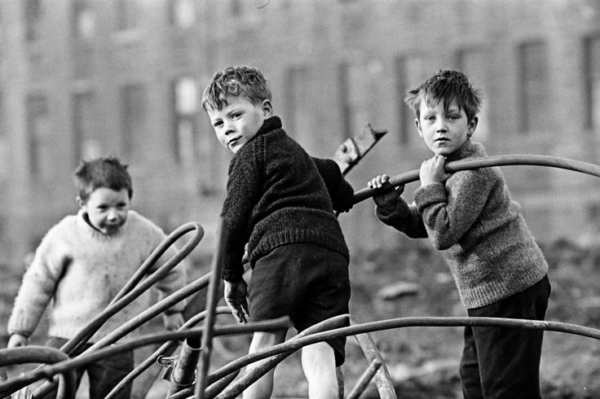 Much has been made of the humanity in Mazaroli's work, and rightly so. People fascinated by the stories of the young children in the photographs. They're our parents and our grandparents, our brothers and our sisters. They're our links to an almost forgotten city, but can we learn anything from them? What can we take forward into future versions of Glasgow?
Perhaps we can learn to rekindle our communities. When we see the old women gabbing at the base of the high flats, when we see the youngsters playing in the street, climbing walls and jumping middens we should realise that we do not have ownership of our habitat in the way that these people did. That these images of Marzaroli's are striking because they depict a people who actively fighting against the isolation and loneliness that we have come to associate with 20th century city living.
The train of redevelopment continues through this city now as it does throughout Mazaroli's photographs. Each displacement of a community in the name of progress leads to further separation of not only those displaced, but of those who take their place in luxury apartments devoid of spaces to gather. Replacing local cultural output with monuments to men who have become totems of citywide branding and business improvement districts encourages only apathy, it cannot foster community. The gig economy takes hold, people from all walks of life, on all sorts of pay scale become further aware of the precarity of their situation. There is little left to hold it together.
Of course, Mazaroli may have understood this too. On the gallery walls we see not only an understanding of social situations, but there are suggestions of a man with a certain political outlook. The Humblebums and Matt McGinn share a stage, fittingly placed as a backdrop to images of working life in the city. Billy Connolly strumming his Banjo as McGinn and the other's raise their fists in solidarity with shipyard workers in 1971. It's a testament to the poetry of the city. A city which despite its long-standing divisions was always ready to develop its culture around what was happening there and then.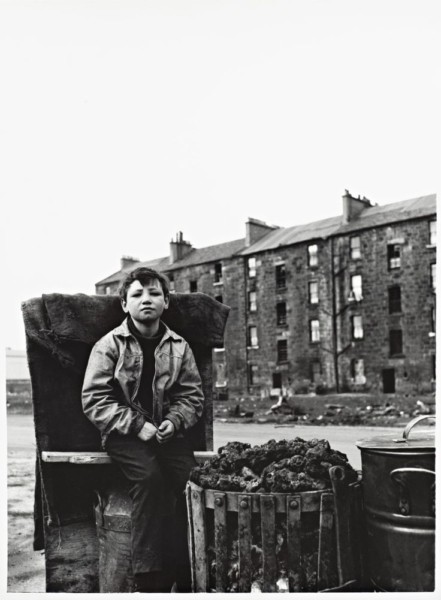 Mazaroli shows us our city. Central Station, Kelvingrove, The Barras, St Enoch's Square, The Gorbals, The Botanic Gardens, they're all still here. Changed in many cases, but not completely taken from us. It is still possible to make them what we need them to be.
Perhaps Mazaroli's images, stark in their monochrome tones, warm in their reflection of humanity can unlock something which makes us yearn for that sense of belonging once more It's possible that the availability of his vast archive at Glasgow Caledonian University will inspire future planners, future architects or future artists to find ways of giving ownership of the streets back to the children of the city. Perhaps future generations will be able to dispense with the confusing mix of nostalgia for an imagined past and repulsion at aspects of the living conditions, allowing Mazaroli's gift to the city will to be something which acts as a spark for new fires of creativity and culture.
Perhaps its not so trite to point out the importance of other's in keeping our city alive.
All Images: © Oscar Marzaroli / The Marzaroli Collection