London, Boris Economics and the Loss of Trillions
HOW BORIS LIES ABOUT SCOTTISH JOBS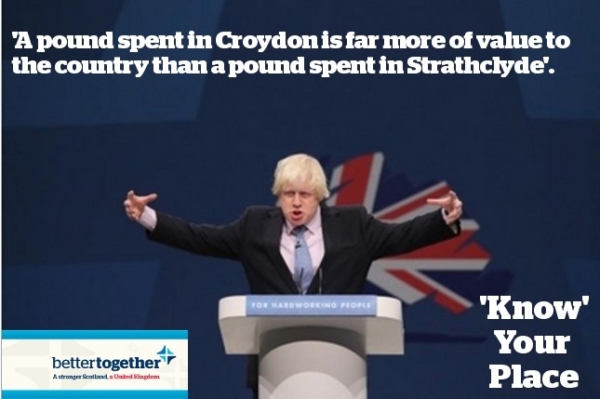 IS the SNO delinquent when it comes to creating jobs? Yes! says Prime Minister Boris – in his letter to Nicola Sturgeon dismissing Scotland's right to choose its own future. The full quote is: "Another independence referendum will continue the political stagnation that Scotland has seen for the past decade, with Scottish schools, hospitals and jobs again left behind because of a campaign to separate the UK."
Leave aside the deliberate misinformation on schools and the NHS. What are the facts on the economy?
One obvious test is the rate of unemployment – normally measured for those over age 16. According to the Office for National Statistics, in Scotland the unemployment rate stood at 3.7 per cent (for Q3 of 2019) compared to 3.8 per cent for the UK, also 3.8 per cent for England, and an average 6.3 per cent for the EU. Scottish unemployment was 0.3 percentage points down for the quarter and 0.1 percentage points down for the year. Clearly there is no evidence here that the Scottish Government has a poor track record on jobs.
If we look at the situation in the individual UK regions, we find that unemployment is in many cases far worse than in Scotland. Of the nine English regions, five have a higher unemployment rate than Scotland: North East (6.1), North West (4.0), Yorkshire and Humber (4.1), West Midlands (4.5), and (surprisingly) London (4.5). The East Midlands is on a par with Scotland and only three English regions have a lower unemployment rate than Scotland: East (3.2), South East (3.1) and South West (2.6).
Note, the ONS unemployment figures are compiled using a sampling basis which is known to be very error prone. However, looked over the period since 2011, Scottish unemployment on the ONS data has usually been lower than the UK figure proving there is no evidence for Boris Johnson's claim that the SNP Government has a bad track record on the jobs front. The real jobs crisis lies in the North of England and inner London.
YOUTH EMPLOYMENT
Another way of examining the success or failure of the labour market is to look at youth employment. The latest numbers for youth employment were published in December by the Scottish Government. They refer to the 16-24 age group. In Scotland the youth employment rate is 59 per cent compared with only 54.2 per cent at the UK level. This gives the lie to the PM's allegation against the Scottish Government that it has a poor jobs record.
The youth unemployment rate in Scotland is 9.1 per cent compared to 11.4 per cent at a UK level. The average youth unemployment rate in the EU in 2019 was 15 per cent and above 30 per cent in some countries. By this score, Scotland has one of the best youth employment records. (Note: the remainder of young people are for the most part in education, home carers or not seeking work.)
Some point to the fact that Scotland has a higher inactivity rate for the past four years – people not in the jobs market – as proof that the Scottish labour market under performs compared to England. But the "inactive" are largely those in education or performing home care duties. Scotland has traditionally had a much higher participation rate in Higher and Further Education than in England. In 2013-14, for instance, according to a study by the Sutton Trust, 55 per cent of Scots entered higher education by the age of 30, compared to only 46.6 per cent in England.
BORIS IN LONDONSHIRE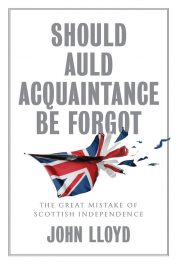 What is Boris' track record on economics? Back in 2012, when Mayor of London, Johnson announced: "A pound spent in Croydon is far more of value to the country from a strict utilitarian calculus than a pound spent in Strathclyde" – surprising many that he actually knew Strathclyde existed. He went on: "Indeed you will generate jobs and growth in Strathclyde far more effectively if you invest in Hackney or Croydon or in other parts of London."
By this gobbledegook he implied that if you invest in Greater London, those nice City hedge funds (the ones who financed Boris' leadership campaign) and assorted oligarchs will somehow divert some of their ill-gotten gains to the rest of the UK. This bollox ignores two things. First (as we saw above) that ordinary Londoners suffer above average unemployment, suggest the City is no fairy godmother – preferring instead to salt its loot in offshore tax havens. And second, the cumulative result of City speculation has in fact destroyed more wealth and jobs than it has created.
For some reason these lessons seem to elude Professor Brian Ashcroft, emeritus professor of economics at Strathclyde University and a noted unionist. In a new anti-independence book by the redoubtable John Lloyd, of the Financial Times, Prof Ashcroft declares:
"I've argued for years that people in Scotland shouldn't criticise London and the City. We should use the growth hub of London as part of an integrated economy, to make the whole economy larger".
Eh?
According to a paper by Andrew Baker of the University of Sheffield, Gerald Epstein of Massachusetts Amherst and Juan Montecino of Columbia University, the oversized City of London has inflicted a cumulative £4.5 trillion – yes trillion! – cost to the British economy between 1995 and 2015. That's equal to two-and-a-half years' worth of UK GDP – or staggering £170,000 per household. Most of this disaster took place on Boris Johnston's watch as mayor. Oops!
Their estimate is the sum of two figures. First, £1.8tn in lost output caused by the banking crash (a figure compatible with that offered by the Bank of England's Andrew Haldane). And second, £2.7tn in what they term "misallocation costs"; i.e. diverts investment from productive to speculative activities. Which is a very good reason for Scotland to escape both the City's clutches and the palpable nonses we get from Boris.
John Lloyd, "Should Auld Acquaintance Be Forgot – The Great Mistake of Scottish Independence", published by Polity