The Rage Parade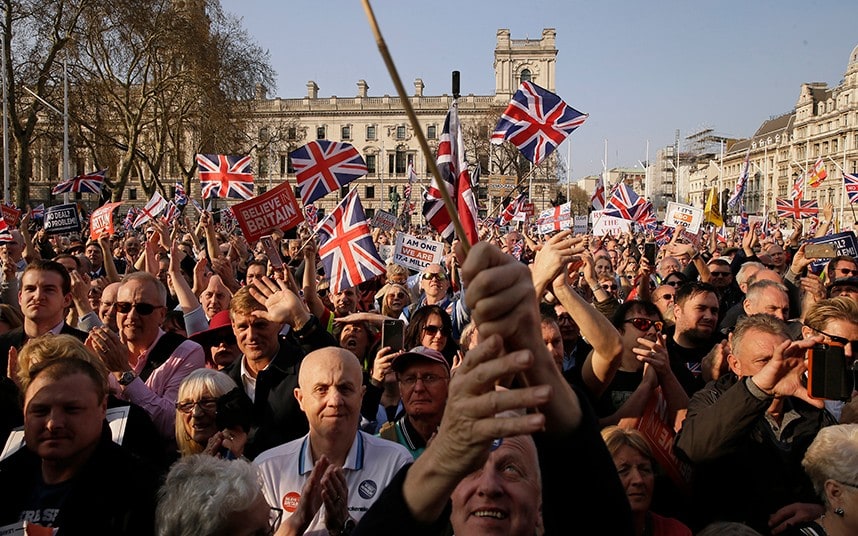 THE RAGE PARADE: From The Province of the Cat by George Gunn
Sometimes being a poet can feel like the most useless thing a body can be. Nothing you write will make any difference or change anything. You are on the liminal margins of that most marginal thing called literature. The only thing you have as poet is a belief in the power of language. In Scotland, at least, this belief, this power, still has some residual constituency. This is, I realise, more faith than belief but I hang onto it nonetheless.
It is with similar faith that we must all embrace the First Minister Nicola Sturgeon's speech to the Scottish Parliament on Wednesday, and hope that it may change something in relation to a possible second independence referendum. But what it won't change and cannot hope to influence is British Prime Minister Boris Johnson's planned rage parade to "celebrate" the UK "leaving" the European Union of Friday. He will fly the Union Jack and hang the red, white and blue bunting all over the north of England where his cabinet will meet on "freedom day" to acknowledge the recent converts to is new British Brexit Conservative Party.
"Look", he will say, "we have left London, the centre of the world, to come up to your dreary, rainy towns on this momentous day. What more do you want?" He will urge all, as he did before the previous exit date last March in the Methodist Hall in Westminster, to consider and remember the 31st of January 2020 to be the day when "church bells were rung, coins struck, stamps issued and bonfires lit to send beacons of freedom from hilltop to hilltop". Then, drunk on his own rhetoric, Bojo raved on. On this glorious day Brexit "retainers were meant to be weaving through the moonlit lanes of Sussex, half blind with scrumpy, singing Brexit shanties at the tops of their voices and beating the hedgerows with staves." A rage parade indeed. All hail the brand new Nation!
Except nothing much is new. The "nation" is still England, except it isn't. It's the United Kingdom, except it is no more "united" other than in name. The reality is Brexit is a populist "project" without a people, a nationalist "movement" without a nation. As Fintan O'Toole of the Irish Times recently noted,
"Britain is not and never has been a nation state. For most of its history as a state, it has been at the heart not of a national polity, but of a vast multinational and polyglot empire. And the UK is itself a four-nation amalgam of England, Scotland, Wales and Northern Ireland. There is no single pre-EU UK 'nation' to return to. There is no unified "people" to whom power is being returned. And this is the contradiction that the Brexit project cannot even acknowledge, let alone resolve." (The Observer, 26th Jan.)
This inconvenient local irony is merely part of more universal irony. Worldwide we have capitalists without capital (the US) and communists without communism (China). A "free market" that is neither free or much of a market but a system that is controlled by cartels and monopolies, five of which in the US are bigger than most countries. Private equity and private enterprise freely kill off public equity and planning but hedge funds, which are behind everything from old folks homes to railways, rule the roost even though essentially they are parasites that suck the social blood out of society leaving us with stark choices of either chaos or community, democracy or fascism. None of these words I choose lightly. In the West the people get taller, fatter whilst the gadgets they use get smaller, thinner. This is how America is made great again and this is how we take back control. It is what energises the banal ironic poetry Bojo brings to the political forum. As a result politics melts and the forum is suspended. The Scottish government cannot deal with the UK government as it used to because, since winning the General Election last December, the new British Brexit Conservative Party which has emerged with an 80 seat majority, is on a rage parade, half blind with the political scrumpy of Brexit and nothing is going to sober it up and stop it trampling over everything. Bojo will keep saying "No!" to the Scots as long as the scrumpy flows. Nothing the Scottish government will say or do will make a blind bit of difference. The rage parade does not care what the Scots think. They hate us. Emily Thornberry blurted out in Nottingham that she hates the SNP. Bojo's retainers are one thing, a Labour Party in denial about Scotland is quite another.
The gloves are off. The staves are in their mitts and they will beat more than hedgerows. They are heading our way. On their breath are lies and fantasies. In their pockets is bogus, worthless quantitative cash that they will throw at everything and nothing. It is all very well to say, as George Kerevan argues in The National (Monday 27th Jan), that "We have to advance a progressive social and economic programme that counters Tory populism… that embraces the entire Atlantic archipelago, including our English neighbours." I whole heartedly agree but the rage parade of Bojo's Brexit retainers cares nothing for any of that. Their arrogant exceptionalism denies our evolving Scottish democracy and trashes our European traditions and aspirations. The next SNP budget in February and the parties manifesto for the forthcoming Scottish election next year can be peerless documents heralding in a "veritable, post capitalist New Enlightenment" as George Kerevan so dreamily puts it, but they will make no difference without the power to implement them.
For the independence movement these are dangerous times. Yet, somehow, it seems we have been here before. As Burn's Night recedes into the distance for this year it is germane to our present condition to consider the position Burns found himself in throughout his short but highly productive creative life. Did he despair about the political condition of his country? Of course he did – and often – but he kept on producing, he kept on writing. The worse the politics of Scotland became the better his poetry became.
It cannot be overstated, but then again it is rarely noted, that the most important event in the creative life of Robert Burns was not the publication of the Kilmarnock edition of "Poems, Chiefly in the Scottish Dialect" in 1786, but the French Revolution of 1789. Indeed it was the defining event of Burns' era. It changed the context in which Burns wrote. It quickened and polarised political life across Europe as it turned abstract principles into matters of immediate political contention. It gave to every public utterance the frisson of controversy. Under the control of Henry Dundas, Viscount Melville, in his various guises of Home Secretary and Secretary of State for War, Scotland was in lockdown. There was no political freedom. Every expression of discontent was considered as sedition and tacit support for the French revolutionary cause. You were either for King George or you were against him. Dundas conducted his own version of Bojo's rage parade.
In 1792 "The Scottish Friends of the People" was formed by the lawyer Thomas Muir of Huntershill, the Church of Scotland minister William Palmer and many others, with the sole purpose of political and social reform, to counter the tyranny of Henry Dundas, principally by advocating the extension of the democratic franchise to working men: in other words the right to vote. Burns wholeheartedly supported this idea. In 1792 less than 4,000 people in Scotland had the vote and half of them were fictitious. In 1793 Thomas Muir was sentenced to an all too real 14 years hard labour and transportation to Botany Bay for his trouble. One of the charges against Muir on the hanging judge, Lord Braxfield's charge sheet, was that his speeches cited "Treason against the Union with England".
Well, a Union needs a unionist at both ends, does it not? Robert Burns was no unionist. His opinion was that as long as Scotland was held against her will in the prison of this unequal Treaty there could be no human future for the Scottish people, there could be no "union". Burns was scathing of the Scottish middle class, a prejudice I fear I share, and he accused them of "running for cover and abjuring their democratic doings." In that regard, as our present situation demonstrates, when it comes to independence for Scotland, nothing much changes.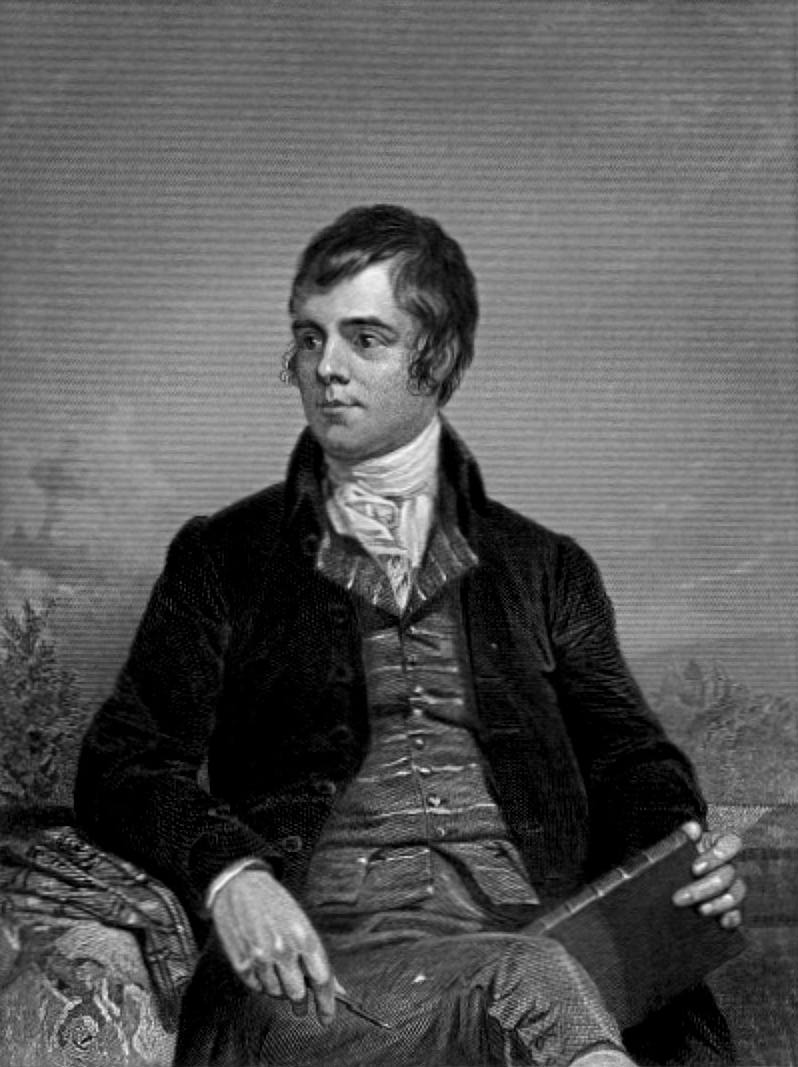 Robert Burns had much more faith, indeed instinctive belief, in the ability of ordinary people to take matters into their own hands. His song-poem, "Why should na poor folk mowe" from 1792, is in fact, no matter what else it is, a celebration of the staggering successes of the French Revolutionary armies, which allowed the Edinburgh Gazeteer to trumpet, "Despotism has now been shook to the centre on the Continent and before the conclusion of the next Summer the Tree of Liberty will occupy the soil that has long been usurped by merciless tyranny!" In this bawdy political song, Burns subverts the social hierarchy by pointing out that the so-called lower classes command a most powerful political weapon; what he considers to be their expert ability to reproduce. This is metaphor, not irony. In 2020 what is our most powerful political weapon? It is the same as it was in the 18th century: it is the Scottish people themselves. The first weeks of February 2020 could prove to be one of the most important periods in Scotland's political history. It is a time to be brave, to understand the risks and also to understand what's at stake if we are not brave enough to take risks. Thomas Muir understood this perfectly well.
As a Yes activist I look to our Scottish politicians to step up to the moment. As a poet I look to my fellow Scottish poets to do the same. But alas, in all too many cases, our contemporary poets are more interested in their interior selves and their immediate relationships than they are about the external world, of marking and observing the tensions of the society they live in. They are loud in the promotion of their point of view but very quiet, even nebulous, when it comes to having a subject other than themselves.
Opinion is another country entirely from revelation. Let me say that I am guilty of this myself. In many ways the battle between subjectivity and objectivity is the struggle of art itself. There are only a handful of poets in our recent history who have succeeded in both balancing and harnessing this volcanic dichotomy. In Scotland, two of them, at very different times and in very different ways, have done just this: they are Robert Burns, whom I have already mentioned and who was a democrat and the other is Hugh MacDiarmid, who was a totalitarian. Despite this MacDiarmid had a deep belief in Scottish independence and he has had a significant and lasting effect on Scottish literary and civic life, inspiring a generation of poets such as Sorley Maclean and Hamish Henderson. All this came at a price. However "famous" Burns was in his day the general public did not really know what he was doing and he died in poverty. MacDiarmid may be "famous" now but few people in the 1920's and 1930's took him seriously and he spent most of his creative life in poverty, isolation and exile.
All I am asking of for our poets is to inspire the people to resist the rage parade coming our way after the Union Jackery and mock-patriotic nostalgic quackery of Bojo's planned Brexit festival of foolishness on Friday 31st January 2020. I am pleading with them to have, what Douglas Dunn, in an interview published in 1981, described as:
"An aspiration towards justice: a dream of equilibrium, good order, benevolence, love, of the kind of sanity which men have it within their means to create." (Viewpoints, Faber 1981)
Whatever it is Nicola Sturgeon says on Wednesday and whatever it may mean for the future of another independence referendum, literally the only concrete thing we actually have is the Scottish Parliament and its ability to make laws to safeguard the citizens of Scotland from the excesses of Bojo's rage parade. We need to protect and empower this important institution of change from the political vandals who, mad from "beating the hedgerows with staves", would gladly destroy it.