From Mr Brexit to Saint Brigid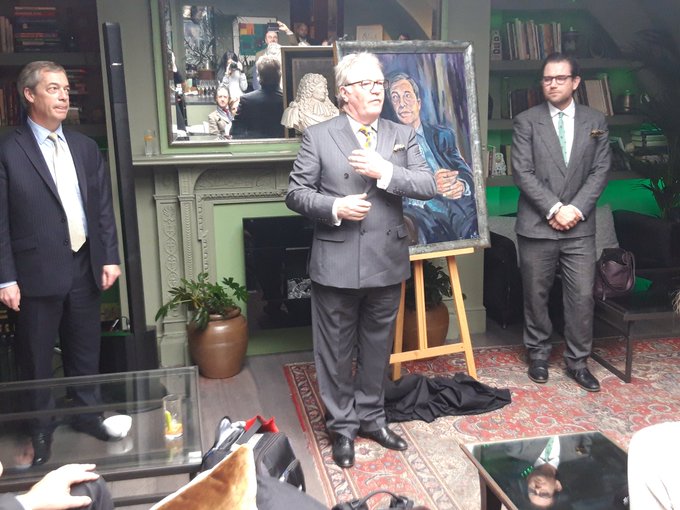 As a sort of tableaux of the moment nothing much can beat Jim Davidson unveiling a painting of Nigel Farage, "Mr Brexit" in a When Did You Last See Your Father sort of way. If the photo of the scene evoked the drab shitness of Britain in 2020, celebrating the toxic mediocrity of these people, it was wonderfully apt for a racist politician to be fronted by a racist comic.
It also raised the question: which comedian would you match with other politicians?
If Harpo Marx seems perfect for Jo Swinson ('Untitled'), Bernard Manning would surely do a good job for Theresa May ('Mrs Windrush') and Kenny Everett would be perfect for Tony Blair ('Mr Bomber').
The celebrations in Parliament Square went on late into the night with Tim Martin of Wetherspoons, Ann Widdecombe and, er, Dominic Frisby leading the crowd in "Rule Britannia" and "Land of Hope and Glory" while people waved flags and held banners calling on 'Remainiacs' to be hung from lamposts.
'Mr Brexit' was there, obviously, calling it "the greatest moment in our nation's modern history."
A nation rejoiced, just not this one.
Wild celebrations were not confined to central London. The Rising Sun pub in Kettering had a Vera Lynn sesh.
"ENGLAAAAAAAND!" "God save the Queen, fuck the Pope!" rang out.
It's easy and tempting to laugh at stupid-sounding inarticulate Brexiters, like this woman who claims we are "getting our courts back from Germany" (and countless others). And there's no doubt that this is an act of epic economic self-harm. There's no doubt that Brexit is a symbol of a broken and divided Britain and the vastly different events and symbols emanating from Scotland and England look very different.
But Mocking the Stupid Brexiters is a charmless exercise that fails to recognise any of the anger that led us into this fiasco, and that's a pointless project. Characterising the entire English nation as mindless xenophobes is reductive and mapping the Brexit campaign as solely a con by Cambridge Analytica is a political cul de sac.
Sharing our hashtags of "leave a light on" and waving our EU flags may make us feel fuzzy inside, but it doesn't take us forward into analysis of what is actually deeply structurally wrong with the EU institutions, and the contradictions and challenges Scotland faces.
Leaving the European Union is a profoundly traumatic event – an attack on democracy dressed up as liberation. But we need to transcend that sense of crisis and humiliation and turn to the task ahead.
If England needs to wake up this morning and look itself in the mirror, there is no room for Scottish complacency, lashed to this farce and unable to find a way forward. But this is Imbolc, Saint Brigid's feast day, February 1, which marks the beginning of spring and the return of the light after winter.
If there is light in a dark moment it is this. Brexit is a phenomenon of inter-generational harm. It is seizing opportunity and openness from one generation to another. It is an attack on the young and theft of their future. But this week saw the political landscape in Scotland changing in a different way – away from the fever dream of Brexit.
Overlooked in the mayhem this week YouGov polling told us:
"Yes" vote leads "No" by 51% to 49%, the first Yes lead since early 2015.
Chris Curtis from YouGov told us: "One reason for this shift is that Remainers are increasingly moving towards Yes. While England and Wales voted to Leave, 62% of Scots voted to Remain, and many of them had voted against Scottish independence just two years earlier."
"Over one in five (21%) of those who voted Remain in 2016 but No in the independence referendum have now shifted over to Yes."
The really important figures in the YouGov polling were the overwhelming numbers of younger people supporting independence.
These figures show a trajectory despite the failures and problems of the independence movement. This is not a time for giving up or walking away in despair, this is a time for stepping up and looking forward.