An Unstoppable Movement for Change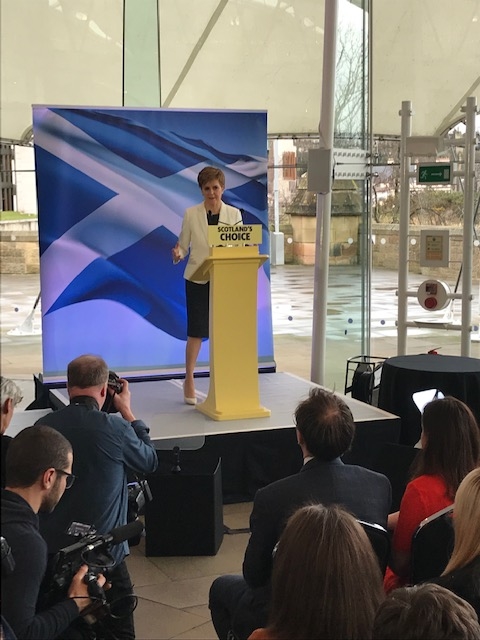 The First Minister faced a packed media room at Dynamic Earth on Friday to outline the way ahead for the independence movement and the campaign for Scottish democracy. She used the moment of 'Brexit Day' to steer a difficult course of outlining in dark times "Hope of a different and better future for Scotland." The re-timing of this announcement (it was initially supposed to have been Wednesday) may have been to do with knowledge that the YouGov poll was coming out which showed Yes in the lead for the first time since 2015, by 51% to 49%. The second reason she moved may have been that the people who are moving from No to Yes are Remainers sick of the Brexit movement.
As Chris Curtis from YouGov explained:
"One reason for this shift is that Remainers are increasingly moving towards Yes. While England and Wales voted to Leave, 62% of Scots voted to Remain, and many of them had voted against Scottish independence just two years earlier. Over one in five (21%) of those who voted Remain in 2016 but No in the independence referendum have now shifted over to Yes."
"A combination of Remain-voting Scots who backed No in 2014 switching over to Yes, plus younger generations joining the electorate, have been enough to give the pro-independence side a narrow lead."
Nicola Sturgeon took the moment to go on the attack on Boris Johnson arguing: ""There is cast-iron mandate from the people and the parliament for a second referendum" and that "fundamentally the Tory position is a sign of weakness not strength". She outlined three new campaign tools and projects: for the SNP to double their campaign spend; the creation of  a new Constitutional Convention; and commissioning New Scotland Papers, creating the case for independence.
She backed away from a unilateral referendum without a Section 30 Order, citing the chaos of Catalonia as an example of why this was a delicate prospect. She argued that the legal advice was not settled and that to take a legal case and lose would be a considerable setback.
She said: "The issue of whether the specific constitutional reservation in the Scotland Act puts any form of independence referendum outside the powers of the Scottish Parliament – or instead leaves open scope for a non-binding consultative vote – has never been tested in court. That means it cannot be said definitively that it would not be legal, but equally it cannot be described as being beyond legal doubt. If a proposal for a referendum on that basis was brought forward it would be challenged in court."
This is difficult to contest.
Speaking candidly she explained: "I'm not in the business of creating a process that's an empty gesture" and that "leadership is not always about giving people easy answers".
For some this was milquetoast, or even, "Betrayal".
In the real world though this was a cautious or canny politician steering the ship. There are elements of the independence movement that will be disappointed by her approach but I think she is doing the right thing.
It will be difficult to take everyone with her but the YouGov polling does show a trajectory that's worth following as the Brexit fiasco unfolds in front of an incredulous public. If there is anyone who has truly been 'Betrayed' it is those people who voted Remain in Scotland and will see their rights. their protection and their economic security undermined.
For some people the simple statement : "We must focus on winning the political arguments" will offer only frustration.
But it is the right thing to do.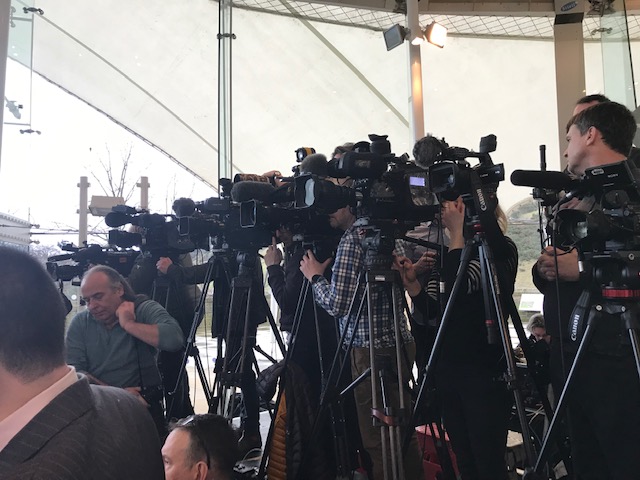 Politics is a slow and difficult process and the essential task is to be able to step outside your own head and outside you own worldview and walk with others who have experienced the world differently.
Two or three things will be pivotal in taking the case forward and building a mass majority for independence.
What will the new Constitutional Convention look like and what will be remit and nature of the new Scotland Papers?
The idea behind a Constitutional Convention is to broaden and deepen the independence movement beyond narrow party interest, to activate new players and new voices. This is essential but is also plagued with traps and problems.
If the convention is cast as too worthy, full of doughty civic leaders and predictable figures it may look and feel like a tired re-tread. Church leaders and trade union leaders might be the go-to choices but they also raise the question of who thy actually represent?  If it was possible to highlight people representing workers rights and a spiritual voice without delving into institutional Scotland then we might have a more dynamic body.
Second, the Constitutional Convention might play a part in giving a lifeline to the many people in other parties (and none) that want to speak out on independence but don't want to be part of the SNP machine. For that matter the SNP would do well to loosen the purse and to give backing to the many non-party civic groups that desperately need it, whether that be the overlooked Scottish Independence Convention and/or other groups that are crying out for support.
This would require an uncharacteristic sense of boldness and generosity but its long-overdue and would release a backlog of energy that's ready to be unleashed.  The need to lose control and cede power to other groups and voices is counter-intuitive to the SNP machinery, but it is an essential part of taking the movement forward. It also mirrors the idea of independence: that we see a country of people full of passion, energy, trust, hard-work and innovation. If that is true (and it is) then give people their head now.
Equally, the framing and tone of the "New Scotland" papers is important.
It cannot be a re-hash of the discredited Growth Commission which felt trapped in to-down managerialism and spin, cocooned in the language and politics of professional lobbyism (because that's exactly what it was).
Sturgeon explained that:
"The "New Scotland" series of papers will seek to provide the information and answers people want. They will provide detail on how Scotland can make the transition from a Yes vote to becoming an independent country. And they will set out ideas and options for how we can use the powers of independence to build a better future – to grow a stronger and more sustainable economy, tackle poverty and inequality, better meet the climate challenge and expand opportunity for our country and for each and every person who lives here. The work of the SNP's Social Justice Commission is a vital part of this and is well underway, engaging with organisations across Scotland."
This sounds very promising. It isn't churlish to say that it should have been initiated several years ago and some of it sounds like – lets be generous – an echo of some of the excellent work of Commonweal. But it is the right thing to do anyway.
To lay out why and how constitutional change will make a tangible difference to poverty and inequality and social justice is the essential task and to walk people through (again) the process of "becoming a country" is perhaps basic stuff for Yes activists but it's what a wider electorate need.
Yes these arguments have been made and made over and over but the world keeps spinning and the case needs re-made and re-articulated for 2020 and 2021 not just regurgitated from 2014.
The key may be: can these arguments be advanced in a way which energises beyond the SNP's party-base? Can the strategy be about empowerment, not control, can it be about self-organisation not professional politicking, can it be about the grassroots not the lobbyists, and can it be about independent thinking? These are the tools that will make a difference and take a slim majority for independence into an unstoppable movement for change.