Hope in the Dark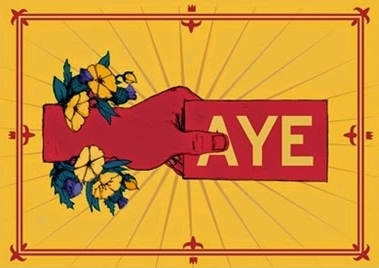 As Storm Ciara lashes across mainland Britain its time to bunker-down and get safe. That seems to be the tactic of the SNP in announcing a possible delay of their Spring conference.
If its a move designed to deflect the critics of their softly-softly approach to winning a second referendum, or of dodging the bullet of the inevitable carnage from the Alex Salmond trial, this seems unlikely to work. Unless you are convinced by the idea that they are waiting for more "opportunities" from members to emerge? The mood music would suggest that is a minority position, but while the critics have been slamming the First Ministers position on how to get – then win – a second referendum – they have been less clear about what they propose in its place. Scotland's history is littered with glorious failures and romance-in-defeat has become the motto on our collective coat of arms, a comfort blanket of folk-memory and familiarity.
So I'm not convinced by the Braveheart Tendency or the vague calls for "more passion" or bold but inchoate calls for "action" that crumble under the most fleeting scrutiny.  "Go to the UN – declare yourselves a people!" or "withdraw from Westminster" all sound good, and get the blood-pumping in an online fracas, but they don't actually amount to anything IRL. If we are drawn to glorious failure we are also drawn to the dark side, especially at this time of the year when the lack of light has a profound effect on us. Doom and gloom is ubiquitous in January and February and the need for light is palpable.
But while there's a very valid set of well-rehearsed critiques of the SNP leadership, there's also a series of polls and indicators that suggest the tide is turning. Both these things can be true.
The American writer Rebecca Solnit wrote, way back in 2016, against the despair of the Bush administration:
"Your opponents would love you to believe that it's hopeless, that you have no power, that there's no reason to act, that you can't win. Hope is a gift you don't have to surrender, a power you don't have to throw away. And though hope can be an act of defiance, defiance isn't enough reason to hope. But there are good reasons."
The good reasons?
Johnson's regime is constantly teetering on the brink of collapse, high on its own hubris, deluded by its own elite-silo and mesmerised by the right-wing populism that lifted it into office under the most unlikely circumstances.
This week saw Johnson attempt a Trumpian move by trying to ban journalists from government briefings, an action which saw solidarity even from senior lobby journalists. It saw the further descent into chaos of the plans for the COP26 conference in Glasgow later this year as the Prime Minister continues to use the international climate conference as a personal political toy. It emerged that Boris Johnson is set to nominate former Scottish Tory leader Ruth Davidson for a seat in the House of Lords. The prime minister is understood to have included the former Tory leader alongside a number of other party figures on his Dissolution Honours List.
These are petty things in day-to-day politics but they reveal a precariousness and an absurdity about the Johnson regime that we should observe.
As Britain's phreatic constitutional crisis rumbles on quietly in the background – other factors are in play.
You can see Britain/England's standing in the world receded and diminish as the realities of Brexit each week edging closer to actually leaving. The levels of delusion and triumphalism are matched only by the incredulity of foreign leaders and people, and the mishandling of the COP26 meeting is looking likely to be a global disaster, not just for our future and our children's future but for Johnson's political credibility.
The failure of COP26 may prove to be momentous, and the fact that it may be botched by a climate-denying Etonian buffoon is no surprise, even if it offers a sort of tragic-comedy to the debacle.
These failures – personal and political – spectacular and drearily ongoing – are of no consequence next to the cataclysmic events we see unfolding.
As you shelter from the storm this weekend remember this has been another remarkably mild winter. This is the hottest January ever recorded: and it comes after the hottest summer ever recorded: September 2019 was the hottest September ever recorded: October 2019 was the hottest October ever recorded: and November 2019 was the hottest November ever recorded.
The Antarctic 'ice vanishing at its fastest rate in recorded history.' West Antarctic ice sheet collapse would mean 3.5m sea level rise.
As the conservationist Stephen Barlow writes with sobering simplicity: "The whole ecological crisis, including the climate crisis has been created by over-exploiting natural systems in a mindless way for profit. This whole economic model must change, or it will collapse anyway, taking our civilization and billions of human lives with it."

In this context we are watching our climate-denying Prime Minister grandstanding to humiliate Nicola Sturgeon.
So what's there to hope for? Is this some post-Obama re-tread?
Solnit suggests this is a moment of complexity: "This is an extraordinary time full of vital, transformative movements that could not be foreseen. It is also a nightmarish time. Full engagement requires the ability to perceive both."
But it is a nightmarish time.
Trumps escape from any meaningful legal process was as tragic as it was inevitable.
The British government using the terrorist attacks in Streatham to temporarily separate itself from the European convention on human rights (ECHR) in order to push through emergency laws on sentencing is a civil liberties travesty.
The news that Police Scotland sent out a guide listing Extinction Rebellion with neo-Nazis – weeks after this was initially exposed – is astonishing and chilling.
The Guardian reported that:
"Police Scotland confirmed that it had circulated documents listing the environment protest groups alongside dozens of extremist neo-Nazi organisations, including several banned for terrorist violence, across the public sector last month. Those include medical staff in the NHS who were sent it in late January by a detective inspector in Police Scotland's counter-terrorism unit in Edinburgh as part of the UK-wide counter-terrorism Prevent strategy. The officer invited recipients to distribute it widely within their organisations. The two documents, a 23-page "Signs and Symbols" guidance booklet and a four-page list of those symbols, include groups such as Animal Aid, Peta, Greenpeace, Extinction Rebellion (XR) and Stop the Badger Cull alongside the banned neo-Nazi group National Action, the white supremacist group Scottish Dawn, the National Front and Britain First."
So what's there to hope for?
Well the failures of politicians are inevitable and we should stop looking to them for answers and strategies that they are not going to deliver. Political failure is a constant and, as the saying goes "We are the leaders we have been waiting for".
In the face of state repression and capitalist failure there is also organisation and consciousness, movement-building and emergent strategies for change.  Movements are getting ready for independence and getting ready for COP, even if their leaders aren't.
Solnit again:
"It is important to say what hope is not: it is not the belief that everything was, is or will be fine. The evidence is all around us of tremendous suffering and destruction. The hope I am interested in is about broad perspectives with specific possibilities, ones that invite or demand that we act. It is also not a sunny everything-is-getting-better narrative, though it may be a counter to the everything-is-getting-worse one. You could call it an account of complexities and uncertainties, with openings."
"Critical thinking without hope is cynicism, but hope without critical thinking is naivety," the Bulgarian writer Maria Popova recently remarked. And Patrisse Cullors, one of the founders of Black Lives Matter, early on described the movement's mission as to "Provide hope and inspiration for collective action to build collective power to achieve collective transformation, rooted in grief and rage but pointed towards vision and dreams". It is a statement that acknowledges that grief and hope can coexist."
Image credit: Daniel Seex