Irish Futures
As huge swathes of British media struggle to understand either the forces behind the rise of Sinn Féin (or even the electoral system itself), we try and make sense of the election by listening to Irish accounts of the vote.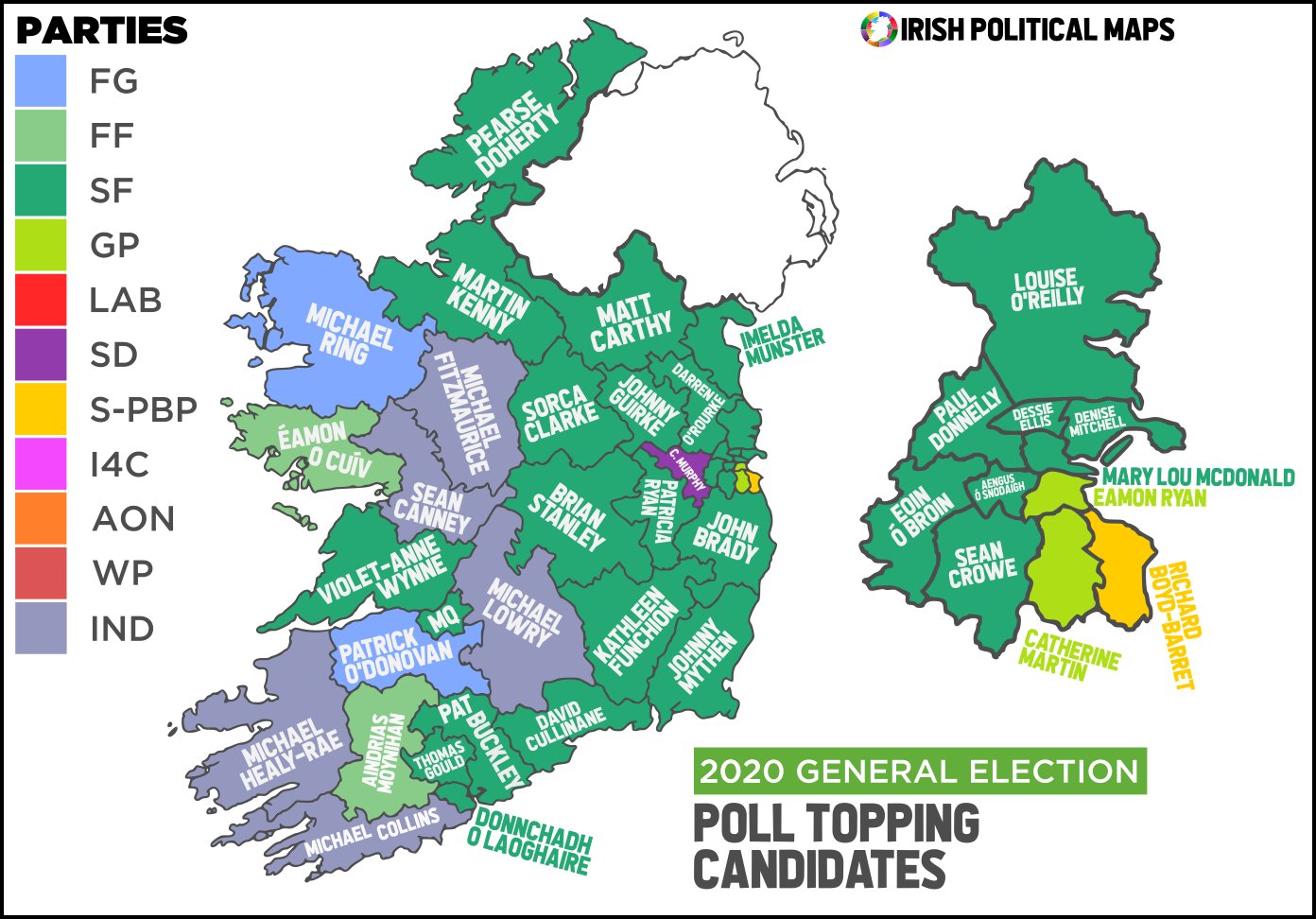 To get a sense of the scale of the result, Sinn Féin in 2020 is the first party in almost a century other than Fianna Fáil or Fine Gael to win the popular vote in an Irish General Election. That's a seismic result with consequences for Northern Ireland, Scotland, Britain and the Union and accelerate the process of moves towards re-unification. The idea that Fianna Fáil or Fine Gael can exclude Sinn Féin from government (as they had campaigned promising to do) seems unlikely given that they won the popular vote.
For years voting for Sinn Féin would be thought of as taboo for many people, so what happened?
The Repeal and marriage equality referendums (on gay marriage and access to abortion) have triggered a re-politicisation of the country infusing it with a sense of "change is possible".


*

Many British commentators have framed the Irish election as a response to Brexit, yet it rated very low in peoples actual concerns. The result seems to have come from a mixture of idealism, renewed Irish nationalism and a housing crisis that the old guard of

Fianna Fáil or Fine Gael

are implicated with.


*

The demographics of age and gender have also played a part. The traditional dominance of Fine Gael and Fianna Fáil has been swept away by a huge Sinn Féin youth vote. It's true that

Sinn Féin

topped the polls in every age group except the over 65s, so it's not just a youth vote. Ireland is the youngest country in Europe. It may be that a younger generation that have no lived experience of the Troubles and are more distant from the visceral connection between Sinn Féin and armed struggle.


*



The changing landscape of Irish politics also has a gender aspect. The "decontamination" of

Sinn Féin

has been helped by having a women as leader. Jennifer O'Connell has written in the Irish Times: "It was almost always "Mary Lou", rather than Sinn Féin. She became the party brand, in a way that neither Leo Varadkar nor Micheál Martin were. Kathleen Chambers, a student in NCAD, described how McDonald had made it acceptable to support Sinn Féin: "I wouldn't associate Sinn Féin with the IRA or the Troubles [now] as much as I would have when Gerry Adams was their leader."


*

Finally – access to health care and the housing crisis that disproportionately affects the young were major factors.

Commentator and podcaster Naomi O'Leary has said: "It's all about the housing crisis: why huge rents, shortages of homes and record homelessness was the main factor behind Sinn Féin's rise."

It's interesting to think how establishment parties in Scotland are protected by the constitutional question, because the housing crisis here is getting no attention and there will be a reckoning some day for some of them.
Myths of Populism
English nationalism and anti-Irish sentiment expressed throughout the Brexit negotiations may have been a backdrop to the Irish general election but to suggest that this poll was "about Brexit" is itself anglo-centric.
The lazy analysis that this is another manifestation of "populism" is also off the mark:
So Ireland, which has been politically stable for decades, has also succumbed to populism now.#GE2020.

— John Simpson (@JohnSimpsonNews) February 10, 2020
Ireland joins the whole let's-do-mad-things-at-the-ballot-box-and-make-foreigners-rub-their-eyes-in-disbelief party https://t.co/qSjdYau4II

— Tom Holland (@holland_tom) February 10, 2020
If its unclear who will form a government, it's also unclear what the immediate constitutional implications are for Ireland. What is clear is that the old hegemony of two-party Irish politics is broken.
Listen to Naomi O' Leary and Tim McInerney on the Irish Passport podcast for more analysis here: