No Time to Die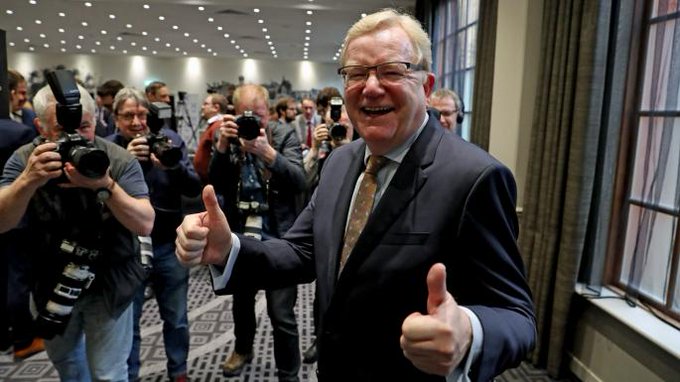 I fear that Jackson Carlaw's reign may be not bring the same joy and adulation as his predecessor.
The Tory brand has been irredeemably tainted by the Theresa May years, the advent of Boris-style Trumpism and the long slow lingering Brexit experience which never seems to end and never seems to start.
The Scottish Tories, like James Bond, are a remnant idea and a brand from another era. But even bringing in Grammy-award-winning Billy Eilish and Bafta award-winning Phoebe Waller-Bridge to breath new life into the hackneyed British spy genre won't work.
So too with poor Jackson.
"No Tie To Die" sings Eilish, but the problems are mounting up for Mr Carlaw, the Man with the Golden Gurn.
First the party has always been a little coy about membership figures but the leadership does give us a brief insight.
If the published voting figures are correct then the party stands with a membership of less than 11,000 in a country of over 5.4million people.
Secondly, the failure of Operation Arse, in which Ruth Davidson tried and failed to prevent Boris Johnson's ascendancy remains. Johnson has this week proved his ruthlessness in (effectively) sacking his Chancellor. When Davidson found out she had no influence on No 10 (despite outrageous and slavish fluffing from key Scottish journos) she left. Absolutely no-one believes Carlaw has any more influence than his predecessor (who had none).
Third, he's already failed. He oversaw the loss of seven Westminster seats in Scotland at the General Election. Yet he seems perfectly delusional saying:
"The result today demonstrates I have the clear confidence of the party. I have a bigger share of the vote than Boris Johnson achieved in his leadership election, I have a bigger share of the vote than Ruth Davidson achieved, a bigger share of the vote than David Cameron achieved in any of the previous Conservative Party leadership elections.
"So I have a clear mandate from the party in Scotland now to make the changes required to lead us into the election next year."
He even said that he is aiming to become First Minister at next year's Holyrood election.
Fourth he is not very good at handling criticism. As political journalist Paul Hutcheon pointed out: "When Michelle Ballantyne legitimately criticised the general election campaign he led, Carlaw's response was laughably over the top. MSPs are aware of how badly he takes criticism. On two occasions at First Minister's Questions, he lost his cool by making off-colour remarks about Nicola Sturgeon's hair and past career."
There is no sense of any ideas emanating from Carlaw's camp, other than some vagueness about a 'policy review'.
In truth the Scottish Tories don't really need any ideas. Their role has been to repeat like a devotional mantra "We said no and we meant it" and to relentlessly criticise anything the Scottish Government do, even to the extent last week of obsessing about the government's inability to stop winter happening.
Given the low-grade of many of their supporters this will probably do fine for a few years as they dwindle further. I'm not sure the Unionists and Conservatives in Scotland actually need or want any policies. To think of policy ideas would be to concede agency and to suggest that something (anything) should be done. In their worldview nothing is needed because nothing is really wrong with anything, and if anything were wrong, the London government would fix it.
There doesn't seem to be any critical edge to the Conservatives north of Berwick. Where are the thrusting business entrepreneurs? The libertarian right? Or the Tories reclaiming self-governance as a principle of the right? They are nowhere to be seen, instead huddling together like veteran members of a Golf Club, coming together to stoke their prejudices in communal self-confirmation.
Yet the world that Carlaw and his colleagues came from has gone. The paternalism of Rifkind and his generation has been replaced by Boris Johnson and Dominic Cummings, a coterie who found Ayn Rand-fan Sajid Javid too liberal for them to stomach.
Let that sit with you for a moment.
The 'Rishi Sunak' lesson for Carlaw should be clear; there is no loyalty in this government and there is no interest in continuity. There is nothing conservative about the Conservatives.
In this context Jackson Carlaw and Alister Jacks roles as placemen and human shields to whatever excess and humiliation No 10 plans to throw at Scotland is clear. The Scottish Conservatives are like American Republicans holding loyally onto the tailcoat of Trump as he lies and demeans his way through office. Once you're in for the ride its difficult to get off.
The Tories in Scotland have an almost numinous addiction to the "precious Union" and – as regularly expressed by poor Murdo Fraser – the monarchy. It may have missed their attention but both institutions are in trouble.
After last weeks stunning results for Sinn Féin in the Irish general elections means its almost inevitable for them not to play some role in government, and The Times reported four out of five people polled backing (re) unification in their lifetime.
Changing Landscape
How swiftly times change.
It was only a few short months ago that Arelene Foster held the balance of power and had the whip hand over Conservative PM Theresa May. Now that power has shifted directly over to Sinn Féin Leas Uachtarán Michelle O'Neill.
Today she said:
"I spoke with the new British Secretary of State for the North, Brandon Lewis, this morning following his appointment yesterday. We agreed to meet as a matter of urgency to discuss important matters including his government's approach to dealing with the legacy of the conflict, particularly in relation to the bad faith shown over the issue of pensions for those injured as a result of the conflict."

"I told him the British government is a co-guarantor of the Good Friday Agreement and he has a legal duty to act with rigorous impartiality."
"The political landscape across the island is changing dramatically, and while I see no contradiction in genuine power-sharing with unionism and making that work, the conversation and planning for Ireland's future beyond Brexit cannot be ignored."

If the motivations for seismic changes in Ireland may have been more about housing health and homelessness than the constitution, this should do little to calm Carlaw. The changes have come about from a crumbling political elite charged with long-term intransigence and complicity.
The threat of what people to refer to as "destabilisation" (but mean violence) does not come from a resurgent republican movement but from an abandoned loyalist one. Pointing to an unprecedented level of de facto Irish unity Patrick Cockburn notes that for the first time a single party, Sinn Fein, will hold political power on both sides of the border, a partner with the DUP in Belfast and either a partner in the next Irish government in Dublin or the main opposition to it.
He writes in The Independent ('Sinn Fein's election victory is Ireland's 'Brexit moment' when left-out voters turn on the elite'):
"A further cause of instability is the British government itself: the highly regarded Northern Ireland Secretary Julian Smith was summarily dismissed in the cabinet reshuffle this week, despite winning plaudits from all sides for brokering the power-sharing deal between Sinn Fein and the DUP that reopened the assembly at Stormont. Smith's was reportedly sacked due to pledging to investigate alleged crimes committed by British soldiers during the Troubles.
Getting rid of Smith may be an early sign that, under Johnson, English nationalist sensitivities will get priority over keeping Northern Ireland stable. The arrogance and ignorance of Brexiteers when it comes to Ireland has infuriated Irish opinion over the last few years with the Home Secretary Priti Patel famously suggesting that the Irish, who have vivid memories of the Great Famine, could be starved into making concessions."
In this context the Scottish Conservatives can continue mumbling "we said No and we meant it" and moaning about the SNP making it cold in winter, but you'd have to think this might not be productive. Tethered to Johnson's nationalist insensitivities – Carlaw is being dragged inexorably deeper into the constitutional crisis he barely grasps.
Like the poor souls on board the Coronavirus cruise ship, the Scottish Tories remain in political quarantine and their new leader is about as useful as an anti-vaxxer arriving with "the clear confidence of the party".
Carlaw and his newly appointed deputy Glasgow MSP Annie Wells may be more cliché than Vichy, but they remain a northern fringe whose purpose seems unclear and whose future looks in peril.