Mossmorran Re-Start, Walkout and No-Show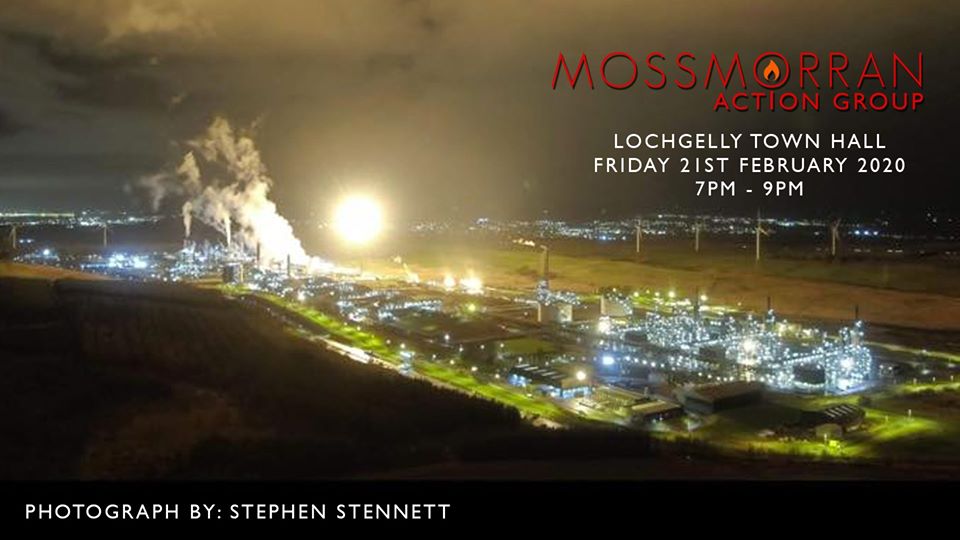 *
This has been a busy week for Exxon Mobil and residents suffering from their plant at Mossmorran ahead of the public meeting this Friday at Lochgelly Town Hall. First there was their disastrous 'restart' which was seen across the whole of central Scotland; next there was Bella's expose of the makeup of the SEPA board; then there was another 'Poor' Compliance Assessment Scheme rating for the second year in a row from SEPA; and now, today workers have walked out of the beleaguered plant over safety concerns.
As if to remind residents that Exxon Mobil's shocking record at Mossmorran goes back years this morning SEPA published the Compliance Assessment Scheme (CAS) results for 2018. [1]
SEPA – a regulatory body that exudes a mixture of Kafka and comedy – published this statement:
"While many of Scotland's industrial sectors, such as non-renewable energy and chemicals, achieved over 90% compliance as a whole, poor performance at complex industrial sites continued to impact local communities across the reporting period. ExxonMobil Chemical Limited, the operator of the Fife Ethylene Plant, achieved a 'Poor'* Compliance Assessment Scheme rating for the second year in a row due to flaring at the Fife site during 2018.  INEOS FPS Limited's (Forties Pipeline) site in Grangemouth, rated as unsatisfactory since 2014, and was rated as 'Very Poor' in 2017 and again in 2018.
ExxonMobil Chemical Limited was rated as 'Poor'* in 2018, with SEPA working to address the root causes of 'unacceptable' flaring.  In April 2018, SEPA served Final Warning Letters due to 'preventable and unacceptable' unplanned flaring in 2017 to both operators at the Mossmorran Complex in Fife.  Communities experienced further unplanned flaring from ExxonMobil Chemical Limited in October 2017, March 2018 and again in May 2018."
With ExxonMobil Chemical Limited the subject of a current live regulatory investigation, nearing completion, SEPA has varied operating permits at Mossmorran.  The operating permit variations served on ExxonMobil Chemical Limited and Shell U.K. Limited require both operators to achieve 'Best Available Techniques' in the shortest timeframe possible.  With a £140 million investment announced by ExxonMobil Chemical Limited, noise reducing flare tips will be installed this year by ExxonMobil Chemical Limited and by Shell U.K. Limited in 2021.
ExxonMobil Chemical Limited has committed to optimising timescales to install new ground flares – which will significantly address impacts from flaring, with Shell U.K. Limited recently submitting their own project plan, currently being reviewed by SEPA for the future use of ground flares."
The oil giant has pledged to appeal this meaningless rebuke from SEPA. On what grounds it's not clear.
James Glen, chair of Mossmorran Action Group, responded to today's CAS 2018 results from SEPA:
"It's no wonder Exxon has been given a poor rating by SEPA. This rating is only on their performance in 2018, when 2019 was much worse with the extreme flaring at Easter and the two, in HSE's words, "catastrophic" boiler breakdowns in August which resulted in explosions. Many people wonder why action against Exxon hasn't been much harsher, particularly after last Thursday's emergency flaring which was termedAngieMike "apocalyptic" across east Scotland. It is disheartening to see Exxon appealing their poor 2018 rating. Rather than fighting regulators, they should be putting all their energies into complying with SEPA and HSE to the best of their abilities."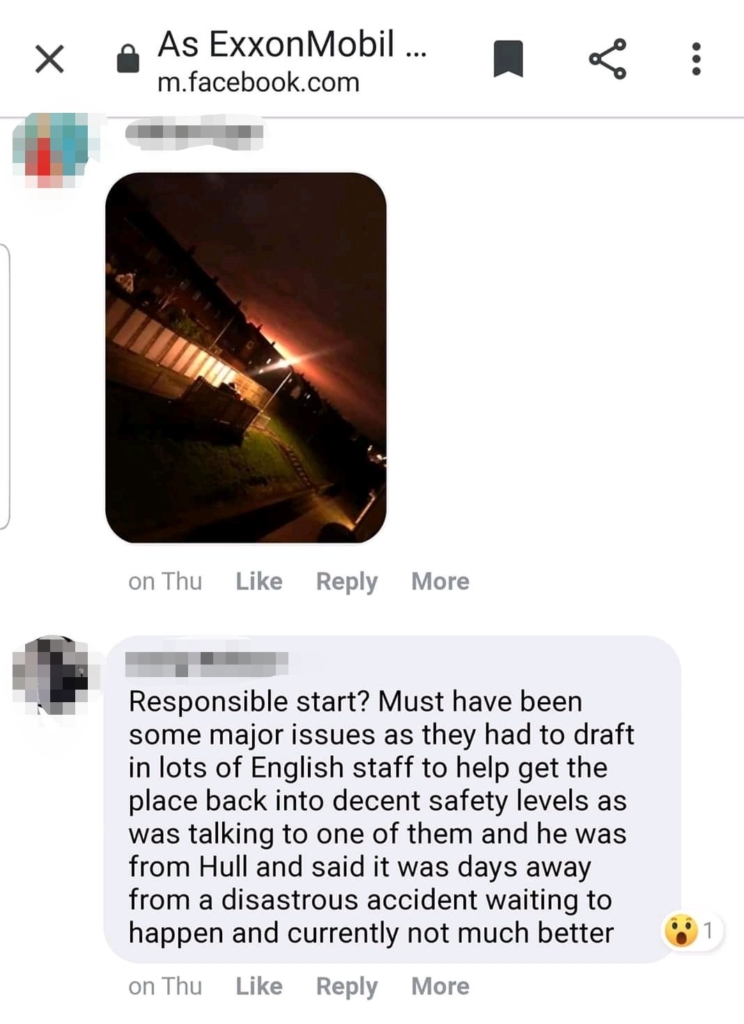 Walkout
But if the endless poor ratings and endless "Final Warning Letters" might be meaningless to Exxon, a walkout of over 100 workers from the plant are not.
This morning more than 100 workers walked out of Mossmorran over safety fears on the site. The GMB Union said the workers, had "continuously raised their concerns about conditions and safety on-site".
In fact earlier on in the week Bella was shown an anonymized Facebook post from someone sharing fears about the conditions at the plant (see right).
The unofficial walk out is understood to be by Bilfinger contractors (a German company that specialises in civil and industrial construction and engineering services).
A GMB Scotland spokesman said: "Relations between the workforce and management have been deteriorating for some time. Workers have continuously raised their concerns about conditions and safety on-site but have frankly been ignored. You can't operate a major gas terminal this way and it shouldn't be beyond the capabilities of Exxon and their sub-contractors to ensure workers feel safe and valued."
The walkout has been supported by Mark Ruskell, Mid Scotland and Fife MSP for the Scottish Greens.
James Glen, chair of Mossmorran Action Group commented:
"How can communities have confidence that Mossmorran is safe when 100 workers have staged a walk-out in part over health and safety concerns at the ethylene plant? No Scottish Government minister has ever come to central Fife to hear directly from residents about their questions and worries about their dangerous neighbour. How much longer can the Scottish Government sling local communities a deafie? MAG has immediately replied to Roseanna Cunningham, citing today's extraordinary events, and asking her to rearrange her diary so she can attend Friday night's meeting."
So far both Exxon and Roseanna Cunningham – the Scottish Govt Cabinet Secretary for Environment, Climate Change & Land Reform – have both turned down invitations to come to the public meeting in Lochgelly on Friday.
The cumulative effect of these events seems to be taking its toll.
In an extraordinary outburst Exxon's Stuart Neill claimed their flaring was "not unusual" (a claim later flatly contradicted by SEPA) Neill ended his press release saying:
"The baseless comments from the leadership of this activist group are designed simply to scare people with misinformation in an effort to further its own agenda. This is not helpful, but it is something we have become used to".
As the countdown to Friday's public meeting and to the Climate Camp in the summer continues, the question remains what has to happen at Mossmorran for the Scottish Government or their regulator to act?
[1] http://apps.sepa.org.uk/compliance/