A Radical Renaissance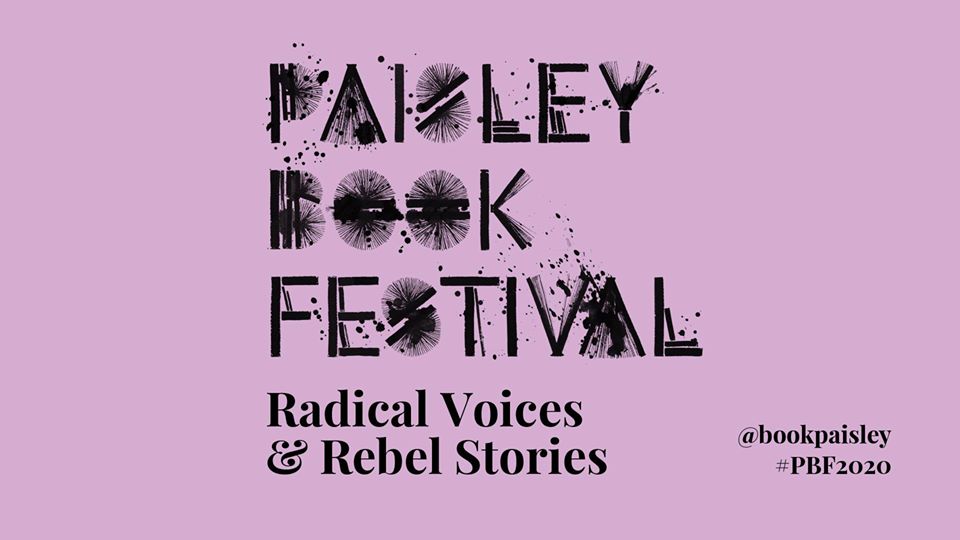 A Radical Renaissance – Paisley Book Festival 2020
[20-29 February 2020]
More info at:
https://paisleybookfest.com/
You only have to look at the Literature Alliance Scotland website to see how alive the book festival scene is in Scotland. This year, Paisley has added its name to the burgeoning list by hosting its first ever book festival, which gives a bit a bit of an intellectual twist to the less savoury aspects of the town's reputation by adopting the theme of radicalism and rebellion.
The story of one particular rebellious Scot formed part of the fabric of my childhood, having grown up in Elderslie, famed as birthplace of Sir William Wallace. What I didn't know at the time was that the story of Wallace was handed down through literature by travelling bard, Blind Harry, whose poem 'The Wallace' has been described as being worthy of Homer, and who was noted by many of Scotland's finest poets, including William Dunbar and Robert Burns. In terms of Blind Harry's significance to our national culture, I think the comparison is justified. It might also be said that in present-day Scotland, the connection between rebellion and literature is stronger than ever, and Paisley Book Festival has decided it is worthy of celebration.
Paisley has a tradition of radical writers, most notably the weaver poets, influenced by Romanticism and the ideals of liberty, equality and justice that sparked the French and American Revolutions. During this time, the poet Alexander Wilson's (1776-1813) open criticism of mill owners and their treatment of workers landed him in prison. Rather than face the possibility of sedition charges, he emigrated to America where his studies on birds earned him the reputation of the father of American ornithology. During the same time, Robert Tannahill's (1774-1810) musical drama, The Soldier's Return, idealised love and humanity over enforced conscription and the horrors of war, and his romantic pastoral poems are a testament to Renfrewshire's natural heritage and the importance of conservation and well-being. Marion Bernstein wrote no-holds-barred poems on marriage, domestic abuse and women's right to vote, and, John Galt (1779-1839), from neighbouring Greenock, is often considered the first political novelist in the English language for his writing on the effects of industrialisation and urbanisation on society.
Paisley Book Festival marks the bicentenary of the Radical Wars in Scotland when, in the spring of 1820, the country seemed on the brink of armed rebellion. Indeed, soldiers found men in Kilbarchan making homemade pikes, though, after a week of rioting, Paisley was under strict curfew to ensure no further rebellions took place. Wishful thinking when we take into account the subsequent Sma Shot protests of 1856, still celebrated annually by the town on 1 July, and the mill riots of 1907 when thousands of mill workers took to the streets protesting poor pay and conditions. Many of the mill girls were known big toe typists because they operated the twisting machines with their big toes, resulting in swelling and often amputation. Mill girl, Jean, in my novel, Blushing is for Sinners, recalls her grandmother being one of these women and showing her the purplish stumps.
By taking rebel voices as its theme, Paisley's book festival is proudly announcing that the tradition of rebellious writing is not confined to the past. Paisley Writers' Group, which used to meet in Paisley library, and which I joined twenty years ago as a fresh-faced new writer, has a strong connection with literary radicalism in both language and subject matter. Its first writer-in-residence was none other than the late Tom Leonard, whose poetry transformed the relationship between language, class and culture. His book, Radical Renfrew, anthologises much neglected dissenting voices in Renfrewshire literature from the French Revolution to the First World War. The list of luminaries goes on to include James Kelman, Suhayl Saadi, Ajay Close, Graham Fulton, Louise Turner and Dr Jim Ferguson, to name but a few whose work contributes to our understanding of the impact of significant developments in social history including Thatcherism, multiculturalism, feminism, the Suffragette movement, the American Civil War, and Medieval Renfrewshire, all of which has its fair share of – you guessed it – rebels.
Today, there is definitely a strong relationship between radicalism, activism and the arts. I'm often asked to write for organisations seeking to transform attitudes on issues ranging from mental health, addiction and recovery, refugees and modern slavery. Radical writers need original and creative ways of getting their work out there, and often these connections are driven by passion and the creative impulse to make a difference. For twelve years, I ran an eco-poetry quarterly from my front room, receiving contributions from around the world, and donating all the proceeds to conservation charity. The magazine collaborated with Paisley Hill Walking club in a sponsored poetry fundraiser, and Edwin Morgan was even so kind as to contribute an unpublished poem. Today, I am involved with Jenny's Well Press, Paisley's only indie publisher, run on a voluntary basis by a team of dedicated writers and editors. Indies often have to come up with radical ways of doing things, and this can lead to innovative alliances in the creation and distribution of books, for example, with charities and socially and environmentally conscious retail outlets. Every copy of my novel sold in Shelter helps fight homelessness.
Radicalism is defined as beliefs or actions that advocate complete political or social reform, and Paisley Book Festival is celebrating the tradition of rebellion by hosting literary events that recognise where contemporary change is taking place, including disabled and low income access to publishing, stories of rebel women, queer identities, the #MeToo movement and BAME writing. It features contributions from some of contemporary literature's most radical voices like Jenni Fagan, Jackie Kay, Alan Bissett, Chris McQueer, and Mara Menzies, as well as exploring fictional rebels and Tom Leonard's Radical Renfrew thirty years on. So, switch aff yer Netflix, and find yer inner rebel at Paisley's Book Festival. They may take our lives, but they'll never take our freedom, and our books!