The Blue Wave 'The Clyde is Rising And So Are We'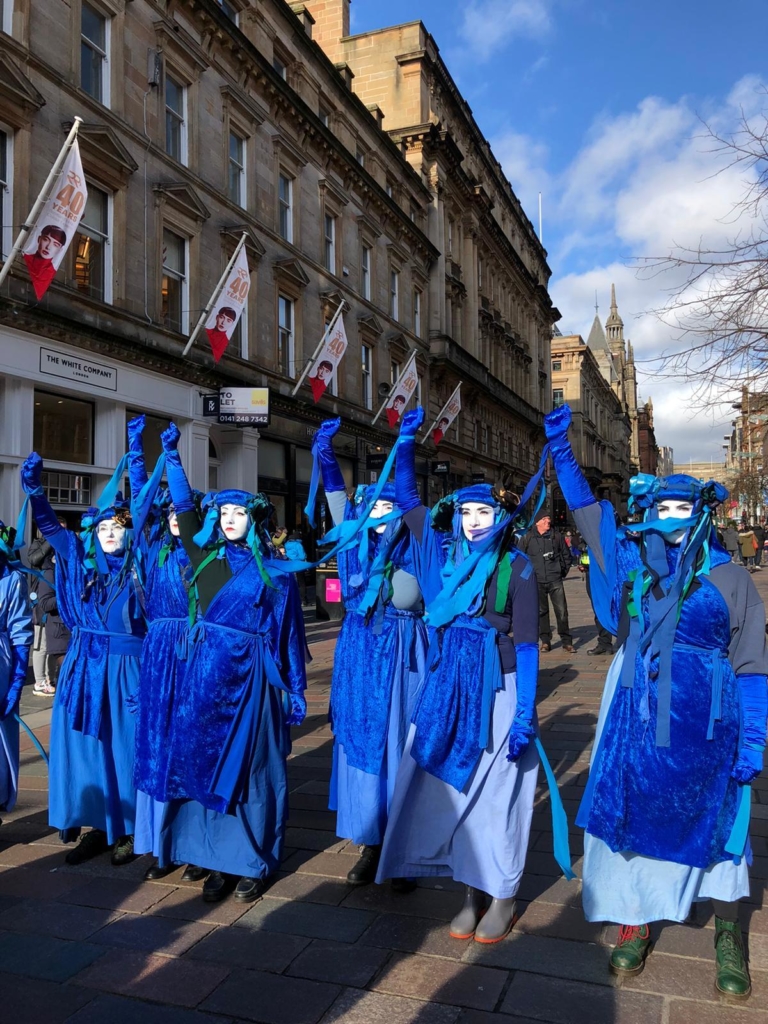 A report by Climate Ready Clyde – a coalition of six councils, transport agencies, universities and government agencies – has said that the climate crisis is estimated to cost the Glasgow City Region £400 million a year by 2050 and in many cases disadvantaged and vulnerable groups will be the worst affected. It has also warned that major roads, bridges, rail lines and hospitals are in danger of being damaged or closed.
Climate Central has published an online interactive map which presents the threat of flooding in striking visual detail.
This is a statement from Extinction Rebellion Glasgow, with Extinction Rebellion Renfrewshire and East Dunbartonshire's from the Blue Wave protest in Glasgow yesterday:
"We would like to start by thanking ever single droplet of you for coming along and forming a wave today. We settle now here on these steps to deliver our message to Glasgow.
Last year our wave rose as far as George Square and we, the waters, delivered our message directly to Glasgow City Council. We informed them that it is not too late to turn the tides of destruction and we demanded that they declare a state of climate emergency. On the 16th of May last year a Climate Emergency was declared. It was the first and we hope the last time the council building will taste the waters of the Clyde.
Since the declaration however, our council has stagnated, producing nothing but an algal bloom of excuses to cover up its inaction. A green wash over a puddle that quite frankly stinks.
While our leaders float around pretending like nothing's wrong, lives are being lost under the waves. Nepal, Bangladesh, Indonesia, Venice in the last year, no corner of the world has been unaffected by flooding. The poorer the region, the more casualties inflicted. That situation is reflected right here in Glasgow and the West as it is some of the least wealthy areas that will be the first to disappear under the waves: Govan, Ibrox, Renfrew, Clydebank, Paisley. Water itself does discriminate, only people do.
It was not water's destructive capability that hurt the most this last year but rather its absence. In 2019, from the Amazon to Australia, our world was on fire. Entire species were lost to the flames. In desperate times it is easy to drown under waves of sadness and grief. It is not uncommon to feel hopeless in the face of problems far bigger than yourself. We have to remind each other that water's strength isn't in a single droplet running down a cheek. Water's strength is shown when those droplets pick each other up, bind together, flow in the same direction, and eventually form a wave. Together there is no fire we cannot overcome."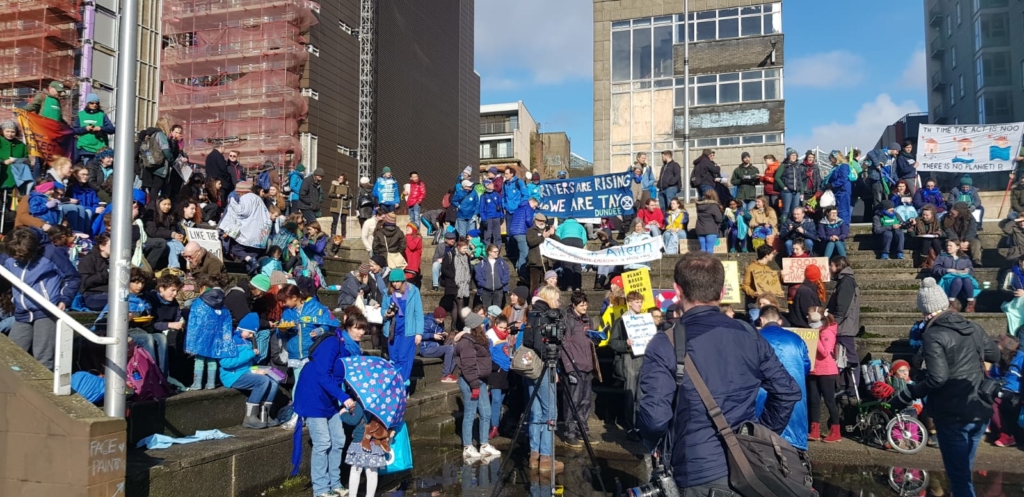 "We the people are rising. We are rising faster than the problems we face. In almost every country in the world we are coming together to flood the streets. To take a stand. For each other, for the future, for life, and for love. We are turning the tides.
Take a moment. Look around you. Take in the faces that form this wave today.
Soak in the love you share for the planet, take nourishment from each other's passion and bathe together in hope for the future.
This coming year we will face many challenges. Many of us will see this as a pivotal moment in human history. There is a lot of important work that needs done.
Do not forget that together we are an elemental force of nature more powerful than any government, bank, or corporation. Lock the strength we feel right now in this moment deep inside and become hydrogen empowered.
We move together.
We move to action.
We are a mighty blue wave."