Why isn't football taking concussions more seriously?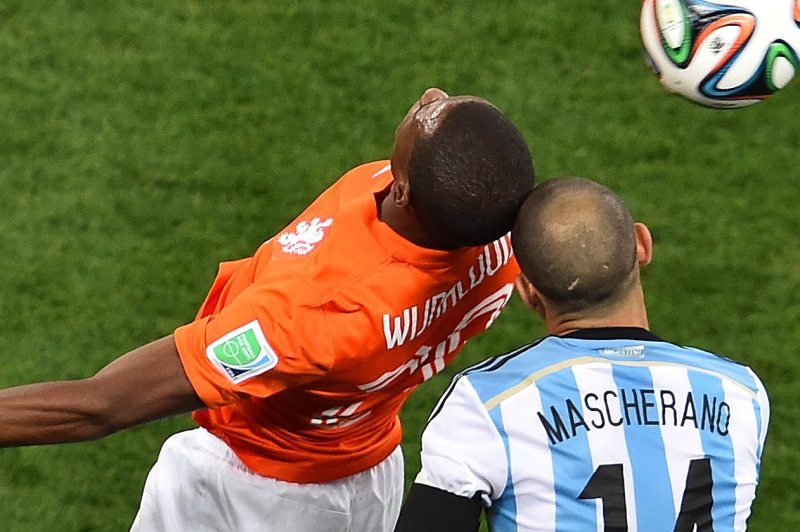 Jamie Braidwood is the winner of the 2020 Ian Bell New Writing Prize sponsored by the NUJ in association with Bella Caledonia. The awards will be presented by Mandy Bell and the judges at the Aye Write literary festival, on Saturday 14 March at the Mitchell Library, Glasgow, following a talk at 6.15pm by Tom Roberts, author of The Making of Murdoch: Power, Politics and the Man Who Owns the Media.

Jan Vertonghen had started to stumble long before the Tottenham Hotspur doctors had reached him. By the time he had made it to the edge of the pitch it was clear he was in trouble. His legs looked as if they had turned to jelly and he had to be held up as he buckled over and retched. The stadium fell to an uncomfortable hush as the crowd watched on.
Vertonghen had suffered a concussion. Just minutes earlier, the defender had clashed heads with a team-mate while jumping to head the ball. The blow left him lying motionless on the ground, his face covered in blood. Vertonghen was immediately evaluated by the Tottenham doctors but 40 seconds later he was back on his feet. The blood had been wiped from his face and he was allowed to continue. His condition deteriorated rapidly as soon as he returned to the pitch.
In 2019 alone there have been several high profile cases of concussions not being treated seriously at the highest levels of football. None were more notable than Vertonghen's – which unfolded in front of a worldwide audience during Tottenham's Champions League semi-final against Ajax in April.
The incident was an embarrassment to football and its concussion protocols. At the centre of the debate were the FIFA rules that meant Tottenham's doctors were only allowed up to three minutes to assess whether Vertonghen had suffered a concussion (Tottenham's doctors took even less time than that), and the fact that, unlike rugby, independent doctors are not used in football to access head injuries.
Indeed, research into how concussions were treated at the FIFA World Cup in 2018 shows that 63% of players who displayed symptoms of concussion after receiving a head injury were not accessed at all. Of the players who were evaluated, the average length of the on-field assessment was less than a minute.
"Concussion management in football in 2019 is something from another age, another era, and it should not be permitted," says Dr Willie Stewart, a leading Scottish neuropathologist. "I think it's depressing and disappointing that, because they've not moved things on, players are still getting back on the pitch with brain injuries when they shouldn't be."
Football has certainly been slow to react. While rugby introduced temporary concussion substitutes to allow for head injury assessments at the elite level in 2015, the idea has only recently been discussed by football's governing body. The International Football Association Board (IFAB) debated the idea at a meeting in October 2019, but there have been no further developments.
The Vertonghen incident was particularly striking because of the message it sent out about how football deals with concussions. It was an important match – the semi-final of the Champions League – and here was a star player at risk and a popular club getting it so badly wrong.
It's a message which is transmitted down to the grassroots levels, where there are plenty of horror stories that echo what unfolded on the game's biggest stage.
Andy Colebridge has been a youth coach at Lasswade Thistle for eight years, and has seen first-hand how attitudes towards concussions have changed in that time.
Lasswade Thistle are an informed club, and have been proactive in promoting Scotland's message on concussion awareness. They became the first football club in the country to display the 'If In Doubt, Sit Them Out' logo on their shirts, while the dangers of concussions are regularly reinforced to the players and are strictly enforced by the coaches on match days.
"As a policy, if it's a head knock, they don't come back on, even if it is the last minute of a cup final or they are just about to score a hat-trick," Colebridge says. "That's the policy we have agreed with the committee.
"The boys are also really good at policing it themselves. They'll inform us or they'll inform the referee – we might not have seen it but if he's had a head knock we'll resolve it."
The same caution is not replicated elsewhere. Colebridge indicates that there are clubs in Edinburgh and around Scotland who appear to have missed the message completely, and says that it is not uncommon for opposition teams to ask them questions about what the logo even is.
When there has been a clash of heads between opposing players during a match, Colebridge has also seen upsetting instances where the Lasswade Thistle player is removed from play for the rest of the game, but the opposition player is allowed to return to the pitch by his coaches.
"What really frustrates me is the risk they are actually putting that child through by putting him back into the field of play," Colebridge says. "It just goes back to education. If they understood what could happen, they wouldn't do it."
As a club that takes concussions seriously, Lasswade Thistle have often called out opposition coaches when such instances occur. But even then their message is faced with resistance.
When Colebridge has recommended that a player should be removed because there is a chance they have suffered a concussion, he has been accused by the opposition team of trying to give his side the upper hand. The opposition wrongly believe that Colebridge is trying to get one of their best players substituted in order to win the game, so they ignore his advice and leave their player on the pitch.
Safety is disregarded and the focus is often only on one thing. "Maybe it's the coaches' egos," Colebridge suggests. "Is it about the coaches wanting to win?"
________________________________________
Dr Stewart's recent study into links between football and neurodegenerative disease, which found that former professional players in Scotland were three-and-a-half times more likely to die of dementia, led to actual change within the grassroots game.
The Scottish Youth Football Association, the governing body which oversees all grassroots youth football in the country, took 10 days to act before issuing guidance to every youth football club in Scotland.
Their recommendation was that any drills which involved heading the ball should be removed from training sessions with immediate effect, for all under-11s. The move mirrors the stance used in the United States, where under-11s have been banned from heading the ball since 2016.
In a statement sent to all youth clubs in Scotland following Dr Stewart's study, the SYFA said that it was "committed" to ensuring the safest environment possible for children and young people to play football.
"Although there is not yet a definitive link between heading the ball and brain injury, it is essential that we take the relevant precautions to best protect our players," it added.
Questions remain, however, over how the SYFA are enforcing their recommendations. Colebridge says the SYFA's communication with the clubs on the issue has been "poor" and that there would "never" be a situation where someone from the organisation would attend a club's training session to check if their guidelines were being implemented.
Colebridge adds that the fact such an important message was only distributed via email means it would be possible for a grassroots coach to miss the information altogether. "What happens if that coach is busy, doesn't read the email and stands there and feeds 50 balls to a player's head?" Colebridge asks.
"I think they [the SYFA] could do it better. Maybe they should be having workshops. Maybe they should call everyone in for a meeting, like having a representative from each club, and they can then cascade the information down."
The SYFA believe their recommendation has been received positively by most of their members, adding that ultimately, it is the responsibility of the clubs to look after their players and avoid repetitive heading drills in training.
"We wanted to make it clear to everyone that it is a recommendation, as opposed to an out-and-out ban," says Florence Witherow, the SYFA's National Secretary. "Because we've not made a rule change and it's in this early stage then we won't be policing it as such. The responsibility sits with the various clubs who have the responsibility for looking after the kids playing in their teams."
The SFA are also considering their move, which could include introducing an outright heading ban for under-12s in Scotland. The SFA have offered to lead the way in Europe by trialling approaches for UEFA, European football's governing body.
"The SFA are determined to be proactive on such a serious issue affecting the national game and are prepared to offer a practical test case in Europe through a range of potential measures being implemented in Scotland," said a spokesperson for the organisation.
________________________________________
Elite football is also on the precipice of change, with Colebridge and Dr Stewart among the many people eager to see whether concussion substitutes are introduced following the IFAB's meeting in October 2019.
But whether implemented into the elite levels of the game or not, head injury substitutes would not be used in grassroots level football, just as they are not used in grassroots level rugby. If there is a doubt of concussion then the player should be removed, as is SportScotland's protocol.
Instead, it will continue to be everyone's responsibility (players, coaches and parents) to have read up on the latest concussion guidelines and protocols and help identify concussions in grassroots football. However, as Colebridge says, there is often a lack of authority present, and mistakes are often allowed to be made.
One possible solution for when a medical professional is absent from the game, as is the case for the majority of grassroots football matches, would be to use the referee. After all, the referee is impartial, and should be able to independently recommend that a player who is suspected to have suffered a concussion should be removed.
It is a law that already exists in rugby. In World Rugby's official laws of the game, law 3.22.c. states that the referee can decide, with or without medical advice, if a player should leave the pitch due to an injury, at any level.
Such a rule does not appear in football's laws of the game, though. When contacted about this story, a senior figure from within the Edinburgh and District Referees Association replied that the organisation "wouldn't expect referees to undertake any diagnosis of concussions."
The nature of the response is rather reflective of football's attitudes towards concussion. From the top to the bottom, it can, at best, be described as being a bit too passive. At worst, it could be said that the sport's attitude is downright negligent. But perhaps that is about to change.
"Up until a month ago [those at the top of football] might have been sitting quietly thinking that there isn't really a problem with brain injuries in sport anyway, thinking that they didn't have anything to worry about," Dr Stewart says. "We now know the risk of dementia in football is three-and-a-half times higher than you would expect.
"If that's not a problem that needs to be dealt with, then I don't know what would be."