Getting Organised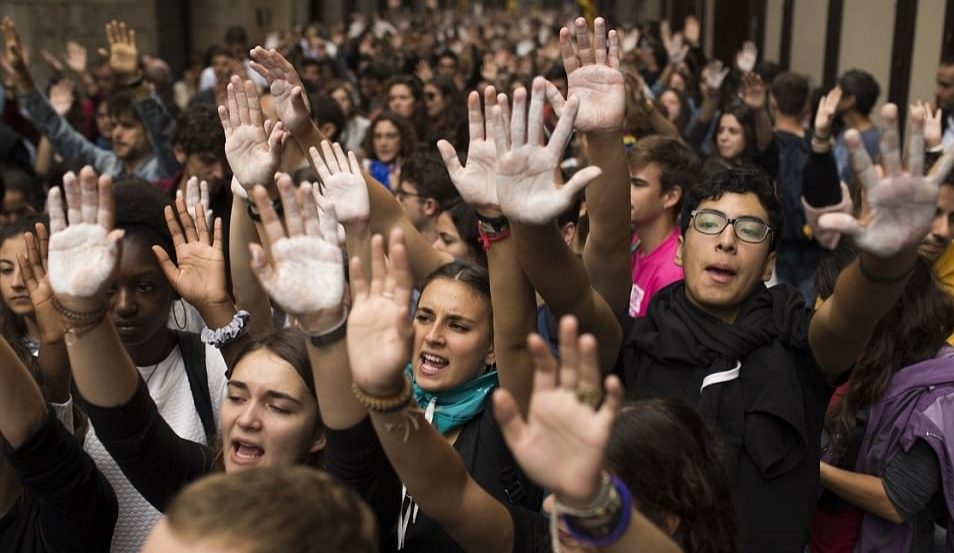 Get organised: The realities of the pandemic we must face up to right now.
We need to get over the denial phase of grief about what is happening. There's no time for it. Neither is there time for anything other than humility and solidarity in our attitude to one another. Whatever petty disputes you had – now is the time to get over them. Think clearly about how to organise and try to catch-up with the reality of the situation we're in.
Another thing we must do is control our fears. Not conquer them. We need fear right now because that will help keep us safe from the virus, but we need to not let that descend into panic, because panic will not keep us safe in any way. It is entirely unhelpful. Controlling your fears means acting in an organised and focused way and in solidarity with one another. And as mathematical biologist in China Daniel Falush says in this very important blog, "We need our anger too but suffer because people express it without clear purpose. Anger needs to be targeted and on-point."
Let's be clear about where we are at with this Pandemic: we have a twin-crisis of economy and public health like the vast majority of us (at least in the west) have never experienced. A Great Depression is on our door-step. Market economies are not set-up to be closed down for a morning, never mind months. So we need to start quickly accelerating our thinking towards what we actually do about this to ensure as little hardship as possible and save as many lives as possible. If you think we can simply rely on governments to see us through this and then in a couple of months things will start getting back to normal again, I'm sorry but you haven't caught up with the reality of the situation.
Reality requires facing some hard facts about how things have to change and how we as citizens have the most important role to play in making that change happen.  To embrace those facts, try to bear in mind that we are in unprecedented territory – your accumulated experience can be as much of a hindrance as a help in this moment. Words like "unprecedented" and "groundbreaking" to describe Chancellor Rishi Sunak paying wages across the economy miss the fact that it is not nearly enough to confront what is coming.
What is "big" is entirely relative to the size of the challenge you face. An umbrella can keep rain off your head, but it won't do much in a hurricane.
What must we do. Six things:
1. Markets are broken – socially plan the economy
If businesses can't make money, they can't pay bills and debts, they go bust, and they lay people off. The government paying 80 per cent of wages for those who can't work (but not the self-employed, yet) does not suddenly mean many businesses – especially in tourism, retail, aviation and hospitality – will be able to navigate a route to survival. This is a supply and a demand side crisis – it's not just a question of getting money into people's hands and reducing costs to business to virtually zero (the demand side), it's a question of how do you provide the things people need in a pandemic situation where large sections of the workforce are sick or locked down (the supply side)? If production collapses but you expand the money supply with government cash, you could have a dangerous combination of good shortages and price bubbles. In an industry like food, that could be catastrophic. And for non-essential consumer goods, remember we don't really want to boost economic activity right now – we want people hibernating.
When you look at the situation like that, you come to the conclusion that markets are broken and only a socially planned economy can avert a social catastrophe. Every minute we indulge the fantasy that markets can fix it is another minute where we allow the hardship which will follow market collapse to set in. A socially planned economy means that the available resources of the national economy are turned over to meeting essential human needs. Italy has just shutdown all non-essential production, but they waited far too late. We must demand that our government does this now and turns resources over to the essentials.
2. Give the NHS whatever it needs
The first priority of a socially planned economy is to rapidly expand NHS capacity. Someone (or some group of people) needs to work out exactly what they need in terms of labour force, protective equipment, ventilators, ICU beds, testing equipment and anything else, and then government has to go and get it for them. Everything they want, no questions asked, and from whatever resource the state can get its hands on. A redeployment service has to be established now to move people from laid off jobs into NHS service and to get the skills specialists from the private sector into the public sector to make this happen. It will be difficult logistically because time is so short to train people to be nurses and the other jobs required, but a way has to be found.
3. Create a care economy
Many of our citizens are extremely vulnerable people that must be protected. This will be a community effort but the state should also be hiring care staff to get to elderly people, a care service to address mental health needs in a lockdown, and so forth. Scotland was already an extremely vulnerable society before this crisis. Now it faces a pandemic. We must look after people.
4. Ensure food supplies
We need to address food supply and distribution. We cannot leave market mechanisms in place to ensure everyone gets food, because the threat of shortages and price gouging is too high. We need at minimum state price controls, if not full nationalisation of the sector, and we need a rationing system in place. Preferably, we would also have a delivery system so people do not have to break the lockdown.
5. Build solidarity communities
Even if the state did all of the above, it wouldn't be enough. Fundamental is to build solidarity communities now through online groups which do the micro-level work of community organising. People are an amazing resource and their combined knowledge and compassion in an emergency situation like this can ensure that town by town, community by community, street by street, building by building no one is left behind.
6. Can't pay won't pay – get ready to resist 
We have to be prepared for government not doing the things we need them to do. Let's face it, they've made a right pigs-ear of it so far. If the government allow landlords to keep collecting rent and evicting people, we won't pay and we won't allow it to happen, because we can't. A national rent strike may become essential – good luck trying to evict us when we're all at home and in a pandemic. Even debts and taxes need to be part of the discussion – if we can't pay, then we won't pay. Even in a lockdown situation, it is possible to resist.