The Declaration of Arbroath, 1320-2020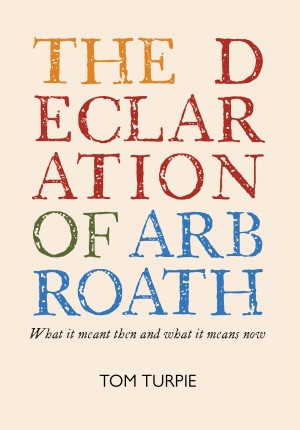 A film and a book to celebrate the700th Anniversary of the Declaration of Arbroath.

The Declaration of Arbroath: What it meant then and what it means now by Tom Turpie (Luath Press).
Seven hundred years on from the Declaration of Arbroath – a letter, sent in the name of the barons of Scotland to Pope John XXII – Tom Turpie explains why it was produced and why it contains the extraordinary sentiments it does. He sets it in context of a world plagued by war and climate change, and explores how the relevance of this letter has ebbed and flowed over seven centuries. In doing so, this book aims to help readers to understand the single most significant document to be produced in medieval Scotland.
6 April 2020 marks the 700th anniversary of the Declaration of Arbroath, a document that has ebbed and flowed in relevance throughout history since it was written in 1320. Was it a supreme statement of defiance against tyranny, a seminal declaration of Scottish identity, or merely a (failed) practical response to a diplomatic problem?
'The Declaration was originally one of three letters delivered to the Pope by Scottish envoys in the summer of 1320 and only became known as the Declaration of Arbroath fairly recently (1904),' says historian Tom Turpie in his new book, The Declaration of Arbroath: What it meant then and what it means now. 'The Baron's Letter, which the Declaration was originally known as… is a triumph of tone, of conciseness and of understanding your target audience.'
Placing the historical document within its own political context, Turpie explores the conditions in which it was produced, in the midst of a political and military deadlock and during the environmental crisis of the Little Ice Age (c.1250-1750). 'These new conditions caused considerable problems for medieval agriculture and disrupted trade and transport routes… Significant problems with the climate in the years after 1314 meant that the Scots were unable to force a military victory, and the English King, Edward II, was unable to invade Scotland to avenge his defeat at Bannockburn. The difficulties that the Little Ice Age caused for military activity meant that the war of diplomacy, of which the Declaration was an essential part, was even more vital than before.'
Reflecting on the impact of the document since its conception in 1320, Turpie considers the influence it had on the United States Declaration of Independence (1776) and whether the letter we now call the Declaration of Arbroath was intended as a statement of national identity for the ages.
The Declaration of Arbroath
A film by Lesley Riddoch