UBI Now FFS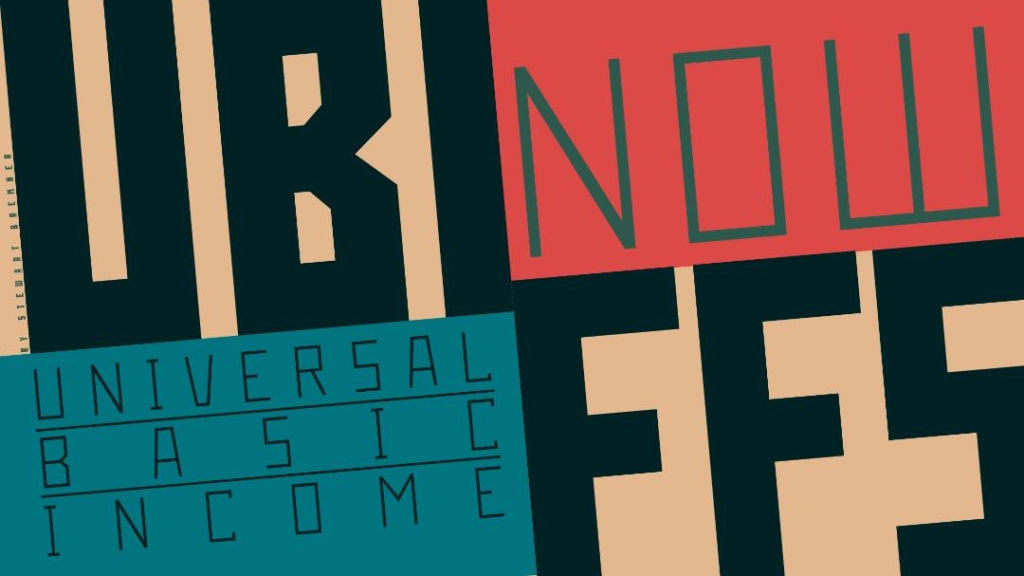 For the first time in human history, almost the entirety of the population of our planet is consciously facing the same problem.
As countries go into lockdown, each government is of a necessity having to suspend business-as-usual. The endless churn of the masses generating society's actual wealth through their labours – which is in turn sucked into the endlessly hungry maws of fewer and fewer staggeringly rich people – is being thrown into the spotlight. Capitalism is revealed more clearly than ever before as being harmful to humanity.
Maybe also for the first time, the complacent right, arrogant and coddled in their unearned security, are being shown how fragile their comfort is, relying as it does on countless 'insignificant' others. They're being shown, too, that when the masses are imperiled, the rich cannot use their wealth to escape from the damages. Some might seclude themselves from a life-threatening pandemic but how truly secure and tenable is that seclusion? Seeing them stuck in their splendid isolations, we question the needy adulation-seeking of the famous and our lack of need for them is made apparent. We see how the ungoverned accumulations of the corporatists is threatened by cessations of whole economies and wonder why people so fundamentally useless to society have been allowed to acquire wealth so vast that they will never be able to use them in their own lifetimes. Can these people see from their ivory towers how interconnected we all actually are? Can they see how fragile their position is?
More to the point, can we see it?
On the other side, governments are scrambling to put together elaborate and complicated aid packages, in order to stop the suddenly work-free masses from running out of food, heat, shelter and communications – all services that have been run for private profit. It becomes apparent how essential to life these are and how easy it is for governments to in essence buy them out, by paying most of us money that we then pay to the companies in these sectors. And yet are governments considering anything as radical as cutting out the unnecessary complications and nationalising these sectors? Only Spain is so far.
In the UK, our government insists on funneling money to most of us through the correct, capital-accumulating structures. This keeps us tied to those structures and helps stop us from questioning why such structures exist and who benefits from them.
We are paid what that structure deems us worth. But why should our government be giving more money to a corporate manager than a burger flipper, when they are both sitting in their homes doing pretty much the same thing? More than that, why, right now, is the sitting-at-home manager being paid more than a shelf stacker who is putting their life on the line to help us all? Or a care worker? Or a nurse? What is the determining factor in the worth of a person's labour? It must be apparent to many of us now that the value placed on us is not connected to our essential use to society.
How complex and bureaucratic do the government programmes have to be, to stop us from realising that we are more or less all worth the same? That our society will break utterly if enough of us simply stop and, further, that singling out and attacking individual segments of society will ultimately lead to the whole crumbling?
How many people, right now, are sitting at home with a sickening realisation that what they have spent their life doing is less useful to humanity than the most menial job in a supermarket? That, when push comes to shove, we need grocery store staff and drivers and cleaners more than almost any other job, outside of the caring professions?
How many of those people are pulling out a guitar from the back of a cupboard, or opening a dusty recipe book and realising that they'd rather be doing what they're doing right this moment than what they had been chained to up until now?
The more complex and bureaucratic a government's aid package and the more it can be linked to a person's previous position in the economy, the better. To stop change. To stop the dawning realisations of actual self worth. It is imperative to reinforce our previous positions in the capitalist economy and in so doing keep everyone in their position in the giant private profit churn, that benefits so many fewer people year upon year.
The question now is how can all of us – across the whole planet – help birth a new world, in the light of our private and public revelations?
Right now governments everywhere are showing that giving everyone in the country money is possible. That, in fact, without all of us having money our society breaks utterly. Which means that the rich and those who benefit from private property do not have the power they thought they had. If we all say, for example, give us Universal Basic Income now or we stop paying our mortgages and our rents, what can they do? No government can evict or lock up a whole country.
Universal Basic Income would free us from the shackles of private profit. It would not remove private profit, because deeper and more radical change is needed for that, but it would give us enough money to get by and give us all choice. Maybe getting by while slowing down and spending your time baking bread or playing the guitar is better than having two cars, two holidays a year, no time for your family and a life of endless spreadsheets. It will be for some. It could be for many, after months of isolation and thought and revelation. If we have the choice. If we have Universal Basic Income. Is it any wonder that governments are resistant to it?
For the first time in history, the mass or our planet's population has the chance to say 'no more' to the system that has allowed a minuscule number of people to have stolen all of our wealth and to have so damaged our environment.
Universal Basic Income could free an untold number of us. And who knows what could happen after that, what spirit and ideas could be unleashed?