Travel Futures and Sail Cargo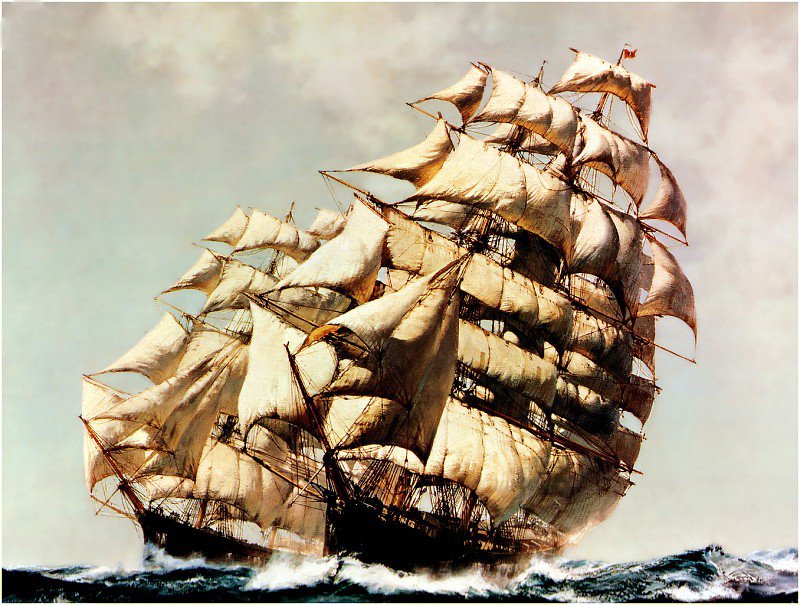 As we wake up to the depth of the covid crisis and the remaining climate emergency, the opportunity for a dramatic shift in how and why we travel has emerged.
A few years ago the idea of transporting goods by sail cargo was unheard of. Now it is a rising trend for companies monitoring their entire production chain for sustainability. There's a new movement that's barely been covered in the media that has evolved quietly below radar.

Back in January we asked Could Sleeper Trains Replace International Air Travel? Now we are asking could sail replace polluting cargo ships as we re-think the need for exports and the way we transport essential goods and people?
Sail cargo is an initiative that is gaining more interest as an emission-free alternative to conventional shipping. Companies like Eco Clipper have plans for trans-Pacific, trans-Atlantic and global routes for their ships.
EcoClipper tell us:
"As you read this, there are many sailing cargo ship projects underway. The concept has proven itself in the 21st century. Recently the two first industry lobbies where established; the International Wind Ship Association (IWSA) and the Sail Cargo Alliance (SCA). We can speak of the emergence of a real new industry. EcoClipper, with her experienced team, will be the organization to scale up the successes of the current sailing cargo companies, to launch a fleet of newbuilt large scale sailing cargo vessels, and sustainably connect all continents of the world."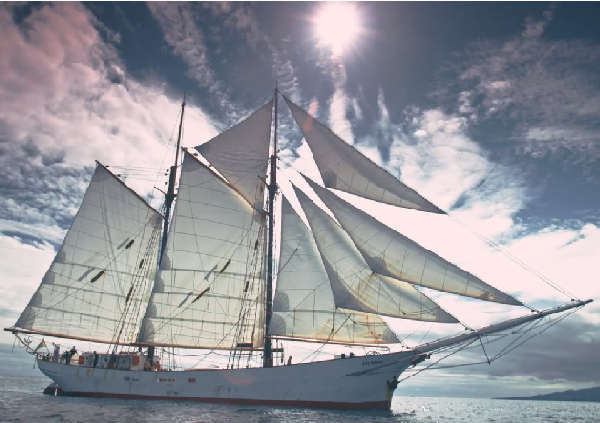 Already Avontuur managed by Timbercoast, Tres Hombres managed by Fairtransport and Gallant managed by Blueschooner Company and many others are in operation. Companies like New Dawn Traders (Fair Trade by Sail) and Fairtransport already sail routes between European ports and across the Atlantic.
As we work on a Just Recovery programme, these ideas which in other times might seem absurd need to be taken seriously.
Shipping Impact
Resistance and incredulity will be widespread. The problem is that much of our ideas about travel and transport are hard-wired into our assumptions about the world, that we can have anything we like at any time from anywhere, that we can go anywhere we like at any time. This is assumed to be a fundamental good and a fundamental right, when in fact it is untenable.
Globalisation is assumed as the apogee of progress itself. But if the current crisis tells us anything it's that the globalised world is deeply fragile and the need to re-think core assumptions about how we organise is urgent.
The impact of container and cruise ships on the environment is vast but incredibly largely unregulated.
Aviation and shipping is covered by the Paris Agreement on climate change. The Paris deal aims to limit the global temperature rise to below 2°C this century by reducing emissions. But it is the job of the International Maritime Organisation (IMO) to negotiate a reduction in emissions from the industry. Environmentalists blame the organisation for the industry's slow response.
"International shipping produces nearly one billion tons of CO2 emissions," says Tristan Smith, a reader in energy and shipping at the UCL Energy Institute and leader of the UCL Energy Shipping Group. "This needs to reduce rapidly if we are to avoid the risks of dangerous climate change – at least halving in magnitude between now and 2050."
"Reducing emissions from shipping is not an easy thing to do," agrees Maurice Meehan, director of global shipping operations with the Carbon War Room, an international think-tank working on market-based solutions to climate change.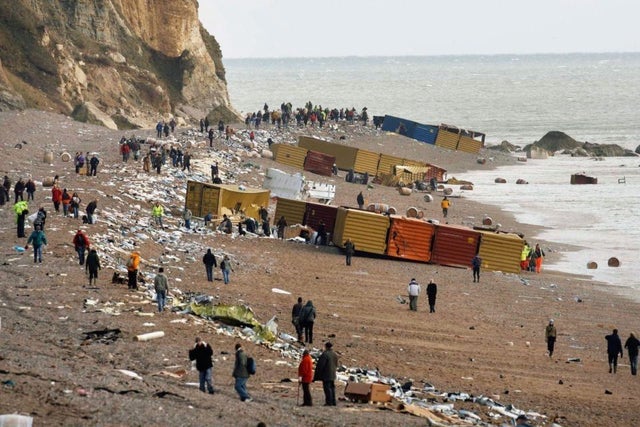 In 2018 it was reported that greenhouse gas emissions from shipping equals the carbon footprint of a quarter of passenger cars in Europe and stands in the way of countries reducing emissions and limiting runaway global heating.
Despite the scale of shipping emissions from both container and cruise ships, they are not part of emissions reduction targets made by countries as part of the Paris agreement on climate change.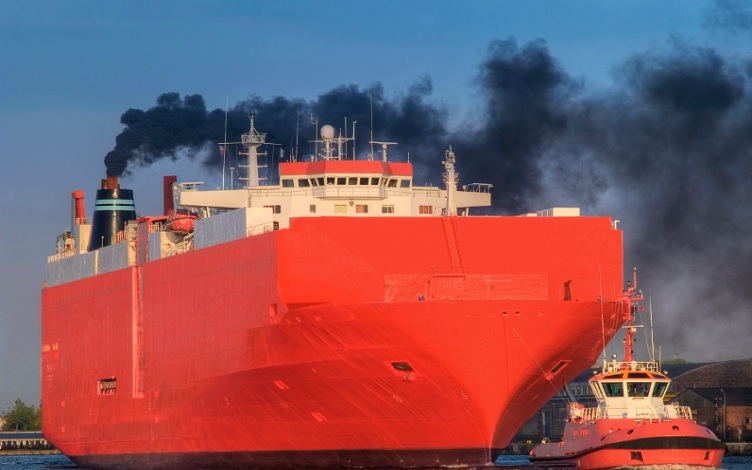 The shipping sector emitted about 139m tonnes of CO2 in 2018 – equal to CO2 from a quarter of Europe's total passenger car fleet or 68m cars, the report, EU Shipping's 2018 Climate Record, said. The report analysed the data and calculated that a single container shipping operator had joined coal plants and Ryanair in the EU's list of top 10 carbon emitters. The operator – the Mediterranean Shipping Company (MSC) – moves consumer goods, ranging from electronics and fresh fruit to clothes and toys. It was responsible for about 11m tonnes of CO2 emissions, the report claimed.
Faig Abbasov, who wrote the report, said:
"A company that consumers have never heard of has joined the top 10 polluters list in Europe. This industry doesn't pay a cent for its carbon emissions and the EU has so far done nothing to curb its damage. European trade doesn't have to be dirty just because EU leaders have neglected to clean up shipping."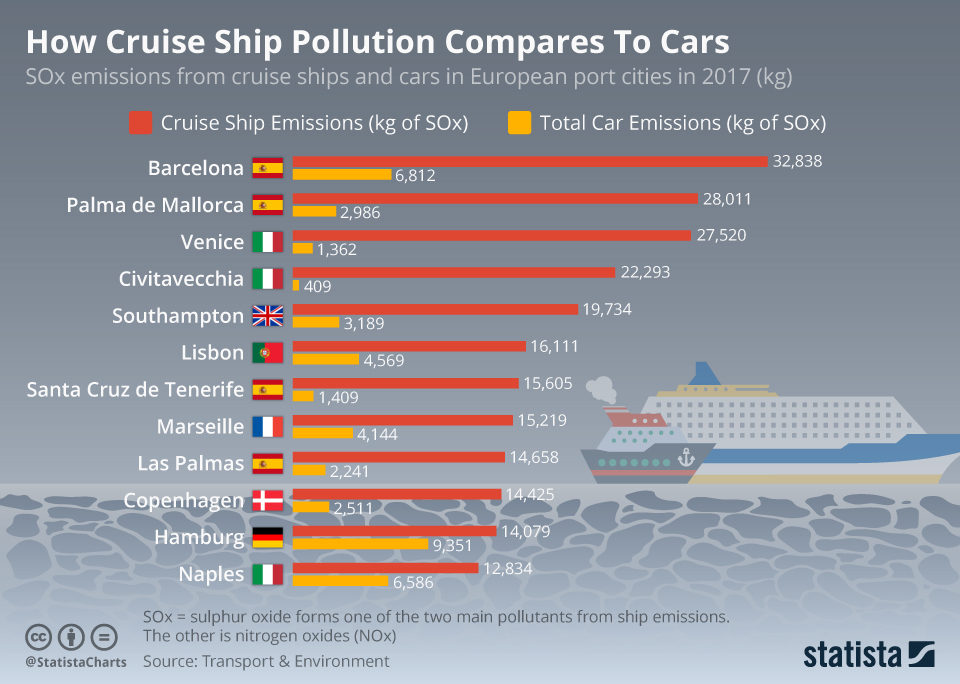 This is an extraordinary predicament.
What makes this worse is that most ships burn bunker fuel. That's the dregs left over at the end of the refinery process. It is an ecological nightmare. It is heavy and toxic, doesn't evaporate, and emits more sulphur than most other fuels.
The market-based solutions to these endemic climate are proven failures.
Fly With Me?
The same goes for the aviation industry.

Nicole Badstuber, a transport policy and travel behaviour researcher at University College London and the University of Westminster, writes:
"Passenger air travel has come to a virtual standstill. EasyJet has grounded its entire fleet, and Ryanair has announced it will not resume commercial flights before June. British Airways has elected to suspend 36,000 staff and has closed its operations at Gatwick and London City airports until further notice. Overall, passenger flights have decreased by up to 95%. With job losses for airline and airport staff likely to reach hundreds of thousands, the government's priority is, unsurprisingly, securing workers' income and keeping strategic routes open. But if government intervenes and looks to buy a stake in airlines, this could be a turning point in transport policy, as the pandemic allows us to pivot to a lower air-travel future. We are already being forced to rethink how we move around, conduct business, keep up family ties and maintain friendships in a globalised world without aviation – a dire necessity, given the urgency of the climate emergency."
But the globalised travel and transport system is intimately tied to our fossil fuel dependence.
Asking: "Will the coronavirus kill the oil industry and help save the climate?" journalists Damian Carrington, Jillian Ambrose and Matthew Taylor suggest:
"The plunging demand for oil wrought by the coronavirus pandemic combined with a savage price war has left the fossil fuel industry broken and in survival mode, according to analysts. It faces the gravest challenge in its 100-year history, they say, one that will permanently alter the industry. With some calling the scene a "hellscape", the least lurid description is "unprecedented". A key question is whether this will permanently alter the course of the climate crisis. Many experts think it might well do so, pulling forward the date at which demand for oil and gas peaks, never to recover, and allowing the atmosphere to gradually heal."
But Mark Lewis, head of climate change investment research at BNP Paribas has noted:
"When the dust settles, the peak demand narrative will be there stronger than ever," he said. "This is particularly true if long-haul aviation fails to recover. This has been a very strong source of oil demand growth in recent years but the longer we are at home – remote working, using video conferencing – the more people will wonder: do we really need to get on a plane?"
This week 250 organisations from 25 countries published an open letter directed to governments, urging them to resist any aviation lobby attempts to rush into unfair bailouts of the industry. Instead, governments are implored to use this moment to embed social and environmental conditions, with proper protection for workers and a planned transition towards climate-just mobility. From today onwards, individuals are expressing their support for these demands by signing a rapidly growing petition.
"For decades, the aviation industry has avoided contributing meaningfully to global climate goals and resisted the merest suggestion of taxes on fuel or tickets. Now, airlines, airports and manufacturers are demanding huge and unconditional taxpayer-backed bailouts. We cannot let the aviation industry get away with privatising profits in the good times, and expect the public to pay for its losses in the bad times", says Magdalena Heuwieser from Stay Grounded, a global network of more than 150 organisations, who endorsed the letter together with other organisations including university institutes, trade unions and climate justice initiatives.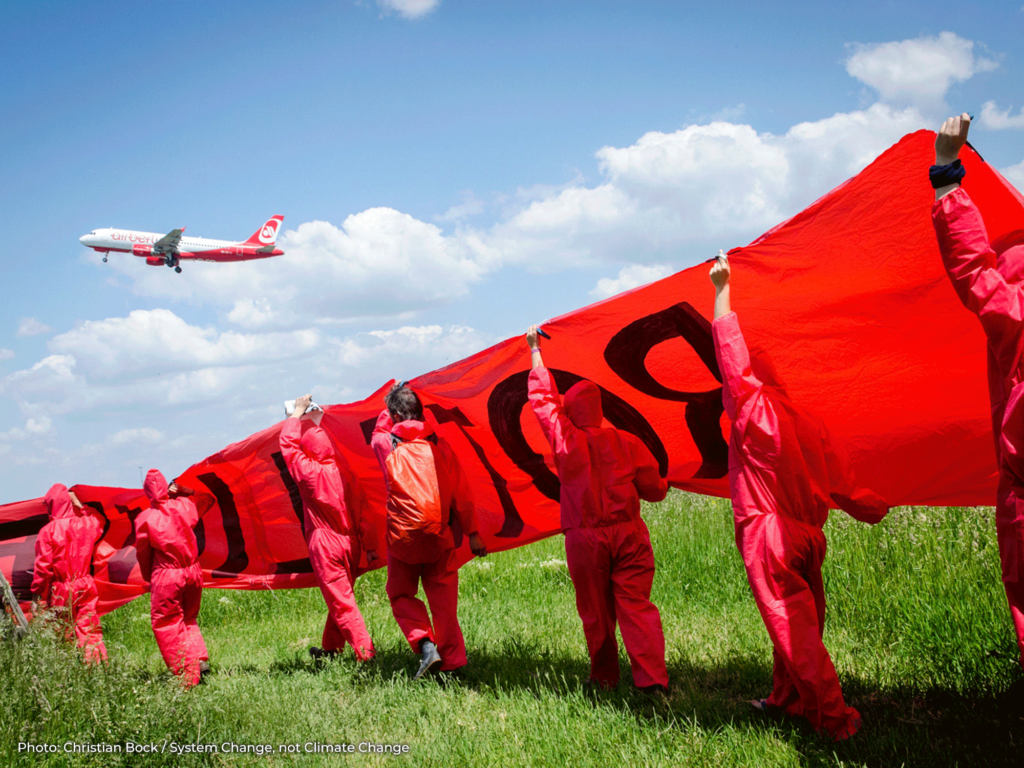 The letter demands that governments:
1) put people first and bail out workers, not shareholders and executives
2) transform the transport sector in a climate-friendly way, by cutting air travel demand and strengthening low-carbon alternatives like rail travel, as well as by shifting of employment into decent climate jobs; and
3) end aviation's tax exemptions while putting in place a kerosene tax and fair progressive levies on frequent flying.
The airline industry has made a fortune over the past decades, with higher growth rates than most other economic sectors – what led to soaring emissions. Aviation is already responsible for 5-8% of climate heating worldwide, when we include the climate impacts additional to the CO2. This is a huge portion, given that these are caused by few frequent flyers: the world's richest 10% uses 75% of air transport energy, a recent study found out.
Pablo Muñoz, aviation campaigner at the Spanish organisation Ecologistas en Acción, states: "While we are rightly focused on saving lives and protecting our communities against the immediate health threat of Covid-19, our governments have a choice: they can hand taxpayers' money to corporations unconditionally, or they can seize the opportunity to start building an economy which doesn't harm people or the planet."
Leo Murray, Director of Innovation at climate action charity Possible, adds: "At this time of crisis, we need to focus on what's most important: protecting ordinary people and building a more secure future for all of us. Rather than bail out airlines to continue with business as usual, we now have a chance to ensure that they change for the better. In return for government support, airlines must protect their workers, and protect the climate by reducing the sector's emissions in line with the Paris Agreement target of 1.5 °C."
Future Travel
The solutions to the problems created by globalisation will vary.
Vastly reduced trading of goods is the starting point of a transition to resilient localised circular economies. Travel reduced to new slow and low carbon routes needs to become the new normal. Methods combining old and new technologies in shipping need to takeover. Utilisation of the technologies we have all just had a crash course in render much travel redundant. But more than this, remote working and conferencing challenges the very idea of presenteeism and deeper the nature of much of our industry. Of the long long list of businesses that need a "do not resuscitate" sign around them, the first must be the airline industry and the container and liner industries.
The era of needless travel and constant consumption is over.
Yes we will continue to travel and trade but in a completely different way and at a completely different scale, one that is sustainable and viable for our climate future.