Pooling and Sharing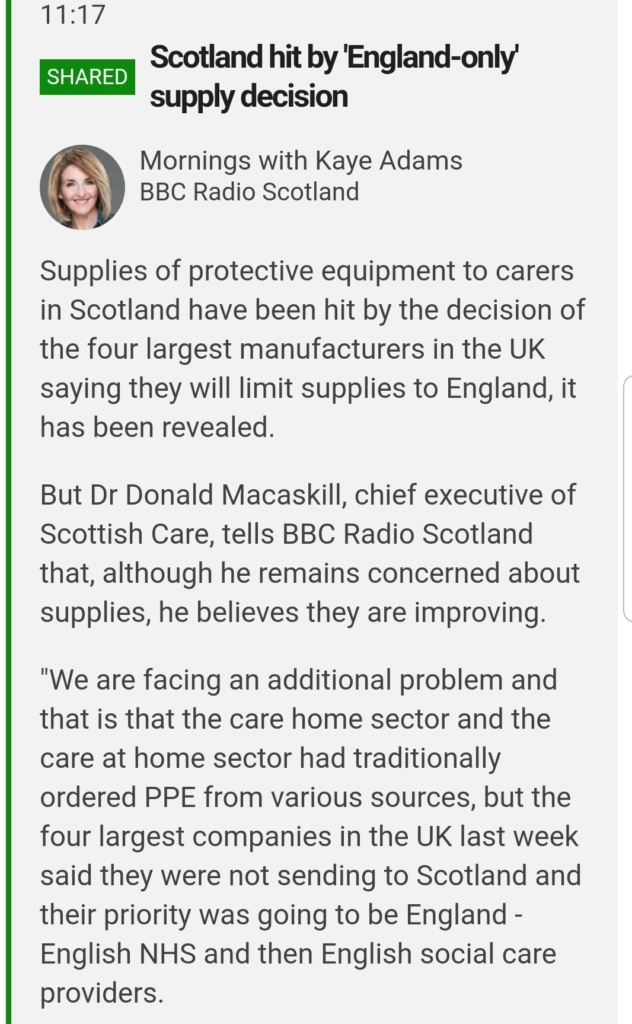 The constitutional crisis has been parked behind the others crises that are piling up like a motorway car crash. But the rank incompetence of Johnson's regime and the positive examples of how to do this from elsewhere around the world are ramping up the pressure for the Scottish Government to take its own approach to the coronavirus.
Sir Jeremy Farrar of the Wellcome Trust is predicting that the UK could be heading to be "one of the worst, if not the worst" hit countries in Europe. This despite UK having the natural advantage of being one of the latest countries in Europe to have a large number of cases.
Labour leader Sir Keir Starmer said there would be "difficult questions" over whether the UK was too slow to impose a lockdown, but added mysteriously  "now is not the time for those".
Many people are asking, with health devolved, why did the Scottish Government not plan its own course of action in the first place?
It may well have been that a pan-UK response seemed the obvious thing to do given that we could pool resources and co-ordinate action, and given the difficulties of having two different approaches both sides of an un-policed border.
But as the UK government's inability to act results in thousands of deaths, it may be time to change course.
Where are the ventilators? Where is the mass testing? Where are the PPE masks? Where is the contact tracing? Why is this being organised like a bring and buy sale?
Medical statistician James Urquhart writes (A Room Without a View): "Mass testing alone will not substantially reduce the number of deaths over the coming year. Experience from countries which have restricted the growth of cases demonstrates that contact tracing is key to saving lives. Achieving a successful contact tracing programme will require careful planning and this should already have begun."
Urquhart argues: "Perhaps now is the time to offer a challenge to the devolved administrations. If the Westminster-based COBRA machinery is too cumbersome and sclerotic to offer innovative solutions, are you prepared to develop your own strategies? Of course, there are advantages in pursuing a common policy across the four home nations. But if all that is on offer in a month's time from the UK government is a stop-go lockdown strategy are you willing to accept that deaths will continue on a rising trajectory?"
The daily briefings seem inept and monotonous, veering from Hancock's studied ineptitude to our Home Secretary spouting numbers like a deranged Countdown contestant.
This is a farce.
The idea seemed obvious at first to have a "four nation" response, but if its true as emerged today, that the four largest manufacturers are limiting their supplies to England, that may not be possible to maintain.
I'm incredulous that that is permissible.
There are so many examples of businesses acting unilaterally. We keep being told these are "unprecedented" times. If this is true, as it surely is, the government should be commandeering these companies to distribute supplies equally across the whole of the UK.
But what may be happening here is that just as the Conservatives innate instinct for neoliberalism and eugenics has informed their disastrous "herd immunity" strategy, so too has their inability to distinguish "England" from "Britain". If this is true then the Union is proving to be actually lethal.
Nicola Sturgeon's instinct right from the beginning was to be as co-operative as possible in working with the rest of the UK. She assumed good faith and she assumed acting in unison would be to everyone's benefit. She has come across as clear and open and her communication has been immeasurably better than Boris Johnson's. She probably believed rightly that she would have been open to immense criticism for "politicising" the situation. But the crisis is immensely political. There is no avoiding that.
James Urquhart concludes: "Scotland has the devolved power to follow its own strategic objectives. The question is: does it have the courage and skills to start planning now for an exit strategy which wholeheartedly and comprehensively embraces contact tracing? The answer firmly rests with all our politicians and their advisors. We should be hearing from them now."
But questions remain. To what extent can and should the Scottish Government put in place its own policies and responses? What are the technical and practical difficulties with this? How is it possible with an open border?
How can we take the lessons from other countries and urgently implement best practice?
*
Edinburgh RIC have organised a Zoom call for Wednesday, see the details for how to join here: 'Scotland and the Pandemic'.