The Beautiful(ish) Game
A few years ago now, I was invited to speak to the pundits on BBC Radio Sportsound; it was in the aftermath of Craig Levein returning as Hearts manager after the departure of Ian Cathro. Asked if I thought that the Hearts faithful would get behind the appointment, I replied that trying to get consensus among Hearts fans was akin to attempting to herd cats.
The fact that my statement elicited a knowing chortle from Tom English and Michael Stewart tells you all you need to know… and that's just one club's fans.
When you start talking potential league reconstruction scenarios, the chance of herding more than two felines at a time flies right out the window.
Yesterday morning, I did a relatively quick and dirty re-jig of the Scottish football league system. The reason for doing it the way I did was very simple, I wanted to attempt to find a way to avoid relegating clubs that could have escaped the drop had all thirty eight league games gone ahead.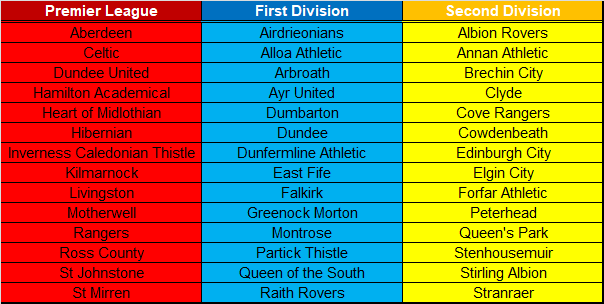 The simplest way to do that is to expand the current SPFL Premiership to fourteen teams. To do that, of course, would mean promoting two sides from the Championship. That gave rise to more un-herdable cats than you might think. Since I was increasing the size of the Premiership to fourteen, it then made sense to say "Let's go all in!" and simply divide all forty two of Scotland's current professional sides into three equal leagues of fourteen teams.
It's not ideal; in fact it's only elegant to the point that there's an equal amount of teams in each league. The problems with it come in the form of "number of games". In a fourteen team league, I foresaw a scenario where each team played each other twice, the league would then split into top seven and bottom seven, where those teams would play each other another two times, giving us the grand total of thirty eight games played.
The biggest problem with this scenario, of course, is that two teams (one top half, one bottom) would have nobody to play as each round of the post-split fixtures took place. No biggie, in the grand scheme of things, after all the major northern hemisphere rugby competition managed to do things that way for seventy three years before Italy was invited in to make up the numbers.
How did I go about splitting the sides into those three leagues? Well, I simply looked at the current four Scottish league tables, assumed those positions as though they were placed in one forty two team league, and split them into three groups of fourteen.
I then posted a graphic of how those leagues would look… and that's when the cats got REALLY restless.
"Oh aye!" said some, "Typical Jambo, making sure HIS side don't get relegated!" Believe it or not, that wasn't really my intention; if it were up to me, I'd have relegated us round about Christmas time. We have been rank rotten all term, we deserve it.
But then again, generally when leagues get expanded, there tends to be no relegation from that league, only promotion into it.
So, okay, say we do relegate Hearts (and Partick Thistle and Stranraer), what then? Promote Dundee to the Premiership? While that makes, in terms of looking at that forty two team structure, what about Ayr United?
Ayr currently sit in that final Championship/Premiership playoff spot so, if you are going to automatically promote Inverness and Dundee without a playoff system, how do you go about soothing the wounds of the Honest Men?
And the same continues all the way down the leagues?
What about Clyde? As one gentleman, rather aggressively, put to me on Twitter, they could/would look at being in the bottom tier of any new league system as a demotion, even although they would still be in the third tier.
And then… what about Brora Rangers and Kelty Hearts in the Highland and Lowland leagues? Who's to say that they shouldn't get promoted into the pro ranks? After all, their leagues have said they have won those titles… shouldn't they get the chance to replace Brechin City?
If one thing is clear about how Scottish football will move forward in the wake of the Covid-19 crisis, it's that there will be no easy answer.
This was my suggestion. I thought it was simple… it turned out to be anything but. But if anybody (especially the "leaders" of our game) can come up with a better solution, I'm all ears.