Take Me to Abaton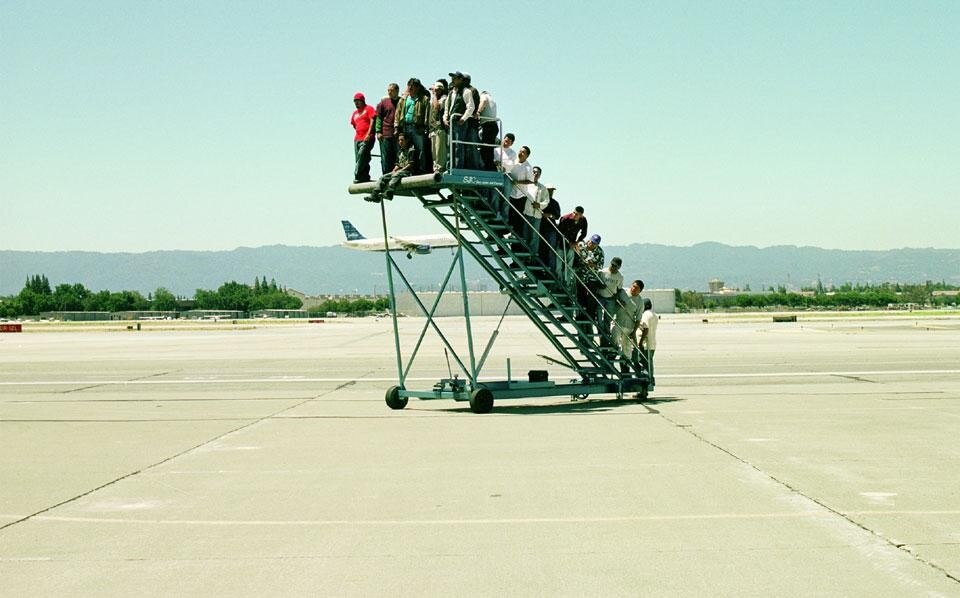 "Abaton (from the Greek a, not; baino, I go), a town of changing location. Though not inaccessible, no one has ever reached it and visitors headed for Abaton have been known to wander for many years without even catching a glimpse of the town. Certain travelers, however, have seen it rising slightly above the horizon, especially at dusk. While to some the sight has caused great rejoicing, others have been moved to terrible sorrow without any certain cause. The interior of Abaton has never been described, but the walls and towers are said to be light blue or white or, according to other travellers, fiery red. Sir Thomas Bulfinch, who saw the outline of Abaton when traveling through Scotland from Glasgow to Troon, described the walls as yellowish and mentioned a distant music, somewhat like that of a harpsichord, coming from behind the gates; but this seems unlikely."
–  from My Heart's in the Highlands, Edinburgh 1892

As we glide (dis) gracefully from one phase of this Memetic, hyper-normalised dystopia to another, Scotland's odd status feels like Abaton: a place and a space blinking in and out of existence.
*
We are borderless, seamless according to Jackson Carlaw who wrote:
*
"It is ridiculous to suggest Nicola Sturgeon could close the border. There is no border – we are one United Kingdom."
*
Without definition you don't exist.
*
The recurring thread of Unionist thinking from 2014 and well before is that Scotland doesn't exist in any meaningful way. The well worn and famous phrase of the campaign from Lord George Robertson is worth remembering: "There is no linguistic differentiation, no great cultural discrimination, that might argue for independence like it does in some other countries. In Flanders or Belgium, or Catalonia and Spain they say they want to become an independent state. But they've got language and culture … we don't have any of that here."
*
'You don't have a culture.' 'You don't really exist' are two of the strongest arguments in the armoury of an increasingly beleaguered Union, whose old baubles and icons of unity: the Monarchy and the Palace of Westminster, are not so much tarnished and discredited as broken.
*
The deep irony is that having sold-off and privatised many of the institutions that might act as a bond of 'Britishness', the Conservative and Unionists are now dependent on our support for the National Health Service, an institution they have derided and undermined for years.
*
The queue for writers to quash any perceived differentiation has been a long and consistent one, it may stretch even longer than that of those claiming, remarkably, that the coronavirus experience has destroyed the case for independence. Sure, the differences in culture and society can be over-emphasised, as a global culture unites people in different countries. But to deny any difference at all is a sign of desperation.
*
And the strident calls for unity and borderless nations strikes an odd note with the stench of English nationalism still in the air after the debacle of Brexit still lingers with its toxic xenophobia and exceptionalism.
*
This is a new level of Morbid Unionism, in which the task must be to cleave to the entity of 'Britain' muttering "UK:OK" even if it means, literally, a higher death rate. Any divergence from the Mothership cannot be tolerated or even considered. This is Britain as the Borg cube. Resistance is futile. As the British governments response to pandemic is revealed to be what can only be described as criminally negligent leading to thousands of avoidable deaths, the Unionists response is to revert to a default position of fealty and deference and to demand the same of others.
*
As we descend into further crisis, the Prime Ministers response is a sort of confident bonhomie mixed with some Churchillian rhetoric. It's Trump without the bleach.
*
In this crisis its essential not just to reiterate "we exist" but also that we have agency and we will act – in self-defence – as we need to. Sturgeon has been scrupulous in trying to NOT make party political advantage out of this. She has been – rightly in my opinion – careful to try and be as co-operative as possible with the British government. She, like the rest of us, is making it up as she goes along. She, like the rest of us, has never had to cope with this situation before. She has said: "My only interest right now is to fight this virus, and anyone who is trying to use the immediate challenges we are facing, or trying to twist what I am saying … will not find me willing to play ball."
*
But as the mishandling of the crisis spools out through the cracks in a pliant jingoistic media, the pressure for her and Scotland to take a different path increases dramatically, whatever the political cost.
*
For the geographically curious, the border between England and Scotland runs for 96 miles between Marshall Meadows Bay on the east coast and the Solway Firth in the west.
*
It exists.
*
Liminal Land
*
All of this, stating the obvious, is a pity.
*
Scotland has for a long time been in a liminal state, halfway through a transformative ritual – neither what we were previously, nor what we are to become.  The tensions a country can experience when it is at a threshold of choice are what we've all been going through for the last thirty years or more. But this national conversation, this constitutional moment has now been deepened with the rupture of the virus experience. As the philosopher Richard Rohr writes:

*
"Liminal space is an inner state and sometimes an outer situation where we can begin to think and act in new ways. It is where we are betwixt and between, having left one room or stage of life but not yet entered the next. We usually enter liminal space when our former way of being is challenged or changed—perhaps when we lose a job or a loved one, during illness, at the birth of a child, or a major relocation. It is a graced time, but often does not feel "graced" in any way. In such space, we are not certain or in control. This global pandemic we now face is an example of an immense, collective liminal space.…In liminal space we sometimes need to not-do and not-perform according to our usual successful patterns. We actually need to fail abruptly and deliberately falter to understand other dimensions of life. We need to be silent instead of speaking, experience emptiness instead of fullness, anonymity instead of persona, and pennilessness instead of plenty. In liminal space, we descend and intentionally do not come back out or up immediately. It takes time but this experience can help us re-enter the world with freedom and new, creative approaches to life."
*
Our ability to "begin to think and act in new ways" will be crucial, and this is not just a case of looking to our leaders, it is down to all of us, it is a community and a societal challenge.
*
The opportunities in this liminality are endless but must be cultivated. There is the chance to emerge from the lockdown freer and more appreciative of each other and the sort of society we can create. Coming out of the lockdown must mean coming out the Union, but it must mean much more than that.
*
All the signs are that the crisis is worse than we are being led to believe. The FT today suggests that the the data indicates that the Coronavirus deaths are more than twice the hospital toll.
*
Those advocating a public inquiry haven't grasped the scale of the predicament. The idea that we replace the British state with the Scottish state, British capital with Scottish capital and business as usual with business as usual with a saltire, isn't good enough. It never was. The idea that we replace rampant inequality with Lion Rampant inequality and that we fail to use this opportunity to remould our economy into an ecologically viable one, is now just unthinkable.
*
We need this to be an epiphany, somewhere between Gunn's Atom of Delight and Robertson's Republic of the Mind. As we settle in our new interior world and worry about the past, we must look to the exterior and plan our future.
*
We must not allow this future to remain like Abaton, an unreachable destination.
Image from Tropenmuseum, the Imagined Places exhibition.