Architecture and Identity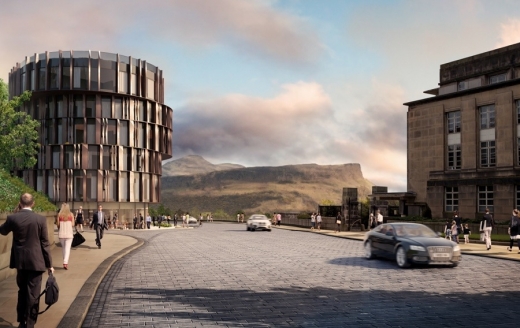 This is the first in a series on ARCHITECTURAL MODERNISM AND THE DEATH OF THE SCOTTISH IDENTITY an investigation by David J Black.
The 'date which shall live in infamy', according to Franklin Roosevelt, was December 7, 1941, when the Japanese bombed Pearl Harbor and brought America into the war. It's time for a rethink and a change of location. How about we move things on 78 years and 6 months to May 7, 2020, the day Edinburgh World Heritage Trust (EWHT) hosted a virtual debate led by three modernist architects under the banner 'Is Edinburgh's Architecture at the Dawn of a New Golden Age?' This body should perhaps consider changing its name to 'Edinburgh World Anti-Heritage Trust' for all the good it seems to be doing. It operates under the aegis of UNESCO, and is ostensibly charged with a responsibility for safeguarding the fabric and character of what was not so many years ago one of the world's great historic cities, and a distinctly Scottish city at that.
Any suggestion that EWHT has set itself up as a PR agency for ambitious modernist architects and their developer pals would, of course, invite the riposte 'but we're just opening up a discussion.' I seem to recall Tommy Robinson advancing a similar plea after one particularly unsavoury outburst, but we'll let that pass for now. The infamy in Edinburgh is of a rather different order, though its keynote, as in Pearl Harbor, is essentially about destruction – not so much of the Pacific Fleet as of our community's civic and architectural identity. EWHT would probably defend its decision to hand the top table to three modernist architects as somehow stimulating and edgy, and I can't really argue with edginess, having myself condemned some of the organisations which purport to care for the civic heritage as 'the Vichy-Quisling school of conservation' which was perhaps a tad excessive, given that there are many perfectly decent individuals in their ranks who don't deserve the epithet. Some of them are (or perhaps used to be) my friends.
I confess that I'm not entirely averse to that brand of modern architecture which doesn't do vulgar street bullying – we'll come to a few of the bad'uns shortly, but let's start positive. Edinburgh Festival Theatre steps back from the street line in deference to a historic context which includes Robert Adam's university and William Playfair's neo-Greek Surgeon's Hall and is a well presented example of modernism as far as I'm concerned. I've always liked Malcolm Fraser's Scottish Poetry Library, while Richard Murphy was kind enough to take me on a tour of his Dunfermline Carnegie Library, and I was mightily impressed. All three of those examples, it may be noted, performed a function within, and for, the wider community, so an ethos of public ownership applies.
The question here is not so much whether the architecture of modernism is a poison first visited upon the earth by such opportunistic nihilists as Le Corbusier and Mies van Rohe, whose arid ideological strictures have been drip-fed into the minds of architectural students everywhere for several generations, but whether a body which ostensibly exists to safeguard Edinburgh's built heritage has any business postulating a theorem that the rash of recent architecture inflicted on the city – most of it a wanton denial of its familiar civic identity – by actively promoting the frankly laughable idea that we are entering a new golden age of architecture.
If the event had been organised by the Edinburgh Architectural Association or the Royal Incorporation of Architects, fine. It also happens to be the case that the three architects involved had some interesting things to say – Malcolm Fraser, in particular, made valid points about the need for architects to respect the community. The aims and objects of EWHT, however, should not be about endorsing modernism at the expense of the heritage. What sort of message does that send?
The real damage being inflicted in Edinburgh today has nothing to do with serving the community, and everything to do with the ruthless steamroller of global avarice. Take the case of the infamous 'Golden Turd' hotel at the east end of Princes Street, the centrepiece of a shopping mall and luxury flats scheme. This was the outcome of a hugger-mugger deal made at the notorious international MIPIM conference in Cannes which The Guardian's Aditya Chakrabortty has described as;
'a jaunt so lavish as to be almost comic – where big money developers invite town hall executives for secret discussions aboard private yachts, and whose regulars boast that they get through more champagne than all the liggers at the film festival. Suitably oiled-up, local officials open talks with multinational developers to sell council housing estates and other sites.'
If that sounds a bit dodgy, there's worse to come. Edinburgh council and the Scottish government agreed to subsidise this trashcan-centred MIPIM deal to the tune of £61.4 million from public revenues – that's right! Our politicians bought into a project which has had the effect of accelerating the catastrophic decline of Princes Street. You just couldn't make it up.
Apart from the gross abuse of taxpayer's money there's the small matter of a planning authority selling out on its mandatory impartiality by buying into the project. In addition, the component of affordable housing was to be relocated on cheaper land several miles away, leaving the developer free to market its luxury apartments to the international super rich. Edinburgh citizens, it seems, are no longer wanted in their own city. Who would have thought such a thing possible?
And the lucky developer? While the names upfront were Nuveen Investments and THI, the parent was North Carolina Pension Fund TIAA, with over $1 trillion funds under management. Given that the US Congress stripped it of its non-profit status in 1997, TIAA is really a no-holds-barred international opportunity-bagger whose less savoury activities include the destruction of swathes of the ecologically fragile Cerrado of Brazil as well as investments in arms manufacturers like Smith & Wesson, despite such events as the 2012 massacre at Sandyhook Elementary School.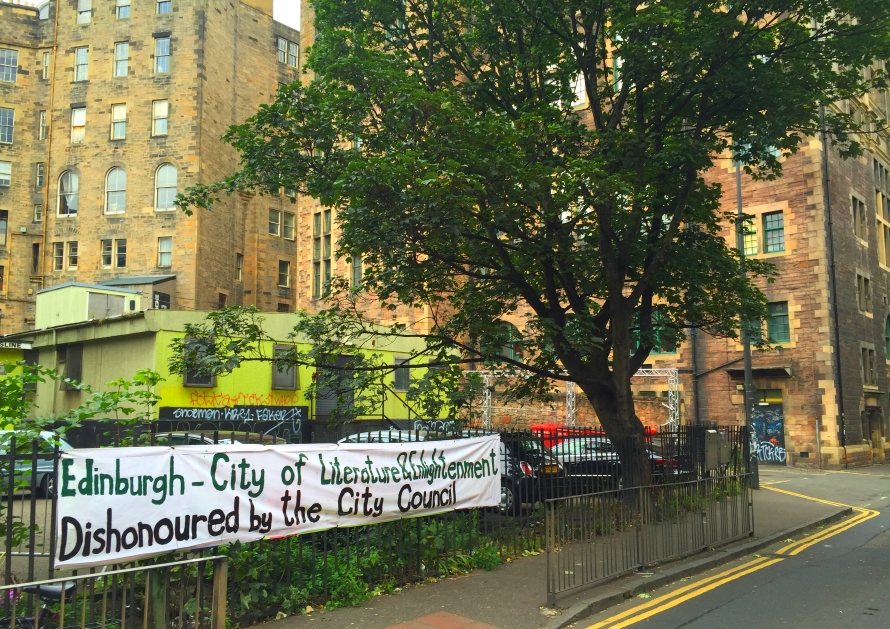 TIAA's US contributors are mainly teachers and academics, so this latter stock caused a bit of an upset in school staffrooms, if no great change of heart in the board room. TIAA remains an active merchant of death, with over $250 million invested in the military (including nuclear) and civilian weapons trade. First Minister Nicola Sturgeon, presumably unaware of her new partner's contribution to the bristling arsenal of our closest ally, described the £61.4 million bung as an 'innovative funding model, which will see the Scottish Government work in partnership with City of Edinburgh Council and private developers TIAA Henderson Real Estate.' So that's all right then.
But let's move on. Another chapter in urban infamy concerns the Royal High School. That one of Scotland's finest buildings is a school built by civic decree rather than a stately home or a palace should, in any normal democracy, be a matter of pride, but not here. Although it had been converted into a Scottish Assembly building in 1979, when devolution finally arrived Tony Blair's London government ruled that a classical building on a hill was just too Jeffersonian for the Jocks. A Cool Britannia modernist icon in the Canongate by a Spanish architect was much more his sort of thing, though not in a fiscal sense. Scotland's budget had to carry the budget-busting £437 million cost. The rumour that Tony vetoed the Royal High because he is an ex-Fettesian remains unproven.
This fracas had not long subsided when another idea for the Royal High School was presented; A National Photography Centre. Calton Hill had accommodated the studios of pioneer photographers Hill and Adamson, and the school had been the subject of one of the first (1843) townscape calotypes in Scotland, so it seemed like the perfect venue. Support and sponsorship came flooding in; then the poisonous politics of Scotland intervened. First Minister Jack McConnell seemed reluctant to back the venture – we found out why courtesy of The Edinburgh Evening News.
Senior council sources have told the Evening News of fears Culture Minister Patricia Ferguson is collaborating secretly with Glasgow City Council's culture chief, Bridget McConnell – wife of First Minister Jack McConnell – to take the project west
The First Minister's wife was in the process of taking culture out of Glasgow council's hands as CEO of an exciting new stand-alone quango, Glasgow Sport and Culture, and fancied a trophy for her empire; Edinburgh's proposed photography centre was in her sights. Jack, naturally, didn't want to upset the wife. In the event Bridget wielded her Lady Macbeth dagger, and neither Glasgow nor Edinburgh got anything as Scotland's cultural identity took another hit.
This left Edinburgh, yet again, with a redundant A-listed classical temple on a hill. Something had to be done to lessen the embarrassment, so in 2009 the cash-strapped council launched a competition, inviting developers to submit proposals for the building. 54 bids were received, and a competitive tendering process initiated. Finally, in 2010, a 125 year lease was granted in principle to Edinburgh based developer Duddingston House Properties (DHP). Its proposal was for a £35 million boutique 'arts hotel' with restaurant, cafe, and public gallery. Given that this same developer had been scandalously neglecting the listed former Odeon cinema in South Clerk Street it seemed like an odd choice, but at least matters were moving forward.
Then, in December 2014, DHP principal Bruce Hare joined forces with David Orr's Urbanist Group and the £35 million boutique arts hotel morphed into a rather more inflated vision for a 'world class' £75 million luxury international hotel with 147 bedrooms, three restaurants and bars, a spa, swimming pool, fitness centre, and 3200 square foot ballroom.
Problem. The 2010 award had been for a 125 year lease of a public asset to a preferred developer who was to create a £35 million boutique 'Arts Hotel.' The proposal was now for a £75 million international luxury hotel. 5 of 7 listed structures on the site were to be demolished, the main building substantially altered, and two vast modernist accommodation blocks added on each side. This was by no stretch of the imagination the scheme which had won the 2009 competition. Moreover, it involved a particularly damaging act of vandalism on one of the most significant Neo-Greek buildings anywhere.
Was this legal? EU law prohibits a modification to a contract awarded by a public authority after a competitive selection procedure as a breach of the principle of equality of treatment between tenderers. The only option is to terminate the current contract and conduct a new procurement procedure under new conditions, according to the EU regulations. These regulations were, and still are, binding on the UK and its devolved parts.
True, Edinburgh Council evinces a chronically cavalier attitude to EU law in planning matters. In another Hoskins Associates scheme, the hideous redevelopment of the south side of St Andrew Square for Standard Life Investments, the demolition of seven buildings – three of them B-listed – took place without an Environmental Impact Assessment as required under EU regulations. It was helpful, of course, that in an act of craven pusillanimity the collaborative government agency Historic Scotland de-listed two of the buildings; even so, EU law had manifestly been breached.
These things aren't always the fault of wicked global capitalists; Standard Life is an Edinburgh Headquartered company, albeit active in 80 countries, with a CEO, David Nish, who in that particularly bullish year (2014) scooped a pay rise of around 23%, taking his annual remuneration to just short of £5.5 million. Nice work if you can get it.
Disappointingly, city heritage guardians the Cockburn Association, even under the chairmanship of a Supreme Court judge, more or less sat back and let this breach of EU law happen. True, it did make a few noises off about the razing of Sir William Kininmonth's 1960s brutalist Scottish Provident block, while maintaining a blissful silence in the case of two important, if now fashionably overlooked, stone buildings by the significant late Victorian Edinburgh architects John Carfrae and John MacLachlan. Historic Edinburgh was being thrown to the wolves by its heritage bodies.
If this isn't an attack on the urban identity of the Scottish capital it's hard to know what is. A pernicious seepage of low-grade development, combined with these high-profile arrogant, profit-driven, big-gesture civic insults, has been infecting the city centre for years. Unless it's checked soon the damage will be catastrophic, future generations will have had their patrimony stolen from them, and the distinct cultural identity of Scotland will be undermined.
The steamroller must be stopped, but how can our hard pressed communities stop it? That's a question we should all be pondering.