There will be no Utopia once all of this is done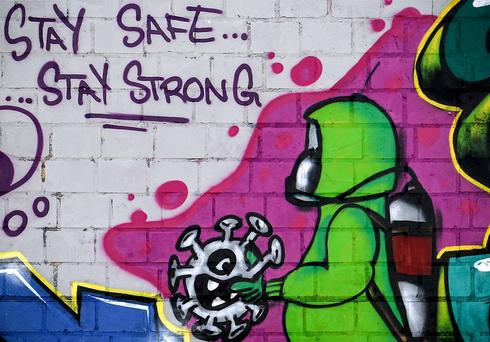 'In a post-covid world…,' has become the go-to phrase of our utterly insufferable smug batch of commentators and opiners desperate to cling to whatever vestige of relevance they thought they had before the world turned temporarily upside down.
In the weeks following the initial outbreak and UK lockdown, social media and newspapers were brimming with our blue-ticked betters declaring with undeserved confidence that this was it, this was the change, this was the moment all the stars would align and utopia would descend from the heavens as naturally as spring showers. For it could be no other way! It was so clear now! How could ANYONE not see it? The precarious nature of society had been laid bare, the cogs revealed to be rusted beyond repair, the revolution all but inevitable.
As the days rolled by the sour-dough crowd postured about how easy it was just to stay home and save lives – from their secure middle-class jobs that can be easily done from home in their fairly large houses with nice gardens in nice neighbourhoods. They gifted us with all their witty banterous shenanigans and motivational 'must read' tweet-threads about how much of a gift lockdown actually was and how grateful they were for all this extra time to learn Klingon, Spanish and do some yoga. Pre-prepared candid photos of them reading sensible books in comfy chairs dotted the social media landscape combined with much finger-wagging and shaming for those deemed to be in breach of these new rules – even if those held up as culprits were photographed adhering to those very rules. Of course this never applied if they were caught breaching the rules themselves. These people are middle-class after all, and unlike the great unwashed, they had a sensible and urgent reason for doing whatever it was they were not supposed to do.
'Coronavirus has changed the world,' they cried with gusto.
It was only the second week of lockdown.
Now we're seven weeks along and the UK government seems to be degenerating into an amateur acting troupe doing their best to re-enact scenes from Blackadder and Monty Python (but only from memory, the copious amounts of bolly having dulled the faculties somewhat). The Tory mask of compassion – held in place by Union Jack tape proudly administered by the UK media – has now slipped as Boris has gotten bored of this whole virus thing and – as was predicted by people who aren't complete narcissistic halfwits – the Tories have reverted to being, well, Tories. Damn the poor, these shareholder bank accounts won't fill themselves you know!
Some of you may die but that's a risk they're willing to take.
'But look at all the acts of solidarity and national unity!' our beloved commentators cry as if that's somehow proof of anything. Ten years of Tory austerity has produced some of the most moving acts of human kindness I've ever seen, as hard-working ordinary people sought to combat the worst excesses of an inhumane government full of utter sociopaths. Nobody gave a shit. I will repeat that – nobody gave one iota of a shit while the disabled and the poor were being culled for an austerity that was proven to be ideological and not driven by rationality.
Just because people videoed themselves clapping for the NHS of a Thursday evening doesn't somehow mean our society has been radically altered, in fact it could be argued it shows the absolute hypocrisy coursing through Britain's veins.
You'll clap for the NHS despite voting for Brexit and giving the Tory party your vote for the last ten years (the party which has decimated the NHS and caused thousands of NHS staff to flee the country because they had the wrong skin colour). I mean, you might as well just go up to an NHS staff member and piss on them, then give them a thumbs up and a 'You're welcome!'.
The notion that things will change once this is all over is fanciful at best. Most of the corporations currently wearing their 'Do Gooder' t-shirts are only doing that so that when this is all over you'll go out and buy whatever nonsense they're selling. It's a PR campaign made to take advantage of our stupidity and short-sightedness and the fact we're conditioned to be one thing and one thing only – consumers. We're not human anymore. We buy shit so rich people can get richer. That is the extent of our existence. Nothing else matters.
We stand at the precipice of a new day but it is not a bright one. We're at that moment where the world as we know it transforms into the dystopian hellscapes science-fiction has been warning us about for decades. The oligarchies will not lay down. The elites and the corporations will not let a little thing like a virus outbreak change their motivations. The selfishness and greed will only intensify because the writing is on the wall. The world as we know it IS coming to an end. In the decades to come climate change will force us to alter our existence but that dawn is still many, many years away. In the intervening period of time we, the public, the people, will have every ounce of wealth drained from our veins. As the economic collapse and subsequent recovery begins you will be made to work for your benefits and you'll be told to be grateful for it. After all, in the time of pandemic you're government stood by your side (for a few weeks at least).
We do not have the capacity to combat what is coming down the line, at least not in Britain. We're a sedentary populous, satisfied to do nothing as long as we can watch the football, the X-factor or whatever twisted, sickening 'dating' show has been concocted in the pits of a producer's toilet (the latter of which we'll all condemn after the fact but will happily indulge in the mob mentality and pile-ons while it's airing). Ain't no hypocrites like British hypocrites.
And so pervasive is social media in our lives that we are unable to even comprehend how trapped we are by it. We're each stuck in a Matrix we volunteered for, unable to see outside our own adopted tribe, our own echo chambers of fellow idiots blinded by our own chosen piece of ideological bullshit (of course not YOURS, your brand of bullshit is immune and you don't have any blindspots because YOU are SPECIAL and 100% correct about everything…or something).
And this stupidity stretches across every tribe, every bubble, every clique of blue-ticked narcissists. The far-right loonballs demand subservience to a Poppy while they burn down 5G masts to stop the dolphins from making their escape. The middle-class studenty lefties denounce anyone who doesn't agree 100% with their every fart as the next Hitler (and continue to do so even during this pandemic even though such tactics have been resoundingly rejected by the British public again and again and again). The Scottish nationalists rage over Union Jacks on their packets of strawberries and the Unionists continue to convulse at the sight of Gaelic on a road sign.
We are a fractured society and no amount of wishful thinking is going to change that. There is no common consciousness. Individualism has become ingrained in our psyche (intrinsically linked with our consumerism). The darkness that lies ahead will be the last roll of the dice for the billionaires and this pandemic is just the excuse needed to ensure they can tighten their grip before the game is finally over. Yet there will be no resistance to this.
Once a vaccine is produced there will be a clamour for 'back to normality' and the world will revert to the way things were – only much, much worse. As long as we can buy stuff, we're happy. As long as we feed our social media addiction by hilariously tweeting the apocalypse or indulging in Facebook 'WHO WILL SHARE THIS?' duels then we won't lift a finger to stop the oncoming dystopia.
Unity of purpose is the only way to combat the nightmare that lies around the corner but in order for us to achieve that a lot of people are going to have to shut their over-opinionated mouths and a lot more others are going to have to get over their own damned egos and sense of entitlement.
Considering we're a generation of narcissists and fools – that outcome seems most unlikely.
There will be no utopia once all of this is over.
And we will be entirely responsible for it.