Campaign Groups Confront Home Office Over Death of Asylum Seeker in Glasgow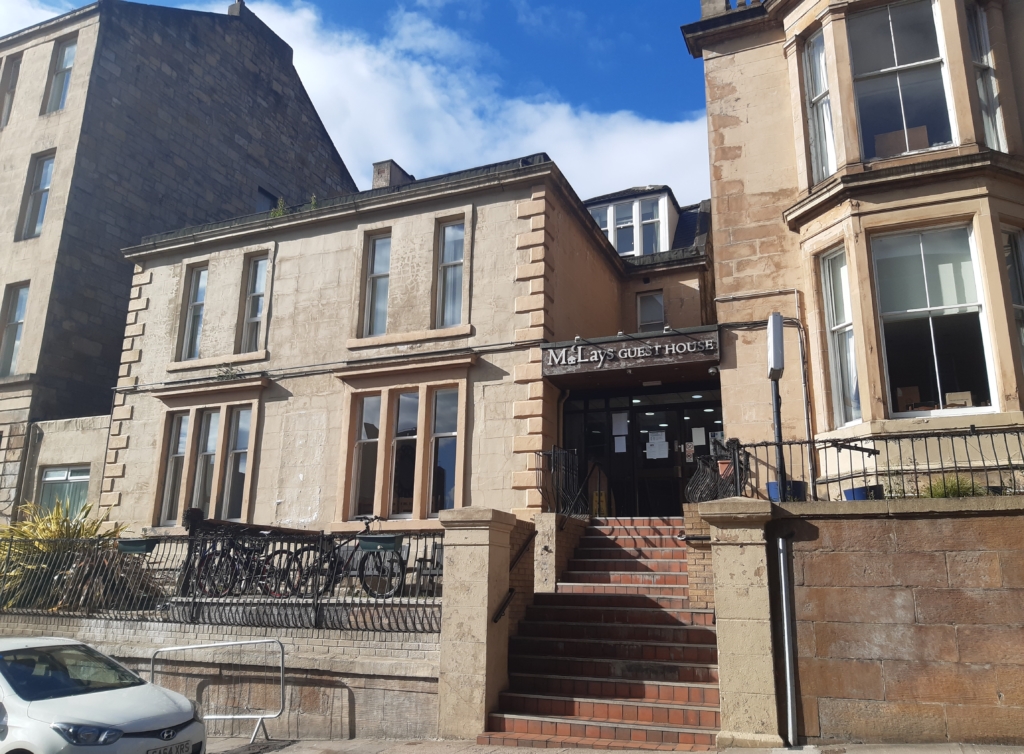 Adnan Olbeh, a 30 year old Syrian asylum seeker, was found dead on Tuesday the 5th of May in his room at McLays Guest House, following his eviction and movement to the Glaswegian hotel by MEARS under the direction of the Home Office.
Commenting on Adnan's death, the No Evictions Network said that the young man had been forcibly removed from his accommodation and placed in Maclay's Guest House, where he claimed to have been facing horrendous conditions. He allegedly informed his MEARS housing officer that this situation was making him unwell. Despite informing the officer that he needed to see a professional, the Network informs us that this visit was continuously delayed. Finally, the young man ended his life. The No Evictions Network organised a virtual vigil the day after Adnan was found dead.
A number of issues have been raised by asylum seekers and their supportive organisations and campaigns. These include the lack of money for essentials and the hotel management's failure -despite some security guidelines subsequently put in place- to fully meet the Covid-19 health and safety measures. These factors, combined with asylum seekers' experiences of social alienation, hostility and the trauma of displacement, lead activists to believe that they may contribute in exasperating existing mental health problems asylum seekers might be facing. No Evictions Campaign and MORE argue that these concerns have not been adequately addressed.
Bella Caledonia spoke with some asylum seekers who are currently staying at McLays Guest House about Adnan. All wished to remain anonymous.
The first told us that he didn't know Adnan; he asserted that the cause of death is only known by the police.
The second interviewee asserted that Adnan had been facing mental health problems for a while.
Finally, the third speaker, interviewed by phone, told us the following:
"I knew him before. Adnan has experienced lots of drama [in his life] and he was experiencing flashbacks. He had some mental health problems. He needed to contact some services but because of the coronavirus it was difficult. MEARS tried to help him, they said that a GP had to see him, but due to Covid-19 it was taking time. He was a nice guy, he wanted to start his life, but he had problems. He had bad mental health and then there was the problem of bad food and the problem with keeping social distance inside the hotel. Adnan must had been waiting to speak with a GP for about 2-3 weeks.''
The asylum seekers also shared some comments regarding their accommodation experience in the hotel, under the threat of Covid-19.
The first speaker told us that "the treatment is very good, unlike my experiences in London, (here) they treat us like customers. The hotel staff are taking maximum precautions: they are wearing masks, gloves everything, we keep social distance, there is tea and coffee, we got wi-fi in our rooms, towels are always replaced and we do open our windows, because some previous media mentioned that we are not allowed. Everything is good. I am a Muslim, they brought us Korans, dinner schedule is changed according to Ramadan, they gave us prayer matts, everything. The only problem is MEARS, not the hotel.''
However, another interviewee told Bella Caledonia that people experience problems due to the Home Office scrapping the budget allocated to asylum seekers; this has created difficulties such as people being unable to top up their phones. ''The main problem here is making phone calls, since we need money to top up. A lot of people still want their papers, obviously no one likes to be moved from their flats. Hotel staff have been telling us to be patient.''
Finally, and in contrast to what was said by the other two interviewees, our third interviewee said that ''it is impossible to keep social distance; we are even sharing the same rooms with others.''
Yvone Blake, co-founder of Migrants Organising for Rights and Empowerment (MORE), stated that:
''Opinions will differ as to how people experience all this. I remember when we received a phone call from the first-person MEARS removed from his accommodation. He was preparing some dinner, provided by the Scottish Refugee Council. It would have lasted him for two days. When MEARS came in, they asked him to throw it all away. The hotel didn't even have a kettle. People had to shout for days to get this one kettle in the kitchen.''
She continued by saying that the moment the COVID-19 outbreak happened, they immediately started a fundraiser.
''We are always in contact with the asylum seekers. We provide them with phone top ups, food, cash, we are always checking how they are. […] The problem with MEARS is that they look down on those people. Imagine being displaced again from a place you call home. We are talking about people who fled from war, experienced famine, human trafficking; it would obviously affect their mental health. This system is looking down on these people. Some of them are doctors and lawyers. They treat them like commodities. I believe that some further investigation is required of MEARS and the Home Office regarding Adnan's death.''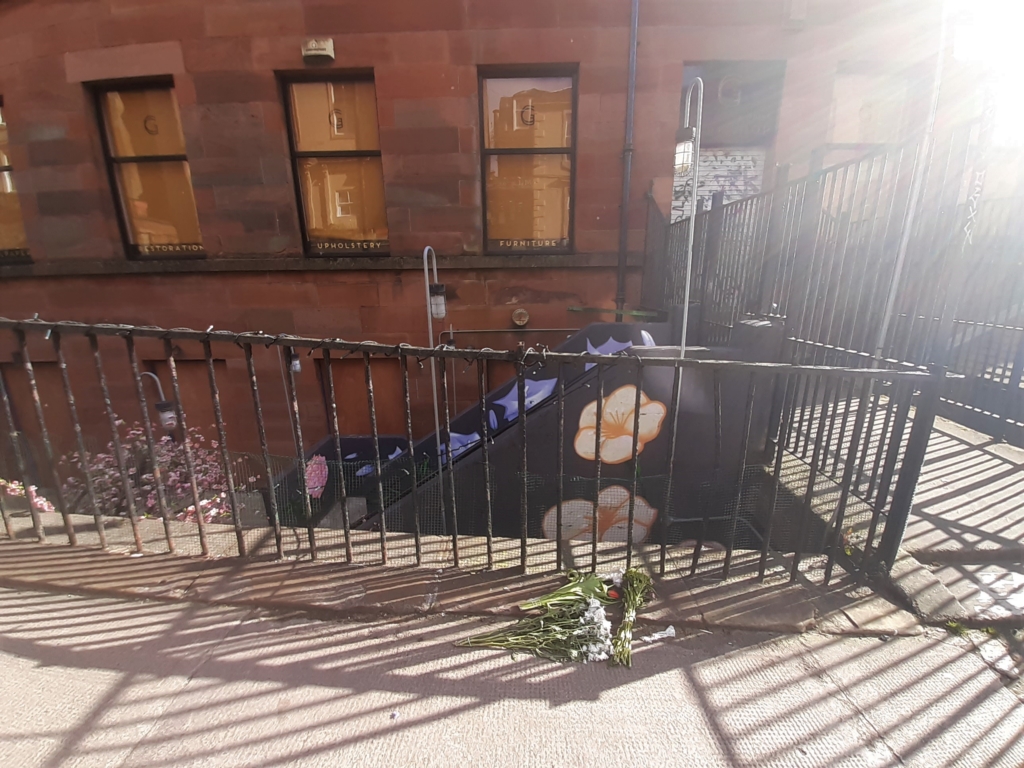 ''Some people chose to use their daily exercise to lay flowers or banners at Maclay's Guest House, Renfrew Street, keeping their distance from others. The Guest House phoned the police saying people were not allowed to put flowers on 'private property'.'' – No Evictions Network
McLays Guest House refused to comment; when we spoke to them, they aggressively told us to vacate their premises.
In relation to Adnan's death, a Home Office spokesperson communicated the following to Bella Caledonia via email:
"We are aware of an incident in which a man sadly died, and our thoughts are with his friends and family. It would be inappropriate to comment before all of the facts have been established."
In the same email, the Home Office responded to a series of questions posed by organisations supporting asylum seekers:
"-We are only moving asylum seekers where it is necessary, strictly following guidance from public health authorities, and into accommodation that ensures social distancing.
-We have issued clear guidance to our accommodation providers which limits movement as much as possible. However, moves can still take place if we need to better assist self-isolation and social distancing, and to ensure that people remain accommodated.
-Any moves that are deemed necessary are conducted following appropriate NHS guidance.
-We have put in a range of measures to support asylum seekers who are affected by the coronavirus outbreak and continue to monitor the situation closely. Accommodation will be reviewed prior to the end of June.
-We expect all our suppliers to follow Public Health England guidance and ensure the safety of their staff and those they accommodate at all times.''
A MEARS spokesperson said that they are deeply saddened at the news of Adnan's death. MEARS claim that they are working with the Home Office to contact the asylum-seeker's family before disclosing more information. MEARS argues that "good quality hotel accommodation can ensure a safer environment and greatly reduce the spread of Covid-19 among asylum seekers in Glasgow".
However, the MEARS spokesperson did not directly answer some questions posed by Bella Caledonia. They did not provide a comment as to why people were transported in shared buses and did not outline specifics on what is being done to safeguard individuals' security.
MEARS argues that the move of asylum seekers to hotels is "only temporary" and that they will be housing people in "more long term accommodation" when "restrictions are lifted". They said that they "are working collaboratively with organisations such as the Red Cross and Govan Community Project, and have arranged to meet the Scottish Refugee Council to discuss our services. We strongly encourage any immigration or asylum charities with specific cases of asylum seekers facing difficulties to bring these to Mears' attention immediately so that we can provide the support they need".
However, these accounts of collaboration and respect are disputed by the No Evictions Network and MORE, who claim that people were forcibly removed from their homes and transported to conditions that do not guarantee social distancing or dignity.
No Evictions Network said that those responsible- the Home Office and their private contractors, MEARS- are providing those forced into the hotels with an assortment of snack food, using this as an excuse to withdraw their £37.75 asylum support. A person's right to freedom and ability to care for themselves should not be dependent on their immigration status – not now, not ever.
Positive Action in Housing is calling for action, while MORE is calling people to join MORE – Migrants Organising for Rights & Empowerment Unity Centre Glasgow No Evictions Campaign Docs Not Cops Glasgow UNITY Sisters in their struggle to bring justice for Adnan's death.
Here are some of the No Evictions Network demands: