Rent, Covid and the Housing Crisis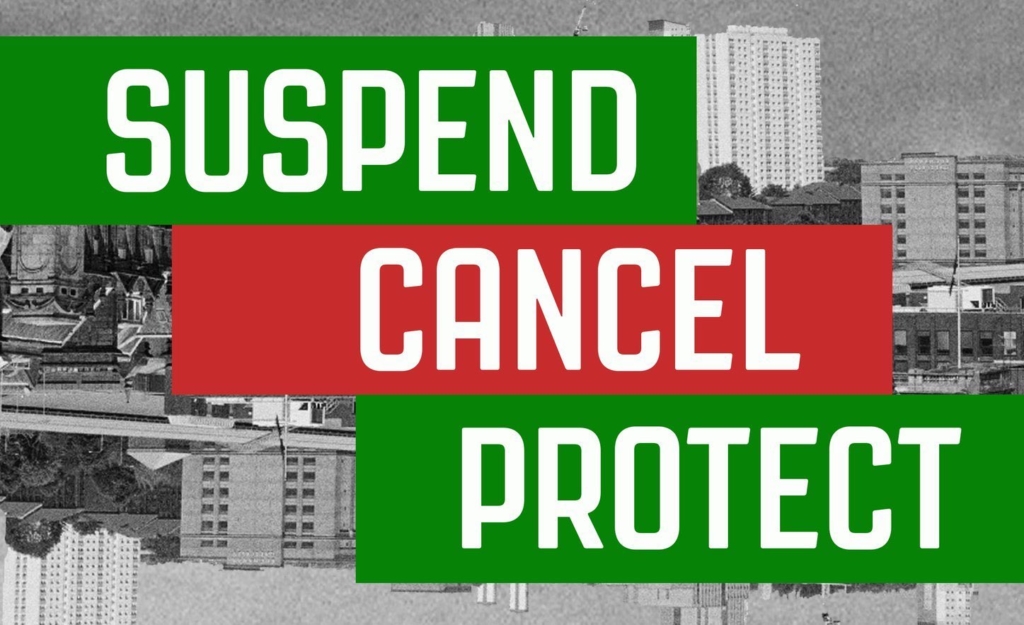 A war of words has emerged after yesterday's vote in the Scottish Parliament against support for tenants in the Covid-19 crisis, as dividing lines in what 'social justice' means in Covid-19 Scotland grow increasingly clear.
Scottish Greens MSP Andy Wightman had proposes a series of amendments aimed at financial support for tenants, which included a tenancy hardship fund, that rent arrears accrued during the crisis can't be used as grounds for eviction when the eviction ban is lifted, and that rent prices are frozen for two years.
These are by no means radical measures, when considering the number of people claiming unemployment benefit in Scotland rose by 75,000 in April, a 66.9 per cent increase. And that's not including the over 300,000 who have been furloughed. The vast majority of these workers, many of whom are or were in low-paid, precarious sectors like retail and hospitality, will also be tenants who rent. Research by the Resolution Foundation has found renters are 40 per cent more likely than the population at large to be in workplaces that have been shutdown during the pandemic.
Financial support for tenants is needed now, and one of the most direct and impactful routes the Scottish Government has within its power to support them is through reducing the rent burden.
Wightman's motions were defeated, with the SNP and the Scottish Tories teaming up to vote against all of them. The responses to the vote are telling.
"Huge relief," said David Bookbinder of the Glasgow and West of Scotland Forum of Housing Associations (GWSF), adding that he believed Wightman was trying to "extinguish" rent liability, which would have been "catastrophic", saying £20 million in income could be lost per week if rents stop being paid.
Mike Dailly of Govan Law Centre, which backed the motions, responded to GWSF by saying: "Unfortunately this is a misleading, inaccurate and simply wrong description of Andy Wightman's
Bill amendments. These issues are likely to return for parliamentary debate as underlying problems continue to grow in society."
The STUC said it was "disappointing" the SNP and Tories voted against, while SNP Glasgow activist Rory Steel said that he "can't understand why SNP didn't back a single one of Andy Wightman's amendments."
He went on: "Tenants have been hammered for decades and now they'll be exploited to make up the shortfall in landlords' incomes. Private rented sector needs urgent overhaul with rent freeze and rent controls."
Scottish Government Minister Mike Russell responded, claiming the government "have done and will do a great deal to help tenants and others but alas legislation isn't just a wish list".
Division between social landlords and housing rights lawyers, between SNP Ministers and SNP activists, over who should pay for the Covid-19 pandemic should not be a surprise. Everyone is for 'social justice', for 'tackling poverty', for 'a wellbeing economy', when it's in the abstract. It's a different matter when you have to pick a side over who pays: landlords or tenants?
Here's five things we should consider in light of this new debate about housing in Scotland.
1) Landlords have power over tenants
First, landlords are in a position of power over tenants. They own assets, tenants pay for use of those assets. One lives off its wealth, the other his/her wage. This should be obvious, but there have been attempts to equate the two as equally vulnerable, when workers cannot work or are sacked while financial assets remain in place. One industry survey found buy-to-let landlords in the UK on average earn just short of £60,000 from rent payments alone, more than twice the average salary. This is not a relationship of equals.
2) The private rental sector should not be muddled-up with social housing
Second, in opposing the amendments Housing Minister Kevin Stewart sought to use the words of GWSF as a shield against measures to support tenants across the rental sector, making no differentiation between private rental and social housing (here's the transcript). We should not make the same mistake. From 2010 to 2019 private rental tenants have seen a 46.3 per cent rent rise in Edinburgh and a 38.3 per cent rise in Glasgow. In Scotland as a whole over those nine years, rents rose by one quarter. In that time, Scottish workers under-went the longest wage squeeze since the Napoleonic Wars. To be honest, there's a solid basis for arguing that a rent freeze goes nowhere near far enough in supporting tenants in the private rental sector.

Private landlords already are being financially supported. The Scottish Government established an "aid for private rental landlords" scheme, so that if any tenants go into arrears they can take out an interest-free loan. Meanwhile, the furlough money at 80 per cent pay that hundreds of thousands of Scots are now receiving does not include a 20 per cent cut to their costs, such as housing. The IPPR have calculated UK-wide that "13 per cent of state spending on the furlough scheme is likely to end up in the pockets of landlords – amounting to £2.8bn under a three-month lockdown". So the government support isn't even-handed at the moment, never mind supporting the group which is actually in financial need (tenants). As Laurie Macfarlane, one of the authors of the IPPR paper, has written:
"While many households and businesses are facing severe financial hardship, there has been almost complete financial protection for 'rentier' income: that is, returns gained by extracting value by virtue of owning assets that are scarce or monopolised."
3) Housing Associations should not be weaponised by government against tenants
Third, when First Minister Nicola Sturgeon joined many others in opposing Labour's housing stock transfer in Glasgow in 2002, one of the largest housing privatisations in Europe, one of the many arguments against the decision was about democratic accountability. Foreseeing a day when Housing Associations would be weaponised by the state as a means of justifying why it can't support tenants in need, many argued at the time that it was no longer really social housing if the state is not accountable for ensuring it is affordable and a decent place to live for all tenants, and funding it on that basis. If Wightman's modest proposals really would be "catastrophic", as Bookbinder has argued, that is not an excuse to not support tenants – it's a reason to look seriously at the system of social housing we have in place and ask whether it needs be brought back into public sector ownership and control.
If action is "catastrophic" for HA's, what is inaction for tenants? Six in ten tenants have suffered financially from the crisis in the UK, with one in five of those having to choose between rent, food and bills. At the end of the day, tenants are people, HA's are institutions – which matters more? Social housing rents in Scotland rose 7 per cent above CPI inflation from 2013/14 to 2017/18. They have the power to borrow at rates much cheaper than tenants, who will be at this moment entering into a spiral of debt to pay the rent. Many of those tenants are paying for housing services that they are not currently receiving; the Living Rent tenants' union has reports from 16 separate HA's showing cleaning services abandoned since the pandemic began, leaving hallways and lifts filthy. But Stewart never once mentioned the opinion of tenants' when justifying his decision to oppose Wightman's amendment, as if the only voice that counts in social housing is the Housing Association's.
This is not a zero-sum game when it comes to social housing funding. The Scottish Government has spent £100 million over 2019/20 and 2020/21 on the "help-to-buy scheme", a fund proven to simply push up prices, and thus is simply an effective subsidy to private housebuilders. The Scottish Government runs a Rental Income Guarantee Scheme through Scottish Futures' Trust, which guarantees 50 per cent of private house-builder rental income to encourage them to build. Even AirBNB landlords have access to financial support in this crisis, on top of the rates relief they already enjoy. When the Scottish Government is dishing out subsidies left, right and centre for the private housing market, it's rich to argue that support for tenants is financially out of the question.
4) We need talk about democratising housing
Fourth, we need to talk about democratically controlled public housing, where tenants are empowered to have a voice in the housing system. A letter signed by over 3000 scholars in 600 universities worldwide has called for work to be democratised. We can add to that democratising housing. Any housing system where tenants', who understand their homes better than anyone, are systematically ignored is not fit for purpose. The answer is not to go back to bureaucratic council housing, but to combine the principle of housing being a public good with empowering the tenant in the management of the home.
5) The more inaction from the Scottish Parliament, the more tenant resistance will grow
Finally, in lieu of that, tenant resistance will emerge from the bottom-up. If people can't pay, they will unite with others not to pay. The "Cancel the Rent" movement in the US is growing, and has won the major scalp of getting US Presidential candidate Joe Biden's support. It was rent strikes in Glasgow in 1915 that got the first ever rent controls introduced by the UK Government, which remained in place until 1989, when they were dismantled as part of Margaret Thatcher's counter-revolution. It may take a tenant-led housing revolution to tackle the enormous poverty crisis in Scotland that has been exacerbated by the pandemic. If the Scottish Parliament fails in its duty to tackle the scourge of poverty, which rent costs are a major part of, others will lead.