Post Covid Unionism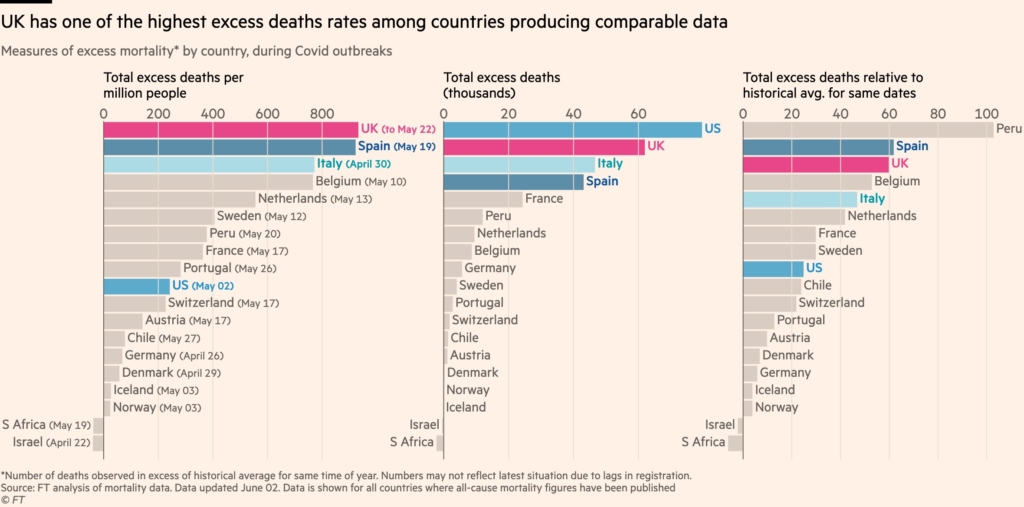 Literate Unionists, a small but well placed group, are working hard to re-imagine the case for Britain in the aftermath of the coronavirus.
John McTernan, a sort of early pre-incarnation of Cummings has recently noted:
"One of the best arguments for the union is that you get the financial backing of the UK to weather a pandemic and Scottish leadership for public health."
The argument is, I suppose, that you are getting the best of both worlds right now. I'm not sure he's quite feeling the mood right but … anyway. In short, you have the government you elect for domestic public policy, and then you get the government you didn't elect, and will never elect, for financial security.
It's a quaint idea that with figures showing that the UK has the highest deaths per-million in the global pandemic, this will seem an attractive Union to be part of. The UK had 62,000 more deaths than usual through to May 22, the highest rate of excess deaths in the world. It doesn't exactly scream 'UK:OK' does it?

It's been pointed out that lockdown in England ended (schools opening, back to work) at the same epidemic levels that most European countries went into lockdown.

This is not to say that the Scottish government and officials didn't make mistakes, or are immune from criticism, far from it. But the mistakes they seem to have made are in following the British guidelines, and, as recent polling has shown they are far more popular and trusted than their counterparts in No 10. The contrasting responses to the activities of Dominic Cummings and Catherine Calderwood probably exemplify this. While Nicola Sturgeon acted with reluctant integrity, Boris Johnson acted with inevitable duplicity.
At the end of May YouGov reported the following contrasting picture:
The Cummings affair, the litany of disastrous public health decisions, and the shambolic personal presentation by Johnson and his ministers may be a contributory factor, but certainly the Prime Minister is tanking.
The 33-point collapse in Johnson's NET approval ratings in the last 8 weeks (from +28 to -5) is identical to the fall in Theresa May's fall between her 2017 peak and the end of that year (from +21 to -12). Not 'good optics' as they say.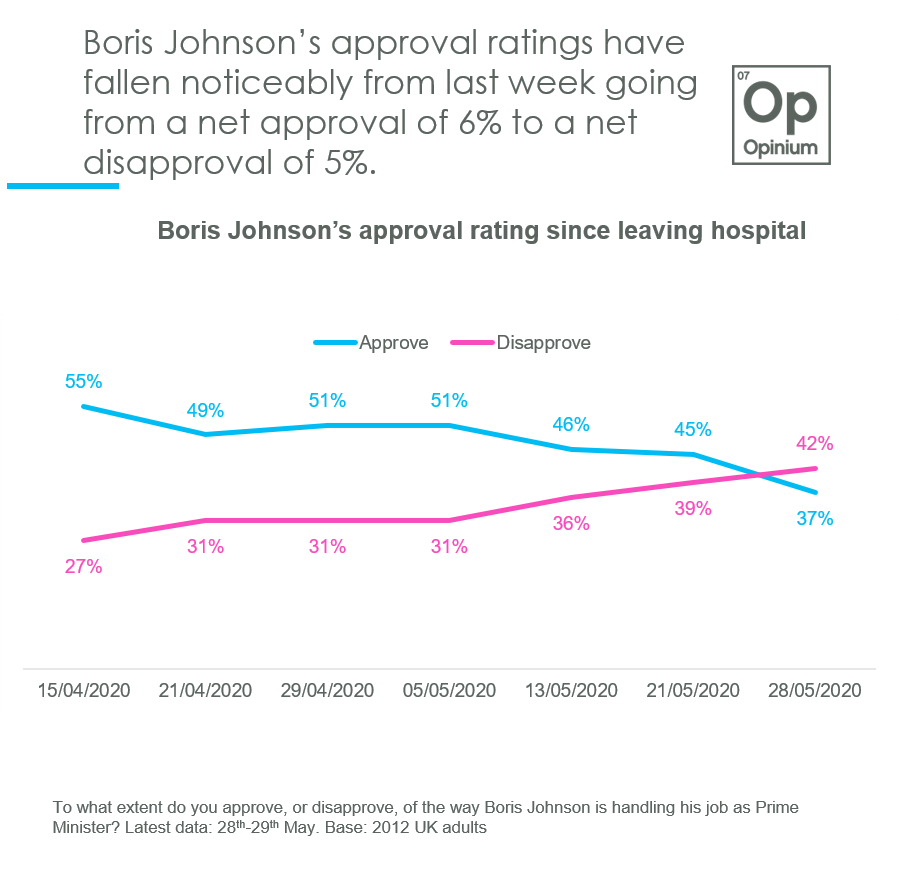 Remember Johnson was going to be the saviour after the omnishambles of Theresa May's time in office? He was going to put a smile on Britain's face with his Can-Do attitude. He was the right man for the job. He was basically Churchill. It's not quite worked out like that. Now he's nowhere to be seen.
No Deal and Remembering 1955
It's a long way back, but it's going to get much worse, both for him but also, inevitably, for the rest of us.
As Mujtaba Rahman explains today: "Most of us who have followed Brexit closely believed coronavirus would soften the government's stance in trade talks with Europe. The economic shock triggered by the pandemic, and the fact Whitehall is so overwhelmed managing it, made it more likely the government would extend the transition period, due to expire at the end of this year, or strike a deal. It turns out that the opposite is true. Rather than encouraging a more flexible and pragmatic approach, Covid-19 has instead reinforced the case for no deal at the very top of government. Perhaps the most important driver is the belief among ministers that the UK economy will be permanently reshaped by the crisis, as companies create new supply chains and reshore production to provide greater resilience in the future, not least in case of another pandemic. The government wants a free hand to facilitate this change, one that it believes would be constrained by the EU's demand that the UK remain tied to its labour and environmental standards and state aid rules."
As Rahman explains it is only really a No Deal that fully delivers what these people really want, a substantive "divergence" agenda. Any version of a deal with the EU at all, no matter how flattering and however framed, will tie the UK into some EU rules and regulations or others. This notion is so inimical to them that they will self-sabotage their own process.
A No Deal outcome also facilitates a trade deal with the US, and boosts the symbolism of "Global Britain" which is an obsession for Johnson his advisor and his cabinet. The reality that such a UK-US trade deal would bring limited economic benefit isn't important at all to them. They are fulfilling their manifold destiny and still playing to the crowds of Brexit Glory Days.
You might think that layering the economic chaos of No Deal on top of the unprecedented crisis of the pandemic would be recklessly stupid, but you'd be wrong.
You might think that gambling everything on a trade deal with a country on the brink of civil war and led by a neo-fascist would be misguided, but you'd be wrong there too apparently.
These are dogmatic nationalists. These are obsessive separatists. They are everything they accused the independence movement of being in 2014.
There are some harsh realities here.
It was 1955 the last time the Conservatives won in Scotland. Then called the Scottish Unionist Party they gained 50.1% of the vote and 36 of the 71 seats at Westminster. It won't be too long before there will be no-one alive who can remember a Conservative victory here. It does seem unthinkable. But the descent has further to go.
Tom Nairn describes how "the Deposition of Margaret in 1990 consigned Britain to a sort of Hades, John Major's nether kingdom of dinge, sleaze, rigor mortis constitutionalism, tread-water triumphalism and anti-European xenophoboa." But, just as Trump makes Dubya Bush look like a towering figure, an articulate intellectual, Major's government looks positively progressive next to Johnson's Brexit party. It's difficult to discern how the coronavirus will effect constitutional politics. Literate Unionists are still clinging to the notion of the UK being perceived by Scots as a rock of stability in difficult times. In light of this debacle this lacks credibility.