Cultural Landscape and Power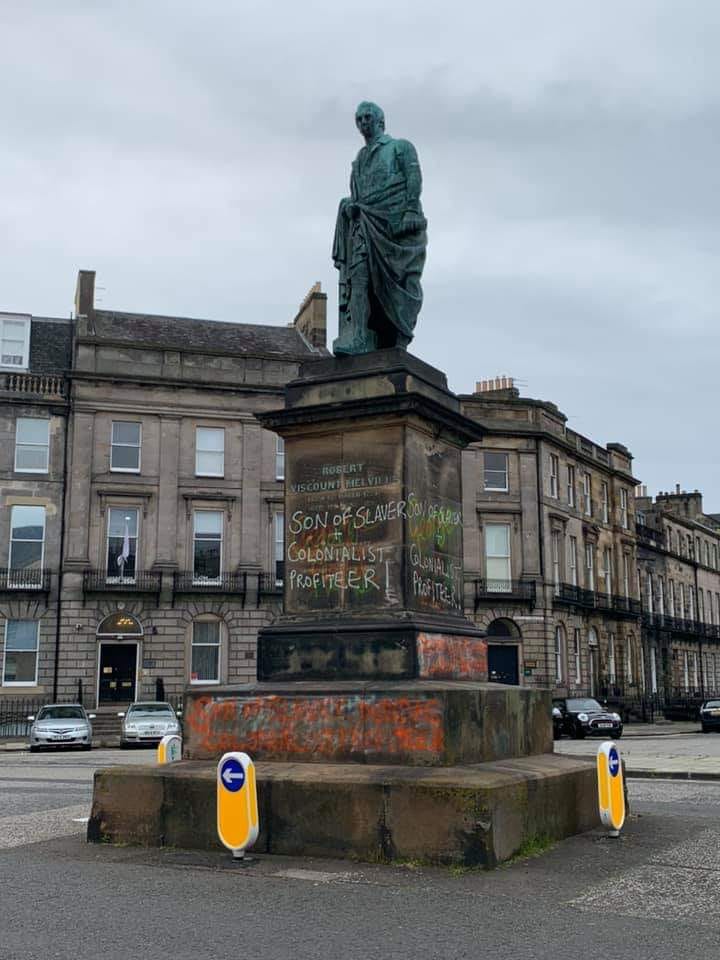 The dispute over a statue of General Lee in Charlottesville, and the questioning of confederate monuments across the South has sparked a debate about representation, symbolism and history that has now spread across the Atlantic. Today we're starting a series about re-imagining our cultural landscape in light of the debate about Edward Colston's statue and similar symbols in towns and cities across Scotland. It will run over the next two weeks. We are wanting to talk about what practical changes can and should be made, but also how changing these symbols needs to be linked to deeper tangible change.
The #BlackLivesMatter – #JusticeForGeorgeFloyd – #endthehate movement has morphed and bloomed, at once charged and radicalised by images of police brutality and simultaneously undermined by narcissism and performative liberalism. But if some of it feels like being trapped in the clicktivism of social media, the direct action in Bristol has breathed new energy into a social movement forcing a reflection on our the cultural landscape, the collective character of our cultural, and political elements. It feels like an urgent, long overdue re-assessment of racism in our society, our colonial past and what figures in history we choose to honour.
In Scotland this is a complex set of questions. As a country that has a history of empire, colonialism and slavery, it's also a country that experienced cultural colonialism and exploitation. If Scotland has to face up to its past, its cities littered with praise in stone to men who profited from slavery – monuments to monumental violence and murder – it also has to face up to the fact that the reality of class and power (then and now) meant that the profits from that exploitation would not be evenly distributed. But that can be a cop out too. If you work in a Ratheon factory you are making a living from the arms trade. You might not be making a fortune, but that's the basis of your income. The same is true historically from those working in Empire, in tobacco and in colonial office.
None of this is new, it just has a new charged energy and momentum. Rapid victories have been seen already and pressure grows to change Scotland's cultural landscape. One petition (which we fully support) argues "to remove the statue of Henry Dundas, the First Viscount Melville, from St Andrew's square and leave the empty column with a plaque that can educate people on his, and Edinburgh's involvement in the slave trade. We should also rename Dundas Street, Melville Street, and Melville Crescent. These streets should be named after Joseph Knight, a Scottish-Jamaican slave who won a court case and then an appeal in 1778 to free himself, by proving that slavery didn't exist in Scots Law."
One of the great myths that has been wonderfully smashed and thrown in the river is the idea that removing statues "erases history".
Of course as David Olusoga historian and presenter of the documentary, Britain's Forgotten Slave Owners has pointed out the toppling of Edward Colston's statue is not an attack on history, it is history.
Olusoga is not alone in noticing the historic poetry of the moment:
"Edward Colston, the man in question, was a board member and ultimately the deputy governor of the Royal African Company. In those roles he helped to oversee the transportation into slavery of an estimated 84,000 Africans. Of them, it is believed, around 19,000 died in the stagnant bellies of the company's slave ships during the infamous Middle Passage from the coast of Africa to the plantations of the new world. The bodies of the dead were cast into the water where they were devoured by the sharks that, over the centuries of the Atlantic slave trade, learned to seek out slave ships and follow the bloody paths of slave routes across the ocean. This is the man who, for 125 years, has been honoured by Bristol. Put literally on a pedestal in the very heart of the city. But tonight Edward Colston sleeps with the fishes."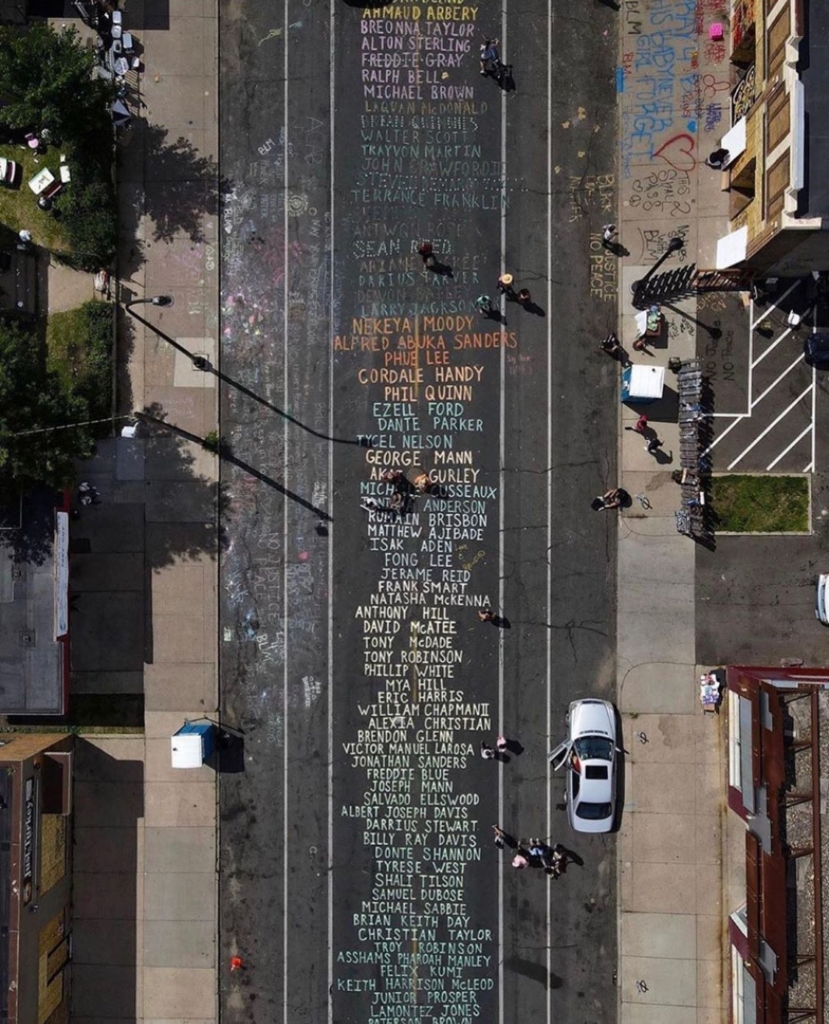 Even if Britain didn't already have a terrible track record of erasing its own history, the Colston direct action has done more to bring history – and Britain's dark secret history – to life than anything in our lifetimes.
The idea that public statues are politically neutral, or somehow resonate educational truth is a myth based on unthinking inertia. They are clearly statements about who and what we honour and value as a society. The decision to erect (or maintain) them is an exercise of power over the public realm and public space.

The argument against taking public action often complain of an urge to 're-write history' as if the status quo is a given, a natural order, a state of being that has occurred in a social vacuum. But this inherited unquestioned history has been written to render women invisible. History has been written to celebrate slavery and slavemasters and profiteers. History has been written to venerate the military, the aristocracy and feudal lordship.
Why should this history be sacrosanct against any other? Why should a history that has been paid for and commissioned by an elite be witnessed in perpetuity? It's a form of acquiescence to stare bleakly at a historical record that's being imposed from the past.
As the historian Robert Saunders:
"To remove a statue is not to "erase history". On the contrary, statues themselves can be acts of historical erasure. The Colston Statue, for example, did not mention his role in the slave trade. It constructed a history from which slavery was written out and cast it in bronze."
If we are now mapping symbols of racism – we are surely also decolonising cities and public space.
As Richard Scriven writes of this process in Ireland:
"The Irish history of monument building and destruction is primarily shaped by our relationship with Britain. From the eighteenth century statues to British figures were erected across Ireland as signifiers of British rule, a means of engraving it in the landscape. These included Willam III on College Green in 1701 (removed in 1929), William II in the Boyne Valley in 1736 (destroyed 1922), and the Duke of Cumberland pillar, Birr in 1747 (statue removed in 1915). However, in the late nineteenth century an increasingly dominant Irish nationalist movement began to put up its own statues. One of the most prominent was the 1882 Daniel O'Connell monument (on the then Sackville Street, renamed O'Connell Street post-independence) which asserted the position of this Irish Catholic political in the heart of the city. Many monuments to British figures were destroyed or removed as they were seen as symbols of oppression. The blowing up of Nelson's pillar, on O'Connell Street, in 1966 is the most acute example of the re-writing of the landscape. A century earlier, in 1862, a statue of George II on the Grand Parade, Cork, was tumbled into the river, and later replaced by the Nationalist Monument. Also, a statue of Queen Victoria outside Leinster House was official moved in 1948, and since 1986 has stood in Sydney."
Scriven explains that the removal of these monuments was not to erase history, but instead a statement that these symbols had come to represent ideas which no longer deserved prominence.
What we are witnessing is not just an uprising in America against systemic discrimination and state violence but a re-examination of history and a re-making of urban space. We must follow that lead and examine our own past in order to create a better future. Again we are asking ourselves: what kind of country do you want to live in?
We've commissioned a series on Cultural Landscape and Power, but if you want to contribute get in touch. Priority will be given to people of colour and ethnic minority groups.