Dundas, Charles II and Bessie Watson: Options for Edinburgh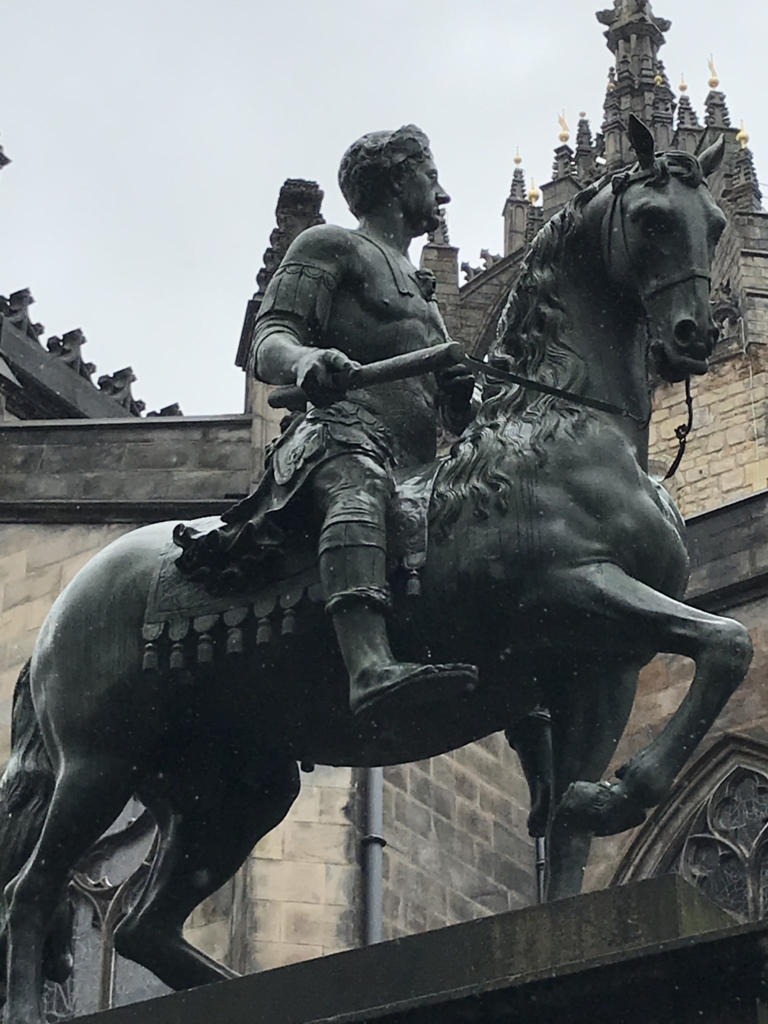 Adam Ramsay on the democratisation of public space, part of our Cultural Landscape and Power series.
If you go round the back of St Giles, into Parliament Square with its wonderful echo, you will find yourself confronted with a large lead statue to the man who established the UK's role in the slave trade.
After the restoration of the monarchy, Charles II founded the Company of Royal Adventurers Trading to Africa – which later transformed into the Royal Africa Company. He granted the firm, led by his younger brother, monopoly rights on the trade with West Africa – including gold, silver, and kidnapped people.
The statue, the oldest in Edinburgh, has been there since 1685, the year of Charles' death, and its placement outside the old Scottish parliament building is historic in itself. After his dad's head was lopped off, the Scottish parliament had elected him king, leading to the Anglo-Scots war.
I don't know what we should do with Charlie. Unlike the endless pieces of Victorian propaganda to Empire which litter the cities of the UK, his statue is a genuine artefact. It does seem to tell an important story in itself. But at the very least, we need to acknowledge what that story is, and that he is the villain, not the hero.
I do know something else about that square, though. Only a few metres from where the statue stands, through the mighty wall of the High Kirk, is where Jenny Geddes threw her stool at the head of James Hannay, Dean of Edinburgh, objecting to his use of the book of common prayer. The act, which started a riot, is sometimes said to have triggered the War of Three Kingdoms, and certainly played a key role in the Covenanters revolt.
Robert Burns named his horse after Geddes, and there is a plaque to her in St Giles. But I hope one day we'll have a statue in parliament square of a working class woman, wielding a stool and inscribed with the words she is said to have shouted as she threw it:  "De'il gie you colic, the wame o' ye, fause thief; daur ye say Mass in my lug?". It is people who make history.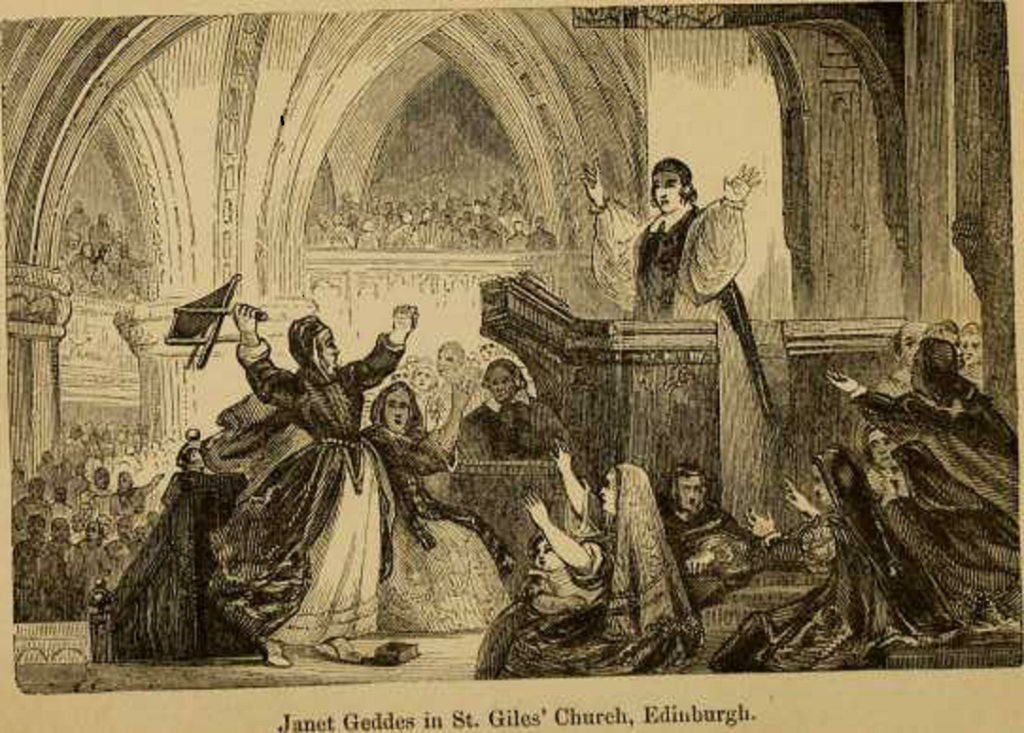 And, important to remember, it's women who make history, but not in circumstances that are usually acknowledged. Edinburgh has as many statues of named dogs than it does of named women.
To give just one example, Scotland had a thriving and radical movement for votes for women – often said to be more radical than that in England due to its connections to the labour movement, and Edinburgh had one of the earliest suffrage societies, launched in the 1870s. Women imprisoned as a result of their protests were often kept in Calton jail, and it was here that Scotland's first forced feeding of a suffragette took place, when Ethel Moorhead went on hunger strike.
As she was force-fed, a nine year old comrade, Bessie Watson, played the bagpipes outside to comfort her. Perhaps she should be one of the warriors for women's rights that we commemorate in stone? Ethel Moorhead, meanwhile, should have a statue in her native Dundee – perhaps depicting her performing one of her most famous acts: egging Winston Churchill.
The suffrage movement provides huge numbers of opportunities for artists and sculptors to commemorate the power of what my Mum recently referred to as 'mindful vandalism': warped post boxes could commemorate the acid poured into them, mock bombs could remind us of the buildings blown up. And surely we should remember the crucial women's march of 1909, perhaps with a statue of the militant activist Flora Drummond, on her horse?
Really though, it should be for today's feminist movements to discuss and decide who they wish to commemorate, and how. The principle is the important point: a cityscape hewn by and of men should carve out space for women's history.
And while I'm reticent to suggest a new statue of a man, there is one man who certainly deserves to be remembered for his links to Edinburgh (as my friend Peter McColl has long argued).
Julius Nyrere led Tanganyika's non-violent civil disobedience movement for independence, learning from the example of Gandhi, and led the country as president through its merger with Zanzibar, becoming the first president of Tanzania. A pan-Africanist and socialist, he is largely viewed positively by history, and his decision to overthrow the dictator Idi Amin in neighbouring Uganda is often cited as a rare example of a successful military intervention.
Nyerere studied at Edinburgh University, and was a regular visitor to the city throughout his life, maintaining a number of friendships here. It is a matter of great shame that Edinburgh University has failed to name any buildings after one of only two heads of state to have studied there, particularly given his place as a genuine anti-imperial leader. The city should surely rectify this, and find somewhere appropriate to commemorate him. Perhaps he should replace Dundas atop the plinth in St Andrew's Square?
Finally, it's worth remembering that memorialisation can happen in more than statues. Almost every Metro stop in Paris is named after an historical figure or event. Surely the City Council should run a participative process among the women of the city to choose a name for each tram stop, honouring the women of the city's past?
And, in fact, surely that's how all of these decisions should be made?