A Matter of Black and White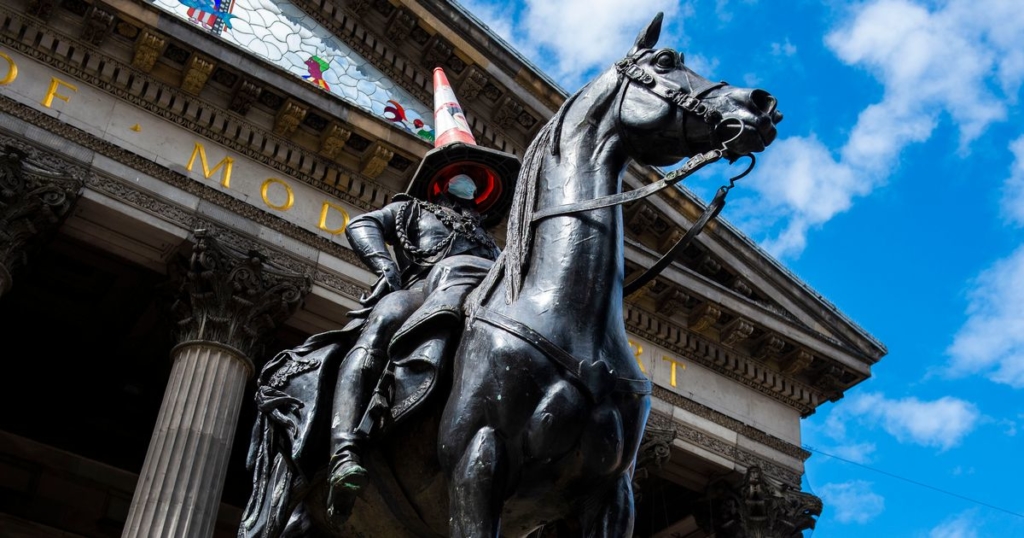 I appreciate that some readers may disagree profoundly with my approach to this problem. The editor of Bella Caledonia completely disagrees with my views on this, but has nevertheless allowed my article to be published, in the spirit of free and open debate. This, for me is what makes Bella Caledonia special, and I commend him for his gracious response to an article from me that he was disinclined to publish.
I am not one of those who claim to be disturbed by the removal of the Colston statue; it is an event that will no doubt acquire iconic political and cultural significance, and he will not now return to his pedestal; point made. On the whole, I prefer such things to remain; as a reminder never to forget, as information, and in the belief the penny will drop, and it will stand as a retributive public embarrassment; because the alternative is, save with a rare Colston moment, erasure and amnesia. My preference for such artefacts is the Glasgow public's response to the Wellington statue in Glasgow , complete with a pyramid of traffic cones, and one for the horse; because that image is emblematic for me of the spirit that explores the meaning of statues and the public response in real time, in my home city; it is the greatest work of found, public Art in Glasgow, for it lives, breathes and changes in front of us – earlier this year the traffic cone was painted in EU blue and gold in another public comment on contemporary events; right in front of GoMA.
Scotland's indefensible statues are a fish in a barrel target for critics, but we are much, much better at destroying our history, burying it or hiding it than remembering it; we have been as effective in removing it from awareness as Scipio Africanus was in destroying Carthage, to the last stone standing. The Enlightenment did its own kind of expunging of Scotland's past and Britain's present, even from itself. We are very good at burying our history in Scotland, but it is how we keep it in view, or recover what is buried that matters. Earlier than the Enlightenment, Scotland carried out perhaps the most thorough and comprehensive Reformation in Europe in the sixteenth century. Whatever you think of that event, what interests me is the history, which seems straightforward until you try to find it. The Reformation recorded itself, but understanding it is much more elusive, because so little of the past it superseded survived the event. 
It is fortunately not my period of study, and that is just as well, because much of it is a desert, so effective was the destruction. The irony is the Reformers carried the thought and intellectual methods of the culture they destroyed in the form of the metaphysics of the mediaeval scholastics like Aquinas or Duns Scotus with them, and in spite of themselves, into Reformation theology and into the future; what they destroyed was our ability to understand properly why it happened and even why the reformation was so thorough in destroying the evidence; including some of the finest buildings, artefacts, books and manuscripts created in or brought to Scotland over centuries. We changed by destroying our capacity to understand. They created a desert, and called it 'peace'. Then they fell out over the Reformation itself, principally over Erastiansm. We do this kind of destroying, hiding or burying regularly in Scotland; we have form.
I prefer the kind of response to statues that the Glasgow public found when they were confronted by Wellington's statue: unanswerable mockery. What people do not realise is that it sits in front of Glasgow's Gallery of Modern Art (GoMA) and there is much more to that building than Art. This building was originally the house of William Cunninghame of Lainshaw (1731 – 1799), a Tobacco Lord and sugar merchant; a man who made his fortune from slavery. This is completely unnoticed. The statue attracts the attention, and the popular critique. Cunninghame is both right before us; and completely forgotten. There is the irony of making gestures around statues. We are sleekit. We hide much better than we recover: or wish to find.
I have little problem with the BBC disposing of out-of-date material, but I am more concerned when effectively the Corporation is removing from history its association with difficult issues, that it suits the Corporation if we do not any longer associate with the BBC's somewhat over-inflated view of its own virtues; the BBC is thus allowed to present itself as living only in an ever contemporary, unflawed present, save when portraying its own past virtues; usually from the Second World War. It was, however the BBC that decided to make the 'Black and White Minstrel Show', and renewed the show for over twenty years (1957-78); before it buried it. I am not comfortable that this is too conveniently forgotten; because such matters tell us a great deal about both the public and BBC values and social attitudes of the time; which is, ironically just around the time of the Windrush Generation settling in to welcoming Britain; perhaps it should have been a clue that the 'Mother Country' was quite capable of letting them down.
I am deeply uncomfortable with the ease with which the BBC has buried its long and deep association with Jimmy Saville, and others. 'Dame Janet Smith Review Report: The Jimmy Saville Investigation Report' (2016.) provides the painful and awful story. It simply is not possible here to do justice to this vast report, so I have selected one single statement by Dame Janet Smith to stand for all – my selection, not of course hers: "I have concluded that, during the Saville years, the culture in the BBC and the BBC's management style did not encourage the reporting of complaints or concerns. Given the hierarchical structure, the impracticability of complaining to anyone other than a line manager and the weakness of the Personnel Department, the only option for a victim of inappropriate behaviour during the Saville years was to put up with it or leave. By and large, they chose to stay because, in many respects, the BBC was a wonderful place to work." (Dame Janet Smith Report, Ch.1, Para., 9, p.42). 
We do not perhaps forget Saville easily, but it is remarkable with such facility after the report was written and published, nobody very important in the BBC was taken to task, no plaster fell from the ceiling; no walls cracked under the strain, the signal continued to be transmitted. Somehow it could be attributed to a kind of vague, common non-specific institutional failure; not really much to do with the BBC at all. Nothing to see here. Move on. We moved on. The deed somehow died with the evidence. Yet the BBC Charter was renewed shortly afterwards. How bad would it have to be before the BBC would have to pay the penalty for such an abject failure over so long? What could be worse than Saville and all it implied? I do not believe that the BBC charter renewal should have survived Saville.